The Mid-Atlantic Stunt Kite Championships was founded in 1990 at Ocean City, Maryland. Over its first five years, it experienced solid growth and became one of the most highly-regarded sportkite events in the US. During this time, numerous local kite clubs became much more active and filled the sky with great single-line art kites to complement the sportkite competitions.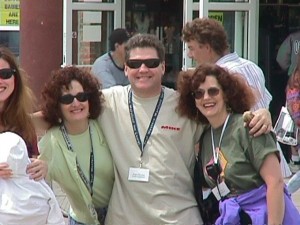 Roger Chewning, the driving force behind Sky Festivals Productions took full advantage of this growth trend and renamed the event in 1995, calling it the "Maryland Kite Exposition". In the three years since, the growth in the event's focus has seen MIKE blossom into one of the premier general-interest kite festivals in the country. This year's event ranks as the best yet. For three solid days, the long stretch of beach at Ocean City was jam-packed with every type of kiting activity imaginable. Kite artists from all over the world displayed their creations for the thousands of tourists staying in this resort town. Numerous manufacturers hosted "learn to fly" lessons all weekend, introducing hundreds of people to the excitement of sportkiting. As always, the event featured closely-fought sportkite tournament action. Outside of gusty, swirling winds on Saturday, the weather was flawless for the entire event. All the ingredients were present for a fantastic kiting weekend.
The event faced what could have been a major obstacle to success when, one week before the event, Roger Chewning had to have emergency surgery. With the capable guidance of Roger's wife Kathy, and sister, Karen, the event came off without a hitch. Sky Festival's expertise, as well as the professionalism of the dozens of volunteers involved with Eastern League events is to be commended. It is said that the mark of a good manager is the abillity to not be directly involved with the final steps of a project, if so, Roger passed this test with flying colors. Our kudos go out to all involved with this event. After spending a week in the hospital, Roger appeared at the event on Saturday to everyone's delight.
DISPLAY KITES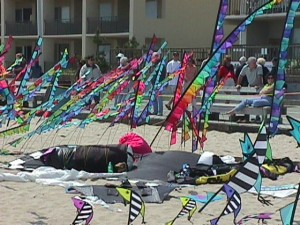 The local kite clubs went all-out to make this an event to remember. Beautiful ground displays and special activitiescomplemented the aerial displays allthree days of the event. The Lehigh Valley Kite Society, Wings Over Washington, Keystone Kiters, Maryland Kite Society, Sky Pilots, and the South Jersey Kite Fliers combined efforts to make this event truly a memorable one.
Adding to the club efforts were the exhibition of kites from the guest fliers that Sky Festivals assembled for this event.
The guest kitemakers were:
Anne Harris- UK
Tony and Steve Ferrel- PA
Frank Schweimann- Germany
Robert Trepanier- Canada
Kevin and Cinda Shannon- PA
Reza Ragheb- CO
Ron and Sandy Gibian- CA
Pete Dolphin- PA
Joel Scholz- TX
Richard Gareau- Canada
FUN STUFF/SPECIAL ACTIVITIES
All three days of the event featured non-stop fun on the designated activities field. Children's kitemaking workshops were conducted by the Lehigh Valley Kite Society, Mass Ascensions of various types of kites were held at regular intervals, and Shanti, Prism, Dodd's Kite Company, and Go Fly A Kite gave free sportkite flying lessons. There was constant action from the opening parade to the awards ceremony.
ROKKAKU BATTLES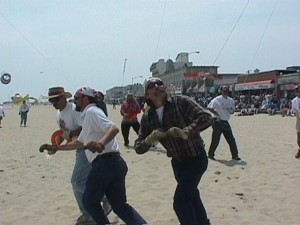 This aerial combat, fought with large six-sided kites is always a crowd pleaser. The object of a rokkaku battle is to down your opponents' kites by either cutting their line or by using your kite to tip other kites out of the sky.
Ground contact between fliers is not allowed, but this does not prevent the combatants from madly scrambling around the field in their attempts to outmanuever opponents.
To no one's surprise, Scott Spencer won the individual rokkaku contest, besting a large field. The eye-opener was the third-place finisher, 13 year old Nick Imdorf. From here on, he will be known as "Nick the Knife" for his skill in cutting old masters' kites out of the sky. Many competitors were seen wheezing and gasping after running down the beach retrieving their free-flying kites that "Nick the Knife" slew.
The team rokkaku battle featured five sets of contestants. After three hard-fought heats, the "Past Presidents", David Gomberg and Pete Dolphin were the last ones standing.
FIGHTER KITES
Fighters are small single-line kites with great speed and maneuverability. Contestants compete against each other one-on-one, attempting to make their line contact their opponent's line, alternating between touching from above, then from below. After several hours of heats, Kitelife Contributing Editor Richard Gareau claimed victory, with his wonderful Patang fighter. Second place was taken by Richard Seltzer.
SPORTKITE COMPETITION
An event within an event, the Mid-Atlantic Stunt Kite Championships has always featured close battle between many of the nation's top sportkite fliers, and this year was no exception.
TEAMS
This event marked the debut of two new teams. Valli Girlz, a trio of lovely young ladies, did a great job in taking second and third places in the two experienced class events. Will they have exotic nicknames like "Sporty Valli", Scary Valli", and "Baby Valli" by Wildwood? Also making their first competition appearance was team Shanti Air. They posted a win in Masters Team Precision and suffered a disqualification in Ballet when they incurred a boundary violation from the smallish competition arena.
PAIRS
The surprise of the weekend in sportkite competition had to be Sudden Flight taking the win in Masters Pairs Ballet. Lance and Dorothy Wagner haven't flown much since the birth of their son this January, and made a last minute (really!) decision to enter. They certainly haven't lost their touch. In Experienced Pairs, "Q" won handily.
INDIVIDUALS
In the dual-line events, best-placed Novice was Lisa Stambaugh with  First and Second placings. Intermediate class was dominated by Phil Napier (a Kitelife Contributing Editor). Top Experienced pilot was Phil Broder.
Quadline events saw Gerry Reidel winning Experienced, and Scott Weider taking the Masters honors.
Complete Sport Kite Scores
novice INDIVDUAL PRECISION
1 LISA STAMBAUGH 54.00
2 MIKE HOEFER 51.60
3 BUCKY STELLA 50.53
4 BRUCE LINDEMANN 50.33
5 CHARLES STEWART 45.70
6 STEVE JAEHNIG 38.63
7 RICH COURMETTES 12.87
novice INDIVDUAL BALLET
1 CHARLES STEWART 53.40
2 LISA STAMBAUGH 49.00
3 BUCKY STELLA 45.40
4 BRUCE LINDEMANN 44.53
5 JODIE TAFT 38.60
6 MIKE HOEFER 37.07
7 RICH COURMETTES 33.13
intermediate INDIVDUAL PRECISION
1 PHIL NAPIER 59.67
2 MIKE POLIFRONE 57.33
3 RICHARD KOONS 55.13
4 EDNA BERTHOLF 52.60
5 TORREY LINDEMANN 41.13
6 LISA WILLOUGHBY 40.80
intermediate INDIVDUAL BALLET
1 PHIL NAPIER 54.20
2 TORREY LINDEMANN 52.67
3 EDNA BERTHOLF 52.27
4 HILLARY MASON 46.07
5 LISA WILLOUGHBY 44.20
6 MARION PROFFITT 34.87
intermediate INDIV. QUAD BALLET
1 HILLARY MASON 54.33
2 TORREY LINDEMANN 50.60
3 LISA WILLOUGHBY 49.13
4 LAURA STONESTREET 46.07
5 MARION PROFFITT 41.33
experienced INDIVDUAL PRECISION
1 PHIL BRODER 58.33
2 JASON ROBBINS 53.87
3 TERRY MURRAY 53.60
4 RUTH POLIFRONE 49.67
5 ALFONSO MARABLE 42.80
experienced INDIVDUAL BALLET
1 TERRY MURRAY 64.13
2 PHIL BRODER 62.20
3 ALFONSO MARABLE 61.20
4 JASON ROBBINS 60.00
5 GERRY REIDEL 54.20
experienced INDIV. QUAD BALLET
1 GERRY REIDEL 65.53
2 BRUCE KAPSTEN 63.80
3 ALFONSO MARABLE 57.93
4 TERRY MURRAY 54.87
master INDIVDUAL PRECISION
1 BILLY NG 70.87
2 SCOTT WEIDER 70.13
3 RICH JAVENS 67.73
4 BOB HURD 67.13
5 DENNIS DESROSIERS 66.73
6 MIKE MOORE 65.00
7 STEVE KARATZAS 63.40
8 DON COLEMAN 60.40
9 BILL BENEKER 58.67
10 SAL FARAJ 57.60
11 ED SHENK 56.07
master INDIVDUAL BALLET
1 STEVE KARATZAS 83.20
2 RICH JAVENS 78.53
3 SCOTT WEIDER 76.67
4 BOB HURD 76.07
5 BILLY NG 75.40
6 LANTZ WANGER 74.60
7 FRANK MORALES III 74.13
8 DENNIS SMITH 74.00
9 MIKE BOOK 70.87
10 DENNIS DESROSIERS 66.73
11 LOU BEHRMAN 66.67
12 MIKE MOORE 64.20
13 SUE MASON 63.67
14 SAL FARAJ 61.00
15 BILL BENEKER 60.73
16 DON COLEMAN 57.00
17 VERN BALODIS 54.07
master INDIV. QUAD BALLET
1 SCOTT WEIDER 77.20
2 FRANK MORALES III 76.93
3 DEBBIE HURD 75.20
4 BOB HURD 71.20
5 ALEX MASON 65.40
6 DENNIS SMITH 65.40
7 JASON ROBBINS 64.87
8 KEITH LANTZ 61.33
9 CHARLES STONESTREET 55.93
10 MIKE DONLEY 49.73
experienced PAIRS BALLET
1 Q 59.47
2 MS. MATCHED 47.87
3 GRAMS & OZS 40.87
4 RAFL 28.93
experienced TEAM PRECISION
1 AIR CRACKERS 50.67
2 WATT 44.12
3 VALLI GIRLZ 33.52
4 RICHMOND AIR F 30.90
experienced TEAM BALLET
1 WATT 45.80
2 VALLI GIRLZ 43.07
3 AIR CRACKERS 41.27
4 RICHMOND AIR F 33.07
master PAIRS BALLET
1 SUDDEN FLIGHT 70.27
2 KFAN 62.53
3 AIRSTRIKE 59.00
4 JUMBO SHRIMP 58.53
5 WINDSWEPT 56.07
6 LATE FOR SUPPER 50.93
master TEAM PRECISION
1 SHANTI AIR 66.78
2 VALLI BOYZ 63.18
master TEAM BALLET
1 VALLI BOYZ 64.00
2 SHANTI AIR D/Q
open TEAM TRAIN BALLET
1 THAT'S MY LINE 67.27
2 KFAN 63.60
3 WINDSWEPT 63.33
4 VALLI BOYZ D/Q
This event ranks as one of the best that we have ever attended. If you get a chance to go to Ocean City next year, we highly recommend it. Organization was excellent, the crowds were large and appreciative, the beach is great….You get the idea!