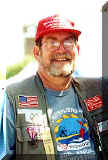 I am sad to announce the end of a great kiting event–the Junction, Texas International Kite Retreat. Texas Tech art professors Bill Lockhart and Betty Street, who have organized this annual gathering for ten years, announced that this year would be their last, due to retirement.
Marti and I are among the "lucky six" who were fortunate enough to attend all 10 Junction retreats. Each year, for a decade, the retreat was one of the highpoints of our year. After the first few, we started looking forward to each new one with greater and greater anticipation. We were never disappointed.
The format was simple, but beautiful in execution. A three day gathering, from noon Friday to noon Monday over the Memorial Day weekend. Housing, meals, classrooms, and flying field at the beautiful, secluded Texas Tech University Center at Junction–a branch campus in the middle of nowhere out in the Texas "hill country". A group of outstanding kite builders and artists, half from the U.S. and half from other countries, sharing their expertise in workshops, classes, and lectures. Attendees from all over the U.S., mostly experienced kiters but sprinkled each year with newcomers.
Only one class period a day, leaving lots of time for free flying, working on individual projects, soaking up more knowledge from the instructors (and each other) informally, or just hanging out on the edge of the flying field or down at the river.
A kite library to browse, beautiful kites on display inside, a kite auction, and evening slide shows or lectures. And no business meetings! Just the jam sessions into the middle of the night.
I think there were only about 45 of us the first year. Then 70, 95, 120, and finally "capped" at about 150, the facility maximum. "Regulars" learned to turn in their class requests seven months in advance, as soon as Betty produced the official brochure with the list of invitees. What a wonderful group of instructors!  This annual retreat featured some of the best known and most respected kitemakers from Great Britain, France, Germany, Belgium, Sweden, Italy, Hungary, Japan, China, Indonesia, Malaysia, Australia, Guatamala, and many others. Top talent from all across the U.S, included AKA "Kitefliers of the Year" Leland Toy, Charlie Sotich, Scott Skinner, and Bill and Betty themselves. A huge thanks to all of them–they made the "Junction Experience" truly memorable.
True Story: A few Junctions back, a group of fliers were socializing on the edge of the flying field late one evening. Tom Arbster, from Oklahoma City, was sitting with the group but had been silent for some time. Suddenly, during a lull in the conversation, Tom spoke up: "Do you know what I want done with my body when I die?"
Somewhat startled, the group responded with, "No, what do you want done?" "Well," Tom drawled, "I want to be cremated, want my ashes put in a heavy steel box with a ring on top, and want that box buried right out there in the middle of the field for a kite anchor so I can fly kites at Junction forever!"
A lot of us feel the same way. The six of us who attended all ten Junctions, myself, Marti, Charlie Sotich, George Weber, Kathie Nixie, and Judy Kingery, have formed an ad hoc "alumni committee" to try to continue some sort of annual Texas International Kite Retreat. It won't the the Junction International, although it might be held at the same spot if we can rent the facility from Texas Tech. It may not have as many international instructors. And it may cost a little more. But if at all possible, it will strive to continue the wonderful tradition of sharing, between kitemakers, started by Betty Street and Bill Lockhart.
Richard Dermer
AKA President