On Sunday, the 23rd of August, the kiteshop Het Vliegertje in Nijmegen organised the Kite Festival Ede.
This annual festival is organised on the Ginkelse Heide  (Heide = Heath/Moor), near the N224 on the way to Arhem/Apeldoorn.
Everything that has anything to do with kiting can be done on this great spot in Holland.
There are fields for one-liners, two-liners and four-liners and buggy-kiting.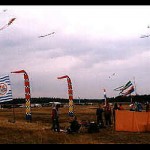 At ten o'clock on Sunday the offical opening took place. But already at eight o'clock that morning there were a lot of kiters present.
First a big tent, looking like an Indian wigwam, was put down near the kite grounds. In the tent, the shop (Het Vliegertje) and the information desk were fitting up.
The first kiters unpacked their kites and half an hour later the sky was full of kites.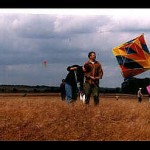 During the morning you could fly your kites nice and easy. The weather was just great because a strong wind blows over the extensive heath. Later this day it became more and more lively.
The famous bear-dropping team started their droppings. Every child could send a bear into the sky, halfway up the kite line it was released and came down by using a parachute. When the child has fetched the dropped bear they received a nice document with their name on it.
They loved it !!
During the afternoon because of the visitors/tourists, it was very crowded with all the people and the fantastic appearance of a sky full of kites, but it was again one of the most pleasant festivals in Holland I know.
Henk