Igottwentydoiheartwentyfive……..Big Assawoman,
the Stapled Condom, and Other Memories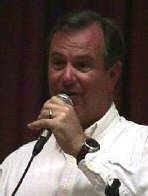 Auctions — I love doing auctions. I love the challenge of trying to turn a well intentioned donation into cash for a good cause, to keep things moving along, and to make fun of my friends all at the same time. Yes, I admit that I sometimes get so caught up in my own babbling that I forget what the bid is, but that's why I have spotters on the stage to help me!
Kite Life Publisher Mike Gillard recently asked me about my best and worst moments on the international kite auction circuit, and some of the things I've been asked to try and sell. The question set my head to spinning.
I've sold photos of Corey Jensen naked, smelly imported cheese, and home-bottled beer that we described as "kite anchors" since we weren't allowed to really sell alcohol. I've sold kites made from leaves, kites made from leather, and kites that hadn't even been made yet!
The best sales are when the donor, the buyer, and the host are all happy with the selling price and the audience isn't too bored by the process.
My favorite auctions were a series I did annually with Jason Benedict along the East Coast. Over the course of five weeks, we took the stage in Miami, Ocean City, and finally in Wildwood. Jason and I clicked, and since much of the audience continued from one event to the next, we began a series of gags that just went on and on.
How can you not have fun when a "comfortably intoxicated" Bill Osche takes the microphone in Maryland to describe the timeshare he is donating on Big Assawoman Bay? Jason and I went to town with questions about the "love condo" and speculating that we might have gotten more bids on Small or Tight Assawoman…
The week before in Miami, we sold Anne Harris's wooden bread knife shaped to look like a baguette. It was a bout 8 inches long and we asked shapely Magali Bouchez from France to carry it around the room. We of course feigned total surprise when she protested that some people thought it looked like a "sexual device".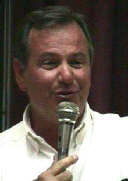 In Wildwood, we found ourselves following a polished professional light and juggling show called Luma. The guy was good and we were intimidated. But I wadded up several paper bags, stood behind Jason and slid my arms under his so that we could wave the bags around with all four arms. Sure it was silly, but we were getting paid a lot less than that pro. Jason and I, who share a common ethnicity, called our program "Jew-ma"….
I've had bad auctions as well. Last year in Treasure Island, I found myself alone on stage with 18 kite arches, 12 sections of a large tetrahedral, and 32 pairs of sunglasses. Bidding was slow and the repetition seemed to go on and on and on. In fact, we sold more items per hour than at any other AKA. But it is hard to be funny on the 15th arch.
The worst item I ever sold??
In Long Beach a few years back, I was handed a large plastic eddy with thick wooden spars. The kite as constructed with duct tape. The sail was made of heavy clear visquine and covered with Ford Motor Company decals. All the card said was "donated by Charley McClary".
I took the opportunity to give Charley a good ribbing over the kite and point out many of its ragged features. It wasn't until after the auction that someone told me the kite had been made by a representative of the event's sponsor, Ford Motor Company, and given to Charlie.
I felt like a jerk. Of course, I should have felt that way. I had been a jerk!
At AKA, at least the auction begins early. In Wildwood, we often get handed the mic after 10 pm with a hundred items to sell. We were selling stuff faster than it took the event winners to walk to the stage for trophies, but still got the blame when the dinner ended after midnight.
On the other hand, I remember a sale in Washington where Jim and Kay Buesing were unknowingly bidding against each other from opposite corners of the room. The item was a custom made kite, designed to look like the winning bidder. You actually lay down on the paper and the artist traces around you. I finally convinced the donor to make two of the kites and Jim and Kay went off into the corner with her to start the sketches. I could hear them both giggling from across the room. Finally I observed that this was the most fun the Buesings had had, laying down, in years…..
My favorite auction item?
A festival in England was sponsored by a condom manufacturer. I was handed what was simply labeled as an "AKA Safe Sex Kit". It contained a small illustrated manual on how to use the condom, and a condom with a picture of a kite on the wrapper. To make sure the two pieces stayed together, the condom was stapled to the booklet. Stapled — right through the center.
Bidding was fierce on this collectable piece. One group was trying to purchase it for a newlywed kite couple. Another consortium was bidding on behalf of a parachuting teddy bear.
I don't remember who won the contest. But I remember it went for about 15 pounds … over $25. And of course, the organizers appreciated every farthing…
David Gomberg