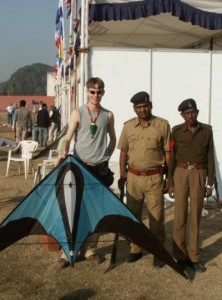 Here we are for another issue of KL… Even with a cold winter and minimal flying in our own area, we're still ticking strong thanks to the support we've received from our readers all over the world!  We also would like to extend our deepest and warmest gratitude to Jorge Beltrán from Colombia, proud winner of Kitelife's recent logo contest. His winning submission has already been integrated into the site and has been added to the collection of Kitelife logo wear available in our CafePress store, along with our usual assortment of Kitengruven shirts, etc.
With this issue we're bringing our first of what will hopefully be many in-depth international reports featuring tons of pictures and a real insight into the journey… Also scheduled is a trip to Pasir Gudang, Malaysia in mid-February – which promises even more great reporting
Some improvements, for those of you on dial up it was suggested to us that we add a link at the end of each feature to the next article in order to save on download time… We've also upgraded our discussion forum to a newer version, assuredly with less quirks.
Thanks to the support of our official KL Subscribers we have been able to expand with issues of Stunt Kite Quarterly now being archived on the site, as well as an ever growing video collection.
If you like what you see here month after month, please help contribute to our ever expanding array of projects by becoming an official subscriber… Which also make you eligible for monthly prize drawings, as well as a growing collection of exclusive photos and video in our subscriber's area.
Cordially yours,
John Barresi
Publisher/Editor
Kitelife Magazine
Next Prize Drawing to be held soon!