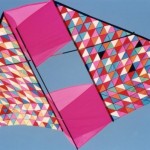 The World Kite Museum is sponsoring a Conyne Kite (and its derivatives) Celebration Friday, May 14, 2004. Why such an inconvenient time you are asking? It takes awhile to explain…  The Kite Museum is located in the neighborhood of the Lewis and Clark's first seeing the Pacific Ocean. In fact during their 18 day stay on the Washington side of the Columbia River, the Corps of Discovery hiked on the beach where we fly kites today.
Until the Lewis and Clark committee asked the Museum to fly kites May 14, the day our post office and nine others along the trail will cancel all stamps with a special Lewis and Clark stamp cancel, I'd thought Lewis and Clark were kiteless.
However, Nick D'Alto brought it to our attention that in 1904 at the Lewis and Clark Exposition in St Louis, there was kite competition. Of the 16 entries, Silas Conyne flew his patented kite the highest. It flew 3,751 feet.
That's how kites are going to be part of the Lewis and Clark Stamp Canceling event May 14.
We're really hoping that we can get a lot of single and double Conyne deltas in the sky. Not only will they be statements in the sky, but we can teach folks about kite history.
Keep watching for more information.
If you have any questions call 360-642-4020,
or you can also send emails to us via:
Our very best,
Kay Buesing