For years I had heard all about WSIKF, but never made it having been a sport kite competitor for the first 10+ years I've been flying… There always seemed to be a competition happening right around the same time, so it wasn't in the cards. Now I wonder why!
My first WSIKF was an incredible experience… despite the problems we had on the Kitelife server half way through the event, I still had a great time!
The kite stores
During the festival Long Beach triples it's population, with kite fliers and tourists coming from all over the country… When in the kite flying capitol of the United States, well, you better get yourself a kite or two and this town is well equipped to provide!
Ocean Kites
Fully stocked, with a great inside display and lots of floor space… Been around for a good long time.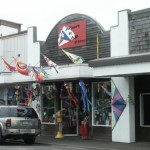 Above It All Kites
While not as flashy, they also offer a great selection and veteran staff more than willing to provide info.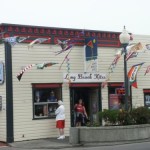 Long Beach Kites
Owned by Bill Stori (of Windancer), this store features great displays and an experienced staff.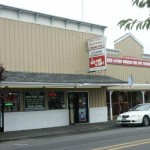 Stormin' Normans
While not stocked with the latest and greatest kites, it is one of the famous (original) stores in town.
The Food
There are dozens of vendors up and down the beach access between town and the festival, featuring everything from barbeque to donuts, chinese food to fish and chips… You name it! Aside from these "quick stands", Long Beach features a number of diners and restaurants worth checking out.
My personal favorites so far include first and foremost, the Cottage Bakery… Land of java, pastries, donuts, breakfast sandwiches and more.  Quite the local landmark establishment, these guys have a friendly staff and are always my first stop in the morning.
I also enjoy the local mexican restaurant, Mazatlan… It's a cool authentic feel, cozy, and quick.  I'm a sucker for mexican food, and the portions are enough to satisfy the appetite I get after a long day of flying!
After dinner, another great place to stop by is Scooper's… A mini mart right at the beach access and main drag intersection, they have a killer variety of tasty ice creams and sundries.
Obviously everyone has their own favorites, but these are mine… Check 'em all out, there are more than a few good ones.
The international guests
Jean-Marie & Marthe Simmonet
This wonderful couple came all the way from France to show off their amazing creations… Sculptors by trade, they make the most unusual air sculptures that not only look great, but actually fly! Rather than using traditional flight dynamics, many of their designs are composed of pieces laid out in unusual designs that still create lift.
More info about the Simmonets:
http://les.simonnet.free.fr/Cerfs_volants/index.html
Ralph Resnik
I first met Ralph at the international kite festival in Ahmedabad, India earlier this year… Relatively new to the kite world, his distinct fighter kite artwork has been getting a good deal of attention from the community and was a huge hit in India. Coming all the way from Israel, he is an entertaining gentleman to speak with and it was good to see him at another event this year… Ralph was officially the guest of the World Kite Museum, which is located in Long Beach, WA.
More info about Ralph:
http://www.gralphica.com/kites/
The USA guests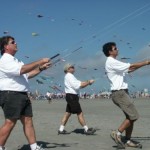 Team TKO
Generally composed of Troy Gunn, Chris Shultz and Jerry Hershey, I filled in as the alternate for this event for a number of sport kite demonstrations of team and individual ballet performances. TKO used to stand for Texas (Gunn and Shultz), Kansas (Hershey) and Oklahoma… Fortunately being from Oregon, I managed to cover the "O" in our team name. Between the four of us, we covered both the dual line and quad line genres, as well as a wide spectrum of musical choices for an appreciative audience.
More info about Team TKO:
http://tko.sportkite.team.tripod.com/home.htm
Sunday – 8/15
Arriving early in the day, things were pretty quiet… The main beach access was closed to flying, and people were wandering to the south end instead. After a quick bit of saying hello to the early birds, we stopped by the World Kite Museum where I was delighted to find quite a few old publications in a freebie box in the lobby… Namely the Spring '93 issue of American Kite Magazine (some of you might know why I like that one!) in mint condition, a good find since I had long since lost my only copy.
There wasn't much to report on for Sunday, but it was a wonderful laid-back day of mingling and flying… Time enough to settle in, and get a feel for the beach.
Monday – 8/16
The official start of the event! Waking up early to find a foggy morning, we headed down to the beach in order to assure a good camp… That we did.  Long Beach has a handful of these neat wooden platforms with a picnic table and windbreak, which prove to be an awesome base of operations. Having that done, we headed out for a tasty breakfast at Debi's Restaurant right across the street from the Super 8.
As things were getting rolling, we made our way down the row of vendors who were setting up for the big day… All the local kite shops had one set up, and we chatted with Bill Stori for a spell who was the closest one to the beach.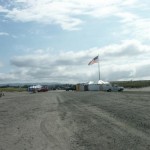 Other kite camps were busy setting up their own banner forests… Yes, forests… Not often do I see so many banners in one place!  As the day got into gear, fliers were setting up for the train and arch ascension which was held throughout the day, featuring a number of great showings including a box arch by Ann Huston, a gorgeous yellow and black Conyne train by Rod Milburn, a 99-kite mini train by Tom Tinney and one of my favorites – Mick Dahms' train of Edo-shaped kites, each with a hole in the center… Simply beautiful!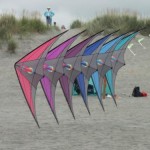 Dick Barnes and a few others gathered to check out a really beautiful 6-stack of Pizazz… Despite fairly light winds, Troy Gunn and I both had an excellent time with them… Even doing axels and gentle tip stabs with them!
Taking out a couple of my custom Revolution I's a little later in the morning, Troy Gunn and I flew some impromptu quad line for awhile… And did surprisingly well considering we'd never flown together before!  Yes, I did come out to WSIKF as part of Team TKO, but I'll get into that later!
The sun came out in the middle of the day, really bringing the colors out in all the kites up in the air so far… It was kind of a laid back day for me, flying leisurely now and then, enjoying the beautiful Washington beach.
After flying for a good part of morning and chatting with spectators (One guy rode his bicycle all the way from Kentucky!), I was getting real hungry and headed back down the row of vendors to find some chow… Hmmm… Chinese? Barbeque? Elephant Ears? Nah… I finally settled on an AWESOME halibut sandwich which I have to say was my favorite of all!
After getting everything all packed up we headed back to the hotel to get cleaned up, then headed over to Mazatlan for an awesome Mexican dinner… All settled with full bellies, we wandered down the main strip and check out some of the kite shops talking about, well… Kites!
Lastly, and fairly late, back in the room I managed to get the first day's daily update together and published to the web… And then off to bed, ready for another big day.
Tuesday – 8/17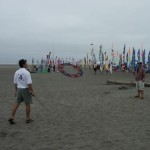 Up and at 'em early again… After a stop by the Cottage Bakery for pastries and coffee I found myself exploring the early morning vendor row yet again with my teammates, Troy Gunn and Chris Shultz (teammate on TKO, who happens to be the General Manager for New Tech Kites) and it seemed like Chris had an Air-YO out every time we stopped by a kite shop for more than 5 minutes during the course of the week!  These things have proven to be quite a neat toy, and I'm having a great time trying to get the hang of it.
One of the events of the day was "Club Camps", with the various participants all being judged on overall banner and kites displays… There were a number of great ones – "CM Fly" took first, African Animals in 2nd, Crazy Lady Kitefliers and augmented by Mr Shultz's kite bag, Team TKO tied for 3rd.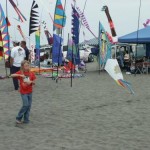 The "Totally Tubular" event saw prizes going to Rod Milburn, Georgean Curran and Sylvia Bernauer in "Tail Wags Dog" for how well their tubes enhanced the overall effect of their kites… Rod Milburn again, Amy Doran and Anna Boyd for "Spin Me Around Til I'm Dizzy" where the best moving or spinning tubes are awarded, as well as Dee Sargent and Ellen Pardee in "Trick Tube" where tubes making other shapes (such as a chain) are acknowledged.
I snuck off to fly my Shiva for an hour or so… Then the light winds locked into a beautiful 6-8mph… You know every once in awhile, you hit that "perfect zone" where the wind is right and everything just clicks? This was one of those mornings for me, and I was hitting everything in my repertoire!
Around this time, Ray Bethell arrived with his trademark Kestrels a little ways south of me down the beach… He immediately had a crowd of spectators going, and his ground crew was in rare form.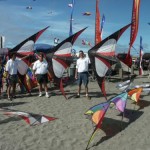 So as I'm flying around 1:30pm, I happened to look eastward and saw the rest of Team TKO setting up on the demo field… After a quick scramble back to camp with my kite, I got geared up and joined them. With their usual third member Jerry Hershey not arriving until the following evening, we decided to just fly a couple of ballet routines each.
Later on, individuals set up for the Rokkaku battle… Flying in a number of elimination heats, top honors ended up going to Rick White, Ronda Brewer and Sue Clark. Later on in the day, team Rokkaku awards went to Speed Racer, J&K Plus One, with a tie between Team Taz + 2 and Team Red, White and Black.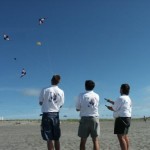 As the day was coming to a close, we decided to see if they could teach me their 3-man Team TKO routine… After about half an hour of stick practice we flew it about 3 or 4 times and we were pretty much set! Having flown on three World Cup teams myself, and flying "pick up" on several more over my years on the circuit, it was old hat for me… Team flying is like my #1 favorite kite thing ever!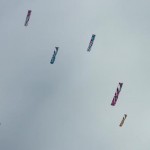 After getting everything packed up, I stopped by the Sports Boosters tent for fresh grilled tuna, clam chowder, a shrimp cocktail and coleslaw… Then, after hanging out "shooting the breeze" with other kiters, I headed back to our room for the next update… Although I did have some problems with the DSL line in the room, it eventually got on line first thing the next morning.
Wednesday – 8/18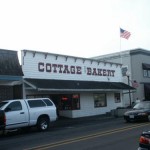 After another stop at the Cottage Bakery for java, I made my way through a fine ocean mist to find the skies overcast and solid 15mph winds… Braving the sprinkle, clubs and individuals got into the "Paint Me Patriotic" spirit with red, white and blue kites and garb… Biggest Piece and Best of Show went to Angel Engbaun, One Line Display to Dennis Handel, and Most Kites was a tie between the Lilac City Wind Chasers and the Goat Hill Gang.
After wandering around the beach and checking out some of the Sutton Flowforms people had put up, I headed back to the main demo field in time to catch the Kids Kite Sprint and Reel Out.  In two age groups, about two dozen kids lined up at one end of the field with their kites and "On your mark, get set, go!" they let line out to see who could get their kite to the other end of the field the fastest!  Winners in this event were Michael Wagner (5-9 year olds) and Adam Wetch (10-14 year olds)… Adam had a Conyne that easily doubled the distance of the other kites, and just coasted out on the steady breeze.  For the Kite Sprint, kids raced (on foot) from one end of the field to the other while flying their kites, with the fastest being David Blaylock (5-9 years) and Alex Ortiz (10-14 years).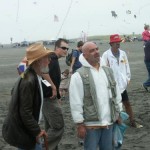 During the fighter kite showcase, pilots flew needle-tipped kites and tried to pop a balloon which was perched on a pole downwind… With fairly solid winds, no one managed to get it, although it was a blast to watch some of these guys and their ability to control a single line kite!  Also featured in the showcase was the "Sheep and Wolf" event, where fliers (Johnny Hsiung and Gopal Das as Wolves) equipped with glass-coated cutting line, or manjha, tried to cut a bevy of other fighter kites (Sheep) out of the sky… Spurred on by announcer Richard Hurd who was decked out in a mock formal Tuxedo t-shirt, these guys looked like they were having a blast!
Closing out the day's events, about a dozen pilots 50 years or older got together for the Senior Ballet event… As one of the selected judges, I got the best seat in the house for this one!  All kids at heart, these fliers proved age is no barrier as they flew a variety of kites in very fun and soulful ballet routines… First place in Novice went to Sylvia Bernauer who flew a fun routine with a long tail on her kite, Experienced was won by Richard Hurd with his fighter kite, Masters went to Dan Burnham flying a Revolution, and Best of Show, of course, went to Long Beach's traditional favorite, Ray Bethell.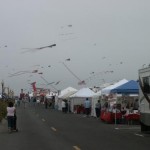 Something that became a regular thing for me was those wonderful fish sandwiches from one of the vendors east of the field… They definitely had a variety of goodies, and sometimes I think I could even smell it all upwind!
Every day of this event, you could find truly beautiful air sculptures by Jean-Marie and Marthe Simmonet from France… Truly amazing work, and fully air worthy! I hope to come across them at festivals for year to come. Their kites are a real treat.
Wednesday evening a little over a dozen fliers assembled at the local high school gymnasium to fly indoors, and a few demonstrations… Fighter kites, dual lines, the ever-present Air-YO, and a Revolution EXP, which I managed to wrestle away from its owner long enough to get a little flying time in myself.
Thursday – 8/19
Many of the comprehensive kite-making events were held on this day, with entries judged in sixteen categories and four skill levels… Apprentice, Journeyman, Masters and Kahuna.  Check our results page at the end of this article for details. It was little chilly early in the day, but the sun eventually came out and brought the spectators with it to enjoy all of the beautiful handmade kites.
The perennial People's Choice flier, Ray Bethell was in excellent form as always during his ballet demonstrations, flying three kites to music, and was an ongoing performer throughout the day on his own field… I think WSIKF wouldn't quite be WSIKF without this man in attendance. He just has a magical presence on the field and people can sense it!
The Revolution field was set up early on, with Lolly Hadzicki and some helpers teaching tons of people on her quad lines throughout the day… I even wandered down for a little while to join in on the quad fun.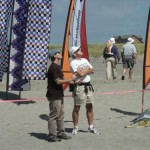 The other manufacturer field was occupied by Prism, where owner Mark Reed was content to fly their new Quantum Pro and educate the public about their products… Having known him since before Prism was conceived, I stopped and chatted with him for a while and put his kite through its paces
Jean-Marie and Marthe Simmonet had more of their sky art airborne. A particular favorite of mine was a huge kite composed of white, light green and blue ribbons… Along with a good sized play sail, and an odd white one which still reminds me of when I used to cut paper snowflakes as a child.
Brian Champie, Dan Whitney and David Gomberg lofted some of their inflatables, as did a few other fliers! Among them were Trilobytes, a Lobster, Teddy Bear, Blue Meanie, and Spaceship… There were also two Bols (or Crowns) tethered and spinning in opposite directions, which made for some great pictures when shooting background though them!
With the sun in full effect, I particularly enjoyed the way the rays were coming through all of the colorful fabric… I must have looked pretty funny wandering back and forth on the beach trying to stay in the shadow of several kites in order to get a backlit shot of them!  The way the shadows cast on the sand however, was absolutely sublime… Nothing like a giant grey gecko crawling across the beach.
With steady 8-12mph breezes in full effect, Team TKO took to the demo field for another round of routines… The official third member, Jerry Hershey, had arrived the previous evening, and they were ready to rip out some team flying! In addition, each of us flew one individual routine.
The North American Fighter Kite Association opened up with a workshop by fighter kite expert Steve Bateman, and proceeded into Novice competition, all part of NAFKA's 5th annual Conrad Cup Buka Fighter Kite Challenge… Also present on this field was fighter kite maker and artist Ralph Resnik from Israel, who is a genuine treat to hang out with and makes some darn fine kites to boot!
Around 3pm Team TKO and I set up a ways down the beach for some more practice… We flew 4-man for a while, bringing back fond memories of my own team history… After a spell, I stepped out to shoot some photos of them while they whacked out their 3-man routines. I'd never actually seen these guys fly together before this event, and I just can't get enough of team flying… Too enjoyable!
After getting everything packed away, we stopped by our hotel to get cleaned up and headed down to nearby Ilwaco for the Associated Oregon Kitefliers barbeque and potluck… There were quite a few awesome bag raffle prizes, and the event was very well attended! "Grill-daddy" Carl Bragiel was hard at work on the grill out back with hamburgers, hot dogs and Bratwurst to go along with the potluck items brought by guests… Great chow, great people, great fun!
Friday – 8/20
When I awoke in the morning, I was disgruntled to find that Kitelife's server had experienced total hardware failure sometime the previous day, and had shot a hole in our daily updates since no one could get onto the site… After posting this news on GWTW's forum, all I could do was grit my teeth and wait until I got back to the office in order to research the problem and try to get everything back up and running.
As we made our way out onto the field, we were greeted by thick fog and solid wind… This actually made for a completely different view of the kites, since many of them were barely visible through the thick fog! Most noteworthy were the Sutton Flowforms, which were so far up in the air that they were nearly invisible, but peeked through just enough to lend a surreal sight against the grey skies.
Mike and Teri Huff coordinated the Junior Dual Control event, and did a wonderful job of encouraging and teaching a number of young fliers aged 14 or younger who turned out to participate in this precision event. Kids flew their dual line kites through squares, circles, and vertical figure eights to the delight of parental onlookers… Emma Gudith took top honors in Novice, and Wyatt Neagle placed 1st in Experienced.
The manufacturer/sponsor fields were well attended again, with Mark Reed from Prism and Lolly Hadzicki from Revolution demonstrating their latest products and doing a wonderful job of educating the spectators who stopped to talk to them and try out some of their kites. Tons of people were introduced to the world of dual and quad line kite flying while events continued on the main fields.
The quad line mass ascension was a pleasure to watch, with a wide variety of kites present… While Revolutions were definitely the kite of choice, we also saw a Spirit or two, various foils and even a TC Ultra quad delta coming out to play… Afterwards, some of the Rev fliers gathered on a neighboring field for some team flying and general fun.  I wandered down there myself for a spell, but since I fly the Rev I and everyone else was on Rev 1.5s, my kite looked a bit out of place and I consented to sit back and watch them for a while.
Now 78 years of age, Ray Bethell is one of the most die-hard fliers in the world! Every day, at every event he attends, he is out there flying three kites at once (he's a world record holder)… A funny note, the running joke is that he gets five years older at every WSIKF, since they sometimes announce him as being 90 years old, 95, etc… Depending on who's announcing. Young at heart, I never notice anything except his sublime skill and artistry… which has earned him recognition as one of the most famous fliers in the world.
One of the treats I always look forward to at events that Lisa and Carl Bragiel attend is their llama pen… They have a great collection of mini banners made out to look like little llamas (they are llama ranchers, after all), complete with authentic-looking electric fence… They even had a dummy water and power hook-up set up which I've seen on several occasions, and sometimes you can even catch someone trying to plug something in! Definitely good for a chuckle.
Around mid-afternoon, the Northwest Sport Kite League (NWSKL) hosted the Hot Tricks event… Participants came out with their best trick kites and whipped out some incredible slack line control! Flying two at a time through elimination heats, fliers fly to a track of music and trade off every 30 seconds trying to "one up" each other… After all was said and done, it came down to Chris Thompson and James Thompson (not related) shooting it out for top honors, and Chris came out on top by a close margin based on audience applause.
In addition to the Hot Tricks event, sport kite fliers alternated on the demo field throughout the day and flew ballet routines to the delight of onlookers… With ideal winds nearly all day, we saw some truly beautiful performances.
Also held today was the Circo-Flex Round-Up, filling the sky with these unique ring style kites.  As we got later into the day, a fairly thick mist rolled in off the ocean… This continued and got a little worse, but then eased off and left us to fly the rest of the day without any further inclement weather.
Early evening found many of the attending fliers further south at the preview of the World Kite Museum's new location… Previously, their old site offered only a few hundred square feet of floor space and the new one has over 10,000! This should afford them the ability to "put it over the top" with regard to displays and exhibits.  They served appetizers and wine during this preview, leading up to the induction of this year's Hall of Fame addition… Ray Bethell!  I hate to say it, but when someone told him directly that he should be there, they didn't make sure that he understood (Ray is nearly 100% deaf), and he wasn't present to receive the award and be a part of the festivities… They made up for it at the banquet on Saturday night though.
After the Museum function, many of the fliers made their way back to the vendor row for dinner and to hang out in the beer tent… A live band provided ambiance with drum rhythms, and kept things going during a lighted kite night fly and the grand finale… A fireworks display! The night sky was pretty thick with mist, and much of it came out as colored, flashing fog… But the thousand or so people who came out to watch and celebrate had a great time nonetheless!
Saturday – 8/21
We started the day off with the classic ocean fog that Long Beach is known for at times… I had my bets on it clearing up later in the day, which only turned out to be partially correct.
Team TKO and I took to the beach early on for a photo shoot with their gorgeous rainbow New Tech Jams standing out clearly in the muggy weather… We managed to get some practice in, and came out with some really pretty photos!
Mystery Ballet was well attended with 14 fliers in all, who picked a musical category from the 50's, 60's or "current" categories… Then their soundtrack was drawn at random from that genre.  With a wide range of ages involved, we saw an amazing variety of styles and skills.
One of my personal favorites was 10 year old Cody Anderson who took 3rd at the experienced level flying his own Rainbow Jam! Sylvia Bernauer won Experienced, Masters went to Willy Hendrickson (who won his very first Masters ballet event the prior weekend in Long Beach), and Kahuna honors went to Jerry Hershey of Team TKO… Troy Gunn flew his multiple kites beautifully as well, being recognized as Best of Show for this event.
Afterwards, we were treated to the Flat and Bowed mass ascension which saw over a hundred different kites lofted into the air… Barry Crites and Vic Espheter were kept very busy going back and forth across the field distributing the 3rd pin in a set of four which was being awarded to those who participated in mass ascensions throughout the week… The mass ascension pins are always a great thing to strive for, and this year they all fit together to form a larger kite shape!
One of the last events of the was a Teddy Bear drop… Cliff and Gerri Pennell saw to the safe delivery of 15 highly trained para-bears, "jumping" one after another from an overhead kite and floating down to one lucky kid at a time… It's always very entertaining to watch kids scrambling across the field for airborne goodies, and this event is one of my favorite things to watch at any event.
At the same time, judges were counting and ranking some gigantic and beautiful cloisonné kite pin collections… As both of these last two events were coming to a close, a sudden and heavy downpour started and drove spectators scrambling for dry land! Team TKO and I were lucky enough to have a canopy set up, and we spent the next 15 minutes trying to get ourselves and all of our gear under it as torrents of water came out of the sky! After waiting it out for about a half hour and packing kites away, we got everything loaded into the truck during some of the lighter spells of rain… But there was no end of this rain in sight.
Running into Dan Whitney later on at the banquet, he told us about how his Teddy Bear happened to land in a little stream on the beach… At which point water started running right into it's open mouth.  Anyone who has been close to or handled these big inflatable kites before can imagine the challenge this provided in order to get it packed down and stowed away!
Later on we found out that there were a hardcore few that actually stayed out to complete the Team Rokkaku Challenge and Cody Fly. Naturally, many of them were from the Northwest and equipped for the inclement weather… The Cody Fly apparently saw an attempt to put up more Cody kites at one time than ever before, but it didn't come to fruition since we had 2 inches of rain fall during the afternoon and evening.  I heard that several vendor areas had damage from high winds late in the night… One vendor even lost two ceramic fountains she had for sale that were valued at a few hundred dollars when one of her tables blew over.
After a half hour wait, we enjoyed a well-deserved dinner at Dooger's down the street… With the city's population more than tripling during the event, we were actually pretty lucky to have gotten in so quickly. Afterwards we made our way through the rain over to the Elks Lodge and joined up with everyone else for the Awards Banquet and Gala… With AKA President David Gomberg serving as the master of ceremonies, they auctioned off one of the best selection of kites I've seen at any event except for maybe the AKA Grand Nationals! In addition, they also held a silent auction for 50+ items of various types, which had people dashing back and forth across the room upping each other's written bids all the way up until the auction was brought to a close.
One of the highlights of the evening was when Ray Bethell was recognized as the latest entry to the World Kite Museum's Hall of Fame, making him the very first sport kite flier ever to be inducted!
Also acknowledged was Neil Dawson as the Peoples' Choice kite flier, and Eric Wilson for his Peoples' Choice kite… All through the week of WSIKF, there is a kiosk with photos of various candidates and a box for visitors to pick their favorites and enter a vote… So it is truly the PEOPLES' CHOICE.
Sunday – 8/22
I don't have much to report on from Sunday, since the weather was quite foreboding and we took off around mid-morning… But, when we arrived at the field around 9am there were probably two dozen fliers out there already – most of them huddled under the tent and staying out of the rain.
Ray Bethell was one of only a couple people flying that early in the morning (OF COURSE)… I've known Ray since 1990, when I was 15, and he is very close to my heart… When I imagine maturing into my golden years, he's the icon that I have in my mind.  We chatted for 20 minutes or so, which amazed me since he just kept flying and looking over at me (His lip reading is quite good)… After a while the weather really started to kick in, and he grudgingly packed up to get out of the rain.
I don't know if they ever got to the two scheduled events of the day, but on the roster was a Memorial Fly to be coordinated by Larry Zilar, and the big mass ascension where they try to break the record for most kites of any kind in the air at once.
You know, I really hate goodbyes… Although I know I'll see many of these people at events throughout the year, it's still tough saying ciao.  Regardless, we said our goodbyes to the few people there and made our way back to Portland.  Occasional rain aside, it was a wonderful event and I enjoyed that full, satisfied feeling all the way home.
Come on out and join us next year!
Daily Updates (opens in a new window)