So, John and your humble "geezer" are on the road again for the Up The River Indoor Festival held February 4-6, 2005… Bright and early on a Saturday morning, off on a 140 mile jaunt to Arlington, Oregon straight east, right up the Columbia River from Portland. The trip goes easy and well, and we pull into town and find we're lost already – in a town of 600 souls? Oh, well – someone'll know where the High School is. We spot the local Ace hardware, and John goes in to inquire and comes back with a big grin on his face. The owner of the hardware store is also on the Chamber of Commerce, and he'll be helping to cook our dinner later tonight. AND, the High School is a left out of the parking lot, a right at the first corner, and straight up the hill. You can't miss it! So, we didn't! Ollie-Ollie-In-Free!
John and I pull up and walk in and are introduced around to the various "organizers," including Colleen Cunningham, Alan's lovely wife. Alan Cunningham is the real force behind this indoor festival, but is Soooo busy "organizing" that we just get a wave and a "Hi" from him. We meet other locals like Rick and Kelly Wright who own the local kite shop and the Mayor of Arlington, Carmen Kontour-Gronquist, and also say "Hello" to several old friends who're in town for the festivities too.
Then it's into "open free-fly" time, where the general public has a chance to get out on the floor and try out this terrific new sport – and several of them are busy doing it, with coaching from more experienced indoor pilots. A couple of young boys are thrilling each other (and everyone nearby) with an impromptu AirYo exhibition, and a young lady around 12 years old is paying good attention and learning to pilot an Indoor Wren. Other, more experienced, pilots are setting up their kites, and taking a turn on the floor to test, tune, and "get the feel" of the indoor air currents… So I wander over and chat with Rick Wright, who would really like me to announce on the PA system. I'm just recovering from an ugly cold, so beg off for now, but promise to be back later…
After a lunch of Hot Dogs, Baked Beans, and a soda, we return to the High School gym for the afternoon's competitions.
The judges (including Arlington's Mayor) are ready, the pilots are reasonably so, and I grab a mike form Rick Wright and we get the show underway. Announcing is tough if you haven't done it in a while, so it took me a round or two to get the routine down. Still, we got the comps completed, and nobody complained that I'd mispronounced their names. Highlights were routines by Scott Davis and his Indoor Pizzazz, Wayne Turner flying a Wren followed by an Indoor Rev, Bud Hayes flew a very nice routine, 16 year old Lauren Davis with her Wren, Alan Cunningham flew several indoor kites including a new HQ single-line glider, Kyle Wright flying a Wren, Penny Lingenfelter with her marvelous indoor Rev exhibition, and John Barresi using a borrowed Indoor Pizzazz and Revolution (I'm sure I've forgotten someone).
Immediately following the competitions, it was "demo" time – that time when pilots can get out and "play" and display the riskier stuff that they don't use in competition – or the routines they're developing, but they aren't ready for "prime time" yet… Nearly everyone demos– some several times. The "hit" of the afternoon as far as your reporter is concerned was watching "Chaos Effect" (Alan Cunningham and Kyle Wright) flying indoor Wrens in a "pairs" routine. They did multiple 360s standing together, with overlaps of the circles of course. They were darned good at it, too! Still, the idea of indoor "pairs" kind of intrigued Penny Lingenfelter and Wayne Turner, so they put a nickel in the jukebox and flew an impromptu demo together with their indoor Revs – and did a very creditable job at that too. Nice jop, folks!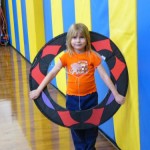 Soon, the afternoon session was over (and your announcer's voice was glad of it) and we all shared some marvelous Super-Tacos with all the trimmings for our supper. Yum! Yeah, there was dessert for the kids, too – though a couple of we 50+ year old "kids" had to constrain ourselves to a single dessert helping. Free-flying followed, and we all had a chance to finish putting our tickets in the raffle bags before Alan Cunningham began pulling out tickets and awarding the prizes. Some feller named "Connor" seemed to win a lot of the raffle items… Immediately after the raffle, Alan auctioned off a Prism Vapor and a L'Atelier Lynx Feather, all of which made for a very successful evening of fundraising.
OK… You have the picture on "most" of Saturday, now. What was not part of the public program was the reception at Alan and Colleen's house following our sessions at the High School. The Cunninghams opened their home to all the "visitors," and Alan and Kyle proceeded to demonstrate their expertise with sushi. Subsequent reports included comments like, "Well beyond gourmet, into the Exotic Sushi Competitions realm…" If you're a kite pilot and into sushi, you missed a good one, gang! Besides, there was a little "normal fare" for we common folk, plus kite videos on the tube, plus the extraordinary camaraderie that always develops when kiters converge. Folks – the "afterglow" party was worth the whole drive.
Still, we had to get home so we left before 11:00 PM, with full bellies and big grins on our faces. The following day, they held the Hot Tricks competition, I'm told. The reports that filtered back said it was great fun for all – participants and spectators alike.
Hosting an indoor event is no small task, but according to lead organizer Alan Cunningham it is much easier than an outdoor festival by many means. Securing a site with a "sealed room" like a gymnasium, large cafeteria, or warehouse is the first step. Generating local support is crucial to making an indoor festival work. In Arlington we were able to generate sponsorships from the local hotels, eating establishments, and the school to help bring people into Arlington.
Even the Mayor volunteered to be a judge for the Indoor Competition on Saturday. A host of volunteers and sponsors donated time, effort, and merchandise for the festival and the bag raffle. The bag raffle, patterned after the Windless Kite Festival and the Westport Windriders Festival allowed patrons to buy tickets at the door, and place those tickets in the bags assigned to the prize they wished to win (items ranged from a case of shaving cream and spice sets, to kite items and kite paraphernalia). This bag raffle plus the live auction kites (in this case 2 very nice sport kites) generated enough income to pay all the bills for the festival and send $500 dollars to the World Kite Museum.
Next year the crowd will be larger… lots of curiosity AFTER THE FACT!
We had great experienced and beginner fliers. The floor was busy the entire time.
Thanks to ALL the people who donated time, effort, and stuff to make this festival work.
Up the River 2005 CREW:
EVENT COORDINATOR:
Alan Cunningham (also know as Captain Chaos)
EVENT "HOW TO" DUDE:
Scott Davis
JUDGES:
Linda Hayes
Carmen Kontour-Gronquist – Mayor of Arlington
Colleen Cunningham
Bob Wendt
Kirstie Hayes
DOOR CREW:
Colleen Cunningham &
Kelly Wright
ANNOUNCERS:
Rick Wright
Dave Shattuck
AUCTION/RAFFLE/SUPPORT DONORS:
(70+ items for the bag raffle and live auction)
Columbia River Kites…trophies and SO MUCH MORE!
Arlington Chamber of Commerce — Food for Fliers on Saturday
AHS Class of 2006 — concessions
Daniel Haigh — feathers for recognition awards
Pass Times, Hood River OR — Prism Vapor and Air Yo
The Kite Shoppe, Vancouver WA — Lynx Feather
Johnny's of Fife
Arlington School District/High School— facilities and heat.
New Tech Kites — Air Yo's, Pyro, Firecrackers
BUSINESS SPONSORS:
Mid-Columbia Hair Design
Pheasant Grill
Happy Canyon Pizza
Village Inn Motel
PHOTOJOURNALIST:
Caitlin Bartlemay
VIDEOGRAPHER:
Sonia Turner
POST PRODUCTION and DVD CREATORS:
Alan Cunningham
Caitlin Bartlemay
MEDIA SUPPORT:
KiteLife (John Barresi & Dave Shattuck)
East Oregonian-Pendleton/Hermiston
Hermiston Herald
The Dalles Chronicle
97.5 COOL FM (Kennewick, WA)
Be sure to check out the extra photo gallery
from this event, found at the bottom of this
issue's "cover page".
Photos by Caitlin Bartlemay