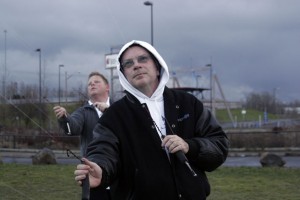 Many years ago, when I was hanging out in kite focused IRC groups and participating in rec.kites, I remember waiting with a lot of anticipation for a new "thing" that was about to hit the internet, a magazine called Kitelife. An ambitious project by Mike Gillard and a handful of people helping him, I read it every month it came out. So, it's been kind of neat to see it come full circle for me, finding myself the Editor of a magazine that I've read for so long.
And now? We're onto the first issue of 2008, and my second issue at the helm. The first one was definitely a good, steep learning curve and this second one has gone much smoother.
Meanwhile, John is buried in a complete redesign of the Kitelife site. I've seen the new "look" and I think its going to look great. it'll give us some better flexibility in the future as well, making it a little easier to bring new sections to the site. With a little luck and a whole lot of coding, you should see the new site sometime during the next several months.
And speaking of the next issue, we'd pledged recently that we wanted to have more articles within these pages that dealt with "kite life" beyond sport kites. So, if you'd like to help out with this, please take a look at the Join The Team section below. We'd like to see some articles on fighter kites, buggy events, the making of single line kites, really just about anything at all to do with the idea of a "kite" and whats happening around the world with them. And if there is topics you'd like to see us cover in better detail, just drop me a note and I'll find the people needed if I have to. Promise. Given the staggering amount of festivals Kitelife will find ourselves at this year, come up and tell us directly if you'd like, we love meeting people and any help we can give you in getting an article together is simply yours for the asking.
And, don't forget! Valentines is just around the corner and I know my special Valentine would love a Kitelife membership, or perhaps one of the new t-shirt designs? This might be the thing that will buy you a few extra brownie points for the upcoming seasons…
Cordially yours,
David Hathaway 
Editor at Large
Kitelife Magazine
Next Prize Drawing to be held April 1st, 2008!