Getting to Wildwood wasn't easy.
For a 7 a.m, flight out of Portland, we have to leave home at three. The flight connected through Washington/Dulles. And that's where things started to go wrong.
I boarded the plane for Philly. Then the pilot announced he needed two volunteers to give up their seats. No one moved. So customer service came on and bumped two. The process took 25 minutes. By then, we'd missed our departure window and had a weather problem.
We got off the plane. We waited an hour. Then another delay was announced. Finally, four hours behind schedule, the flight was cancelled. And I'm thinking that if we'd known in the first place, I'd have rented a car for the two hour drive…
All the other flights were filled — and delayed by the raging thunder storm outside. I decide to stand-by, thinking my mileage status would get me a seat. But I wouldn't know until they started boarding. And we didn't know when that would be. I called Al Sparling and Pete Dolphin who were waiting for me and told them to go to bed.
The 9 p.m. flight boarded at 1:30. And I got the only open seat. Then we sat on the runway an hour. Finally, FINALLY, we arrived in Philadelphia at 3:30 in the morning.
I texted Al Sparling. I told him to phone me when he wakes. And five minutes later, he calls. "I'll find a place to hunker down at the airport and try to sleep" I say. "When Pete gets up, give me a call".
Anyway, if you wonder why I was dragging on Friday, that's the reason.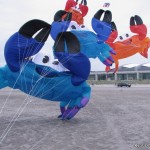 Wildwood celebrated 25 years this Memorial Day. When sport kite competition was enjoying its peak, there were major contests in Honolulu, Marina Green, Grand Haven, Miami, and New York. All are gone now but Wildwood remains. And while it is true that the contest is a pale shadow of the days when there were 250 competitors, you have to give them credit for continuity.
Wildwood was started by Olan Turner, Fran Gramkowski, and Roger Chewning. The next year, George "Corky" Chewning came on as Operations and Mike Carroll as Chief Judge.
In those days, each major event published their own rules. There was the Hawaii Challenge book, the Western Rules, and the Eastern League Rules. When I became AKA President in 1990, I convinced Mike and Corky to chair the Sport Kite Committee and create a national rule book based on what was used in Wildwood.
Roger has since moved to Costa Rica and returns each May to New Jersey. Sky Festival Productions is being run by Beatrix Pelton.
Roger always celebrates a birthday at Wildwood. One year the fliers got him drunk and took him bungee jumping. Another year, wife Kathy hired a Marilyn Monroe look-alike to sing to him at the banquet. "Happy Birthday, Mr. President", she whispered. I was jealous! Because at the time, I was the president — of AKA.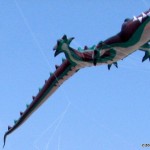 This 25th Anniversary was a special celebration and it was good to see many old friends return. In some cases, young kids had grown into fine young adults with their own children. For others, hair was grayer — or gone. Some had gained weight and some lost it. Some marriages had ended and others had begun. Some wild and crazy partiers had grown sedate and wiser with age. Others were just as stupid as before.
During the banquet, attendees were recognized who had attended more than 20 times. I was surprised how few of us there were.
Each kite event is about people. After a quarter century of Wildwoods, I have to think of the people that made it special and who are no longer with us. Olan Turner, Chris Batdorff, Ralf Offredo, Sue Taft-Sedgwick, Tom Mason, Scott Spencer, Mile Gillard, Al Hargus. All were special friends and I miss them terribly.
Early banquets at Wildwood were held at Uncle Lou's Pancake House. Scary place. One year the water lines burst and all the tap water was brown. Another year, they served Chicken Cordon Bleu. Stick it with a fork and grease gushed out. We called it "Squirting Chicken". Fran started his meal and got a lap full of chicken squirt. He had to present awards that night and his pants were still wet.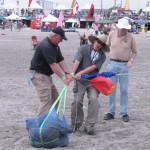 Today in Wildwood, major attention has shifted to the Big Festival Field where Sharks, Crabs and Cuttlefish filled the sky. I enjoyed flying with Al Sparling, Jeff Burka, Dennis Hawley, Jeff and Joyce King, Tom and Debbie Zach, Tim Allen, Kevin and Cinda Shannon, and Tim Maruczack.
We dug anchors, adjusted to wind shifts, and dug more anchors. Sunday the wind blew from every direction except up and down. By the end of the day, we had shifted completely around the field and were back to the original holes.
Art kites and club displays were closer to the boardwalk and larger kites on the backside of the beach. Sport kite events, rokkaku battles, and fighter contests continue further south. And of course, there is now a huge Rev presence at the event.
At 19, John Barresi was introduced to shooters at Wildwood. He got so intoxicated, they called the paramedics. "Where are you?" they asked. "Wildwood". "What day is it?" "Saturday"
"Who is the president??" …. "David Gomberg".
Rob Brasington made the trip over from Grand Haven and continued to color the sky with his delicate creations. Inside the adjacent Convention Center there is an indoor competition together with displays and workshops.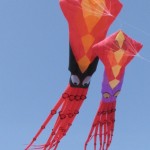 My earliest memories of Pete Dolphin were from Wildwood in about 1990. There was a party in the parking garage at the QuarterDeck Motel and there was a guy with flaming red hair and a long red beard Bar-B-Quing. He had a beer in one hand and a spatula in the other. Flames were three feet tall around the burgers. And there was precious little hair left on either arm. The whole thing looked like some weird ZZ Top video.
Wildwood is packed with people every Memorial Weekend.
The beaches are filled with bathers and the Boardwalk is crammed with folks all flexing, displaying plenty of skin, and checking each other out. Some even stop to look at the kites.
What few of them realize is the rich kiting history that continues to unfold out on the sand.
David Gomberg