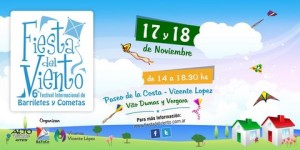 Haga clic aquí para leer este artículo en Español!
This year the dragon´s magic was the goal of 6th Wind Party in Buenos Aires – International Kite Festival.
Held on November 17 & 18 was organized by BaToCo, Alto Vuelo Kites and Vicente Lopez Municipality.
Groups involved:
Alto Vuelo Team; Contra Viento Team, Rosario Vuela, Gigantes Voladores; MDQ Mar del Plata; El Alma del Piloto and  members  from: Azul, Bariloche and De la Garma cities.
Saturday 17: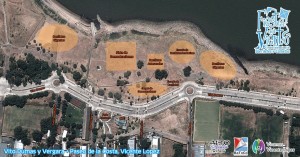 We arrived at 9:30 AM at the arena in order to pitch our tents, banners and marking the arena, which was due to this diagram. It was a sunny day and the wind from East at 35 km/h.
The Rio de la Plata´s landscape with its classic sailing ships accompanied us off from our large estuary.
A fairly relaxed schedule was planned in order that the audience, can choose and enjoy the activities.
As usual the opening ceremony was held with patriotic kites. This time Mr. Mayor of the Vicente Lopez Municipality was the one who flew the Batoco´s Patriotic Delta. The "Escarapela", also graced the party by members of the flying club.
After the formal opening, all groups were ready to continue the activities:
BaToCo – Barriletes a Toda Costa Associacion Civil:
It was one of the main organizers where the ability of its members is making kites. This great variety of artworks dating back in the sky is tasked to interact with other groups in our country and the world.
So members flew giant kites as landmarks, of development meeting place. We also have the participation of members from the cities of Rosario, Bariloche, Mar del Plata, De La Garma and Azul sharing unforgettable moments.
Anyway I would like to talk about three projects presented by some members of BaToCo.
Betty Cassanello:
The kite flying and display, both activities are complementary. So, while kites are display representing something to admire and imitate.
The motivation of this outstanding artist can be displayed on the works carried out, in the detail, in the composition, in the message; expressing a feelings which aims mainly to solidarity and emotional.
Mabel Gonzalez:
Mabel is an artist. She loves flying kites with no wind and also she dedicated to transforming  and recycled objects so that recreate the viewer's eye shooting ideas in each work done creatively. It imposes a message that transcends borders with global thinking: "caring our planet."
Gustavo Sonzogni:
Other BaToCo activities were the Dragons of heaven and earth; an artistic expression of dance, music, ceremony and flight.  A clear and relevant message that denotes a well organized work.
The dragon´s dance was given by members of the Choy Lee Fut School Argentina.
That organization transmits China culture in Argentina. Its members have demonstrated technical and artistic skills following the traditional Chinese songs. The internal energy of each one, gave us that strength came from that mythical beast.
Before the BaToQuero´s excitement, put Chinese dragons on flying, the Shifu – Master German Bermudez proceeded to perform a ceremony that surprised us.
The ceremony was to give soul at the Dragon in order to awaken.
Gustavo Sonzogni met with Master Bermudez and expressed what the idea was, showing the dragons he had brought from China. The teacher examines them and said: "But these dragons are asleep, we must awaken giving them your soul. This is done through a ceremony, in which they paint the tongue, eyes, ears and head finally giving spirit.
And really the dragons awaked flying beautifully.
Alto Vuelo:
It was another of the organizers whose activities were:  commercial product presentation, kite school, workshop with recycled materials, demonstrations and so forth
Groups:
Alto Vuelo Team:
Willy Borsani and Federico Polizzotto did individual and team freestyle demonstrations with its Proteus Pro, characterized by their refined technique, timing and youthful spirit.
Gigantes Voladores:
This group came from Rosario city in order to share with us its one line big kites and a good time.
Contra Viento:
Group belonging to Rosario city compound by: Ariel Carnevalli, Dardo Tacconi and Guillermo Percoco.
As you know Ariel is one of the pioneers of Let´s Paint Rosario Sky kite Festival that for 12 consecutive years organizes the Festival namesake. These guys performed demonstrations with diamond stack, painting the sky of Buenos Aires.
Freaks Team:
International team compounded by Fabian, Ezekiel and Gaston Fernandez who did team and individual routines with two and four lines.
El Alma del Piloto:
Team whose specialty is MKF, with or without wind flying Revolution and dual kite line.
This time the team flew the routine: "Hey soul sister", presented at the Rosario´s Festival with the urge to improve the performance of its members.
The truth is that the routine did not satisfy the team from the technical point of view but the team spirit remains unchanged.
Then I flew MKF with 3 kites – Quantum Pro STD by Prism.

At that time the wind blowing at 35 km / h, then I placed the air brakes in order to avoid too much pulling of my kites. Anecdotally at the end of my presentation I realized that I mistakenly lines were using LPG 90lb and not 150lb as planned. I think I was lucky because I not cut any lines.
Closing of the first day, the Mega team flew their kites synchronously. After that, we expected an exquisite meal, which served as an excuse to continue chatting about kites.
Sunday 18:
The day started with virtually no wind; in fact very slight from north veering northwest quadrant.
About mid-day and early afternoon dwindled fully well; then some pilots proceeded to fly windless with Revolution Indoor kites. Ezequiel Fernandez de Freaks team; Nicholas Di Si and I perform a free flight practice.
Mr. Claris Skoczdopole, a prominent artist was also present.  He could not participate actively because of health problems. Despite that was with us for a few moments, to lend their support to the community.
Around 3 PM the wind began to blow from the west quadrant to 8 km / h and the teams readied their kites flying in megateam.
After that, Freaks Team, Alto Vuelo Team and El Alma del Piloto Quadrigis, flew their routines.
Willy Borsani and Federico Polizzotto touched them fly in the rain without music and proving that the passion for our sport goes beyond the weather.
The weather was on hand to give closure to this Festival. A thought of hope throughout our community, we would like to repeat this experience next year.
Good Winds,
Gustavo Di Si
El Alma del Piloto