We're pleased to yet again announce the next prize being given away to our most appreciated supporters, the Kitelife Subscribers...
For roughly 10 cents per day they play a major role in keeping KL growing in every way.
Click here to sign up!
==
The French Connection is the newest creation from Dodd Gross. For new and experienced trick fliers the French Connection is a high performance trick machine.

It is loaded with extras that enhance its trickability... 20 grams of adjustable and removable tail weight, Yo-Yo Gliders, Yo-Yo Bars, and a Roll-up Cage.

The French Connection is unique in its ability to fly advanced pitch maneuvers AND precise lines with sharp cornering. The French Connection will double your fun – a great flying sport kite for any skill level.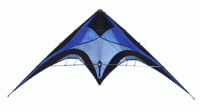 Lines, straps and instructions included, prize kite is blue (as pictured).
==
Kitelife Review -
http://www.kitelife....n47/content.php
==
Odds of winning for this prize is currently 1/280, and will be drawn on August 1st, 2008!
Our thanks, and the very best to you... Let the drooling begin!