We're pleased to yet again announce the next prize being given away to our most appreciated supporters, the Kitelife Subscribers... For roughly 10 cents per day they play a major role in keeping KL growing in every way.
A brand new Trick and Track sport kite from Premier Kites, roughly a $145 value!
Comes with LINES, straps and kite sleeve, graciously donated by the
Kite Classifieds
!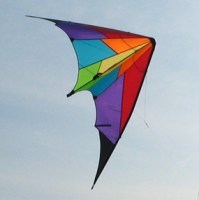 Whether you're looking for a kite to fly in team, freestyle, or ballet. The Trick & Track is guaranteed to surpass all your expectations. This sport kite from world-famous kite designer Jon Trennepohl combines solid control with amazing trick capability. You can sign up
here
.
Odds of winning for this prize is currently 1/259, and will be drawn on August 1st, 2009!
Our thanks, and the very best to you... Let the drooling begin!