We're pleased to yet again announce the next prize being given away to our most appreciated supporters, the Kitelife Subscribers... For roughly 10 cents per day they play a major role in keeping KL growing in every way.
TWO

7' Ghost Pyro Deltas, roughly a $140 value!
ONE winner will be announced, both kites to one proud recipient, choice of black or white set!
If you've not flown a Pyro before, you're in for a real treat... 20' tails off each wingtip!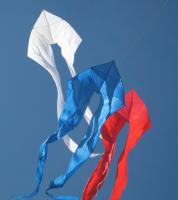 "Designed by Frank Schwiemann and licensed to G-Kites, the Ghost has long been a festival favorite. They are ideal for all kinds of wind and will lift tube tails and line art. Put a white one up at night and you'll quickly see why people call them "ghosts". "
Easy to fly, very stable, wide wind range, and BEAUTIFUL in the sky.

==
You can sign up
here
if you're not yet a member of the Kitelife forum, or
click here to sign up
if you're logged in already.
Odds of winning for this prize is currently 1/249, and will be drawn on October 15th, 2009!
Our thanks, and the very best to you... Let the drooling begin!