We're pleased to yet again announce the next prize being given away to our most appreciated supporters, the Kitelife Subscribers...
For roughly 10 cents per day they play a major role in keeping KL growing in every way,
as do our site sponsors
!
The Great Canadian Kite Company
is one of our supporters, and has been kind enough to offer up one of their very own special items for our drawings.

The striking red and white sail design has real presence in the sky. Inspired by the Canadian Maple leaf, the Rev 1.5 sle
"Oh Canada"
is everything you have come to expect from the worlds best quad-line kite makers!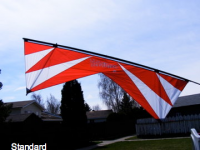 Full info - http://canadiankitec...anadian-editionThis is a complete STD package - comes with 2 leading edges (3wrap and SLE), lines, handles, sleeve and DVD
.