Well, I'm really feeling kinda stupid right now (REALLY).  I recently purchased a few single line kites, just to have something to put up in the air, for "flash and for giggles", while I play with my dual and/or quad line kites.  I've had the new kites for several weeks now, some I've flown, some not.  I normally do my flying at the coast, but today, we had a really nice breeze going on (SE 9 - 10 mph) at home, so I thought, why not (?), I haven't even put up my new Dan Leigh XFS Delta yet, so let's give it a try. 
Well, I live on a golf course, and people are always giving me a hard time, about not flying there, but trust me, winds are really swirly on golf courses (by design), and I knew better.  Those beautiful, wide open fairways, that look so inviting, are usually lined on either side, with trees, long rows of trees, and when it's those 100 - 120 ft pine trees, they channel the wind in all kinds of directions.  Ever wonder why the Pros, play the wind, look at the flags, change clubs, etc?  Believe me, it's a factor, a big factor, and it's not for kites.
Ok - "long story short" - I pulled out my "BRAND NEW", ITW Dan Leigh XFS Delta, that I purchased just a couple of weeks ago, and figured I'd give it a shot.  I mean it's a beautiful Sunday afternoon, no one on the course, the temps are wonderful, and such a great breeze, to boot.  What could go possibly go wrong..........this is just a simple single line kite (SLK).  So, I hook up my line, and up it went, and just as it clears the tops of the pine trees, I suppose a bit of that unstable, swirly air hit it, and wham-o, just like lightning, into the top of a big pine tree, it went.  Crap!  No way out.........again, "long story short", by the time I got it out, my brand new kite had flown, for less than 1 minute, risen to about 130 feet max, and now, after about 2 hours of struggling to get it back down, it was toast. 
The good news - nothing was broken (spars, spine, spreader, etc)
The bad news - the sail was in shreds, with numerous holes, punctures, and tears,  The damage was just unbelievable.  I can't believe, that with less than one minute of flight time on this kite, I have managed to completely and totally, destroy it beyond repair.  One brand new, unflown, very nice Delta kite, down the tubes.  I'm talking completely UNREPAIRABLE.....(garbage can material)
R.I.P.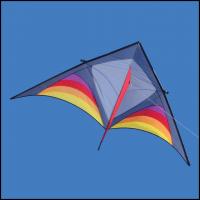 "this baby is history"