So I figured we would continue the journey of Magic Sticks to the next level...since so many are interested.
I recently made a set from the scrap pile..granted these are not store or shop purchased. Weight distribution for my specific setup described will most likely not work for yours.
As a flier that doesn't use them... I have tried several versions of revs..whether it be Shook mesh, Rev all sizes and vents.. in Tresure Island and Kite Fest Louisine . Not just a test drive...an all weekend type of thing....I still prefer no sticks. BUT enjoy the journey of learning. So one of my standards is now equipped with the homemade 16" version..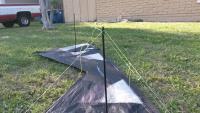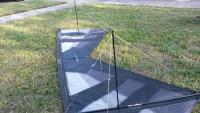 As you can see, I added pigtails specifically for the journey of expirementation. I started with my sticks at 11.75" from the top of the vertical. Where I got this measurement. .I don't know..but a good place to start.
From speaking with Paul LaMasters and Scott Weider recently I received some "tuning tips" so this is how I set the kite up and tested.
At said distance down the vertical I square magic sticks off the vertical rod to tie my "starter" bridle. Then I used the method mentioned by Scott in which you toss the kite by the leading edge into a glide to check the balance of the kite. I personally am L.E. heavy and need to start tuning and tweaking for maximum performance and a feel to keep my "flavor" smiling.
Hope some great comments come along to help the masses gain a greater understanding of their kite inside and out.