Dateline: El Mirage Dry Lake, S. California.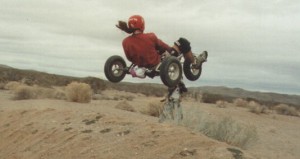 On Friday, January 9th, we landed at Los Angeles at 4:30 p.m., in pouring rain. This was not good! By the time we arrived at El Mirage at around 8:00 p.m., the rain had stopped, and it was a cold, moonlit night. Steve Bateman and Dean Jordan were the only souls camping there. Andrew Beattie introduced us but being tired and cold we cut it short and beat a hasty retreat to the Motel.
We piled out of the van, into the room, quickly unpacked and collapsed onto our beds. Andrew had other ideas and drove back to sleep at the lake.
In the morning we found ourselves staying at the Hi-Desert Motel and Casino. Not surprisingly many of the other buggy crews were here, as Adelento (population approx. 1,000) is the nearest town to the lake. ( 12 miles)
The sleepy Casino Diner (great breakfasts for $2.25), was not prepared for the "Buggy Breakfast Bash" every morning, but they caught on quickly. If you ask for toast, be prepared!
"The lake's flooded," announced Corey Jenson, the Main man, Head honcho, Numero uno, at Saturday's breakfast (Wow! Sorry there, just slipped into T.V. land for a minute).
"Well only part of it," he added. He knows how to break bad news, I thought. "So we can go to the supermarket, and then check out the lake, OK ?" We all mumbled in agreement and went shopping! (Corey pushing a shopping trolley!! Weird imagery, man!?!?)
There it is! El Mirage, dry lake (well… wet, really). What a stunning vista! The San Gabriel Mountains to our left, rolling ridges to our right, and a hazy, eye squinting view that we Brits dream of! (Hold me down! I'm not used to all this space.)
"Dean, why is your tent in the middle of a lake?" I posed the question thoughtfully, trying not to laugh. "Well, it was dry when I went to sleep, but it rained in the night and when I stuck my head out this morning there was all this water," he answered. (The moral to this sorry tale is: Do not pitch your tent on a dry lake bed! Enough said.)
The sun was shining, the wind 10 – 15 mph, and folks were beginning to arrive so we set about assembling our buggies and sorting out our bits. Corey gave us the good news, bad news routine and broke it to us gently. "The lake is completely out of bounds, Ranger's orders, but we can buggy every where else today."
I was beginning to warm to this man called Jensen, and wondered why I kept thinking of Lee Marvin and Elliot Gould? True, there were a few glum faces, but there was a heck of a lot of every where else! The wind had picked up, 15-20 mph, so I put up my Vector 3 and headed out along the shoreline. I dipped into the power and picked up speed, maneuvering my way around the unfamiliar terrain–time to turn–Ooophs! A bit of a slide; this surface is a bit gritty! I now headed into the bumps and bushes, round the toilet block(?), and all the way back to camp.
Bloody Bostin! This week is going to be fun! And that was just the off lake areas, the lake surface is unreal, like a jigsaw pattern, but as smooth as Tarmac, but without the clingy grip. The colour makes you think "beach" No! no! This stuff is as hard as concrete. Ouch!
With the sun setting, and everyone beginning to pack away for the night, the smell of food wafted into the quickly chilling air. Camp fires lit the faces huddled around to chat, eat, drink and tell or listen to buggy tales, and more drink! Magic!!
Next morning I had a few questions for Matt. "Who drove us home?" Matt raised his head with a sleepy grin. "Did we get pulled up by the police, and did we eat raw onion on the chili, in the Casino Diner at 11:45 p.m. last night?" "I thought you were smashed, but not that far gone," Matt returned. No, no I wasn't that bad, just checking things, you know." "Oh yea Steve! If you say so."
What a beautiful morning! Clear sky, big sun, and the lake had dried up a lot, but no wind until around 1:00 p.m. when a pilots' meeting was announced for 2:00 p.m. The course was set, 1st race to begin at 3:00 p.m., a 5 race series, with only 15 minutes between races, and the best 3 races to count for scoring.
(This was going to be a busy afternoon!)
The course comprised of a reach from the start, a right turn and down wind leg through hillocks and bush, finishing with an upwind leg across lumps and bumps and a few gullies. This wasn't racing as we know it, more like a scramble bike course, but it was bloody good fun!!
1st: Jeff Howard, USA / 2nd: Steve Bateman, USA / 3rd: Mark Schradle, Germany, with Matt Hurrell, GB, coming in a creditable 11th out of a field of 22 competitors.
I only started 3 races, crashed out in one, knocked out of the sky with an unfortunate relaunch, causing me to retire in another, and I stormed around in my only completed race to finish 8th, 9th, 10th? Well, around there, anyway!
There was to be a 25 m Challenge race ( 1.8 m lap) on Monday but this, unfortunately, did not take place. Over the next few days, the sun shone, and the winds always came at some time during the day, allowing us to sit, talk, and then swarm out over the lake. Then Thursday arrived, and so did the big winds!! As we got out of our van, 15-20mph winds hit our faces, and by the time we had sorted out our gear, the wind had picked up to 20-25 mph. Andrew Beattie decided to head out to the lake for a speed run.
He decided to use a Lynn folding buggy with a 7.7meter Chevron. I drove him up to the markers separating us from the wet lake area, which would give him around a mile of super smooth, never seen anything like it, faster than fast, dry lake bed.
Launching a 7.7 metre kite in winds varying between 22-33mph is not to be undertaken lightly, and safety procedures agreed between pilot and launcher beforehand need to be adhered to in order to overcome any mishaps taking place!
The first three attempts were aborted early into the runs due to what seemed a low hump, sending Andrew airborne at around 35mph in one case and running out of space in the others. Run Four, with John Gabby in a chase vehicle, and Mall and me in the second chase / kite recovery van, turned out to be a cracker!!
As I began to turn to chase after Andrew's released kite, I glimpsed at the speedo to see a 60+ mph reading. Mall and I quickly recovered the Chevron, then drove over to John and Andrew. He had a big grin on his face, John had been travelling at 64mph when Andrew ditched his kite so as to keep well away from the high-voltage power lines at the bottom of the lake!!
We were all surprised because the run just looked so easy, but our method of speed recording was, of course, not sufficiently reliable to claim this as a record. But what a start to the day! And it was only 11:15 a.m.
Jeff Howard, Dean Jordan, Corey Jenson and Freeman had travelled way out from camp, and found some amazing humps and bumps! Jeff made a few hops, then decided he wanted to fly!! Dean tied him in to his buggy with a rope over his lap, and before you could say "run for cover," he was leaping all over the place, getting up to waist height at times, and covering a fair bit of ground. It all came to an abrupt end though, when his right foot peg snapped off! He was keen to borrow a buggy from either Mall, Corey or Dean, but they told him to buggy off! and wreck his own gear. Fair enough!!
Thursday night, and we all turned out for dinner at Tony Romero's Rib and Steak House in Victorville. It was a fun evening, the staff couldn't understand us–I mean any of us–and one guy kept trying to give us a cola drink no matter what we had ordered, but the food was good, and when the bill came Derek put in one of the most amazing displays of accounting that I have ever witnessed!! (Canadians, don't you just love 'em)
Well that's it, I'm home with half my gear bust, bent or wrecked, hands and arms aching, and totally knackered due to jet lag, but I've had a bloody great time!! Found out that Andrew snores REALLY loudly, that Mall gets grumpy when he's tired, and they both complained when I farted. (OK! So they were a bit bad!!!!) I already want to be back there!!!!! Can I hang on until January 2000???
There is something special I wish to share with you all, and it goes like this: Hey! It's the 90's!, Every one is doing it! It's not like we are gay or nothin' … but that, as they say, is another story! !!
Steve Walt Webb