Photos by Robyne and Rick Gardner and Mike Gillard
American fliers and audiences were fortunate to have attended the Grand Haven and Wildwood events. Kitelife caught up with several top kite personalities from the United Kingdom who attended these festivals, and asked them to share their thoughts with us.
Carl and James Robertshaw formed half of one of the top sportkite teams in history, Airkraft. They are now competing in pairs, under the name "Evolver". They wowed the crowds over the last two weeks, and certainly left an imprint on kiting in the US.
Paul Reynolds is a leading event commentator and organizer. His fine work on the microphone kept the crowds well informed.
Kitelife Interview
Carl and James Robertshaw
KL: What have you been up to in kiting since last year's World Cup?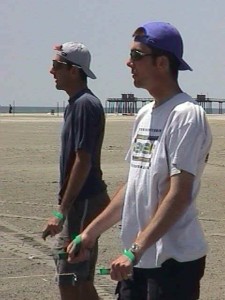 Carl: Flying some leagues over the winter, which we usually do, and practicing on our new pairs routine, which is more full than last year's routine, let's put it that way, and getting ready for some individual competitions. Last weekend at Great Lakes, and this weekend were the first two competitions we've done as a pair. So, we're off to a good start.  And we'll go back home hopefully full of energy!
KL: When did you start getting serious about your pairs routine? Obviously, with the disbandment of Airkraft, you were left with some time on your hands.
James: We flew pairs last year, which was the last year of the team. We came a very close second, so we thought there is something in it, that we could possibly do well. The same day that we called an end to the team, Carl and I were very much into doing pairs again, since there was no team commitment there, so there was a lot more time to work on the pairs and also to develop a lot of the stuff that we started up with the team, working in a lot more tricks and exciting stuff.
KL: If we can ask, what led to Airkraft's breakup?
Carl: In '96, we had a really heavy year, doing a lot of demonstrations and festivals, being the reigning world champions we were taken everywhere. Every weekend, and whole weeks were taken up with travel and performing.
It is very draining, really. In '97, we decided to take it a lot calmer, in World Cup we took second, that took the pressure off us and gave it to Skydance. They were doing all of the mad stuff that we were doing the year before. Five years at the top, it meant a lot of commitment, for a long period of time, to spend that much time together.
The way that the team broke, our philosophy was very black and white, it was all or nothing. It was full-on, or we don't do it. It means no kind of half-ass stuff, if you are going to do it, you are going to do it right, and you are going to do it to the best of your ability.
I was thinking at the end of '97 of where I wanted to be. I had left college and had done nothing work-wise, so I decided to make a go of making kite accessories and single-line kites for commission. I was thinking of when the best time to do it would be, and it was as we were at the airport after World Cup. Nic and his girlfriend were getting ready to have a baby, we knew that '98 would be very difficult if we were to be together as a team, we knew we would not be able to spend as much time as we should on the team. We later found that Jeremy and his girlfriend were having a baby as well, that worked out quite well in a way.
I was ready to kick off my career, James had a new job, we all had these big changes happening in our lives, so, I said, "it's been a brilliant five years, but next year I'm not going to be able to team fly because it's an all-or-nothing type of thing."  I told them that I'm going to call it quits. There was silence for awhile, and James said "You still want to fly pairs?" "Yup," came the answer from me. Jeremy and Nic said "Yes, it has been a brilliant five years".
Then we all went away, not wondering too much, no bad feelings or anything. We have had a few meetings after that, and it has turned out to be the best for everybody. We all agreed that we would not have been able to go through the year like that. We've all made the decision in the end, no one has said, "Well, maybe we should have tried this or that." Everyone came away thinking that we've had a crack at it for five years, we've really done well, and now we can go away. We can pursue what we want to pursue now, free of any trouble or interpersonal problems that may have been created had we gone ahead with the team. We left on a really good note. It's worked out very well, it was very special, we started and BANG, nine months later we were second at World Cup, every year it's been great, at the top of the pile.
KL: There are two teams that I feel have truly changed sportkite team flying. Team Top of the Line, and Airkraft. TOTL was the first wave, and then Airkraft came along, utilizing technology to its fullest. You opened a lot of eyes to the possibilities in team flying.
Carl: In '92 at World Cup, it was all Top of the Line, Flight Squadron, and High Performance. Lots of hype, lots of competition. You really wanted to watch, it was a showdown. You got really hooked up in it, it was exciting to watch. We came out of that, and took things kind of sideways. You had Flight Squadron, High Performance….and then Airkraft.
KL: Do you see another team in your future?
James: It would be wrong for me to say there won't be. For now, we will be working on pairs and individual stuff. Definitely no team this year ornext, but, never say never! If it happens, it happens.
KL: What did you think of these two US events that you have just attended?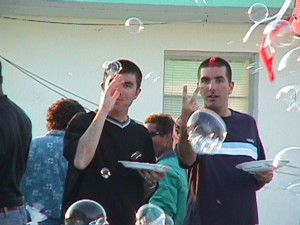 James: The first event was at Grand Haven, the Great Lakes event, and everything went amazingly well there. Perfect wind, perfect weather all weekend. Really nice people, nice place. We won pairs by quite a nice margin, nice to fly competition in that kind of wind, something rare. The whole thing was organized well. The situation here at Wildwood is slightly different, there are a large group of fliers on the East coast that have been flying together for a long time, kind of clubby, perhaps. The scores were different, some of them I wouldn't agree with, but that happens at every event, I think. It went OK, though, we came second, which is nothing to be sniffed at, you know, and we had a really good time as well. We got to do our ballet in perfect wind in two demos today, got to show it off, it felt good.
Carl: A lot of people have been really appreciating what we are doing, coming up and shaking our hand and going, "Excellent". We came here to see what the Americans are doing, to show them what we are doing, and to build on the contacts that we have had over the last six months, with Guadaloupe, and World Cup. Thanks to Flexifoil for making it possible for us to come here.
KL: Carl, James, thanks for your time, and your great performances the last two weeks. Hope to see you again soon.
Kitelife Interview
Paul Reynolds
KL: Paul, tell us what you think of the US scene, perhaps compare and contrast this event with European festivals.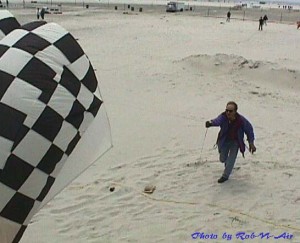 PR: First of all, I am very pleased to be over here, I was over here last year at Wildwood, it is just a super festival, even by European standards it is a huge festival and I was delighted to be asked back. I'm here in a double role; first of all I was very involved in the International Rule Book Committee, which is a committee of representatives from the AKA, STACK, and AJSKA. This was a super chance to meet with the American representatives and talk some things through. There is a new rule book which is incredibly dynamic, we think and hope that it will take the sport forward. As far as Wildwood is concerned, it is a super festival, it's lovely to see so many kitefliers, so many sportkiters, having such a good time.
There is a big difference between the US and European festivals I've been to, apart from Wildwood, I've been to several of the AKA Conventions. One of the differences that you notice is the number of spectators. A festival such as Bristol, which is the first weekend in September, can attract over the weekend over 100,000 spectators. It is not unusual to have people 5 deep around the arena. Most of these festivals will have only two or three arenas, one arena will have constant demonstrations for the public of all the different facets of kiting. I think Roger Chewning has taken some of the ideas from Europe to attract more and more spectators. I think for the first time, there are food trailers here on the beach..that may sound like a small thing, but if you are going to attract spectators, then you actually have to give them a full day of fun. You've got to concentrate on giving that full day of fun…running the festivals for the public.
I've never run across a kiteflier who isn't proud of what they do. Maybe you could go a step further and say, at heart, we are all showoffs. There's nothing wrong with that, you spend hundreds of hours working on your sportkite routine, or sewing a beautiful kite, you want other people to appreciate it. It's lovely not just to have other kitefliers appreciate it, but have some of the public appreciate it as well.
The other reason why spectators are good, we saw today in the single-line arena we had people running the bols, we had people learning rokkaku….these are people who may go out and buy a kite, and then buy another kite..these are the people that we are trying to attract into this super thing that we call kiting, this many-faceted creature. We have to run these festivals, not just for ourselves, but for everybody else. All that said, I don't mean to detract from  American festivals. I've always had great times when I've been over here, and met some fantastic people. I consider myself incredibly lucky to have had the chance to come over, see old friends, make new friends, do something I enjoy with people that I enjoy, and at the same time actually provide entertainment.
My best memory of the whole week, last night when everyone was packing up, I had my 16' pair of legs. I used to be on a sportkite team called the "Blast". We had black and white checkerboard kites and shorts; I still have them. My wife, Natalie, who used to work for Martin Lester, was the inspiration for "Natalie's Legs". She commissioned Martin to make a 16' pair of legs. It is a super kite to have, it is very visual with its black and white checkerboard. People can see me and the kite, and the similarities when I'm wearing the shorts. I was really playing with the crowd, about a dozen children up on the boardwalk, I was kicking them, and making people on the boardwalk stop and smile. To see those smiles, it doesn't get much better.
KL: Paul, thanks for coming to the US. We really enjoy your commentating, and the pleasure you bring to any event that you come to. Thanks for your time today.
PR: I think what you are doing with Kitelife is important. We now have a global magazine, that really adds to the cross-fertilization, people in Europe, America, and other places, learning more and more of what goes on in other areas, and that can only be a good thing. So, well done for you and your team.