I will be interviewing a kitemaker each month for Kitelife, the Internet Magazine. Here is the first, with many more to follow. Hope you find it interesting. If you are a kitemaker, or know of a kitemaker, who would like to be featured here, please contact me and I will forward a list of questions to be covered. ( )
These articles are designed to give you some insight into the people behind the kite, what drives them and how that may be reflected in their kite making.
This first article features Dick Barnes, a kitemaker from Whidbey Island, Washington State. I can personally attest to the quality construction and fine flight characteristics of his kites.
Personal Details:
Name: Dick Barnes
Location: Coupeville, Washington, USA
Age: 52 going on 38 Occupation: Aide in special education
Favorite Food: Chicken
Beverage: Red wine  
Music: a wide variety
Contact details:
Address:
PO BOX 266
Coupeville,WA 98239
Phone: 360-367-5081 Fax : 360-678-6266
E-mail: IRC: dickb on #kites (dalnet)
Personal Background:
I was born and raised in the Pacific Northwest. I retired from the US Navy in 1988 and live with my wife, Linda, and soon-to-be 16 year old son, Bart. I started working for the school district four years ago teaching handicapped students. I've been involved in kites just a short time … since Father's Day of 1993, I believe. I started out buying kites and got addicted to it rapidly. Thousands of dollars later, I stumbled onto a cure for my dwindling capital: kite building instead of kite buying. We found a very old faded Prism Radian in the window of Great Winds kite shop in Seattle and traded Ken out of it. The neon panels were nearly ruined so we started fixing it. After a great deal of effort we decided to make a new sail for it. That was my first effort at making a kite and it was (still is) a disaster.
Hobbies / Interests (outside of kites):
Computers and camping.
What is the silliest thing you have done?
Probably buying all these kites.
What is the most dangerous thing?
Riding motorcycles, I'm sure.
What is the most rewarding thing?
Kite making, I'm sure.
KITEMAKING:
How long have you been interested in kites and how did your interest begin?
Linda bought Bart a kite back in the spring of 1993. It was a pretty poor kite so on Father's Day of 1993 we went to Four Winds kite store in Everett, Washington to pick out a kite for him. Linda and Bart both got Meteors and Linda told me I could have a kite too!! So I got a really kewl Backtracker. Maybe that was the silliest thing I ever did!
How long have you been making kites?
I started making kites with kids after school three years ago, shortly after my experience with the Prism Radian. The first year we mostly flailed around, the second year I designed a dual line kite and the kids were making them. Most of the kids were just playing around so we didn't have the "kite club" this year.
How did you get into making kites?
The experience of fixing the Prism Radian led to it; the kite didn't fly very well when I got done with it but it sure was pretty. I just knew that kite making was my calling!
What type of kites do you make? What is your specialty?
I make dual line sport kites, although I have made several four line kites. Currently, I'm making the Pizazz, and its higher aspect little brother, the Razzamatazz. These are both light wind, full size stunt kites bordering on the light touch for control.
Do make kites for a living? Or hobby? Do you sell your kites?
I have been making kites as a hobby but I am considering making them full time and not returning to school in the fall. I sell my kites over the Internet and by word-of-mouth. Generally you can find me lurking in #kites. There is a web page that a friend put up that features some of my kites: http://kode.net/~craigfly/pizazz.html
What type of materials do you use?
Porcher nylon is what I use most, but I also build kites of icarex, toray, and the polycarbonite cloth on request. I spar all of my kites in AVIA wrapped graphite.
What equipment do you use?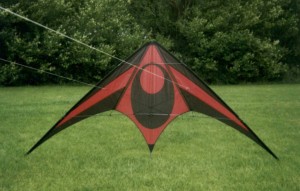 I sew with a Pfaff 1171. In my humble opinion, it's the best machine (Pfaff ). The dual feed foot is a must, as is the needle down feature (you can select to have the needle always be in the cloth at the end of a stitch). I guess the other feature that I have learned to love is the bobbin out warning light. I use a hot cutter to cut the cloth, but I still go through razor blades by the case. A Dremel tool, or similar, is a must for cutting spars. I've been using the thick fibreglass cutting wheel as it doesn't break nearly as often. I use double sided tape for the leading edge, the nose, and the tip of the spine. To hold the various layers of appliqué together for sewing, I use spray adhesive . Leviton makes a handy tool (I'm sure they use it for house wiring) that is great for cutting through micro carbon rods up to .098. It has a heavy razor blade that slices through them nicely.
What construction techniques do you use?
I sew 150 lb Dacron line loops into the wing tips and tip of the spine, then I tie rubber "O" rings (from Goodwinds) into the Dacron loop to hold the arrow nock. It makes a real clean wing tip. All of my seams are rolled and the leading edge pocket is fabricated separately then sewn to the sail. This allows for a curved leading edge without any puckers. I tape the leading edge to the sail before sewing it; that's the only way I can get the two leading edges to come out the same. Then I remove the tape and roll the seam. I sew a separate trailing edge on the kite also to reduce pucker. I put the leach line in after I have sewn the trailing edges on using a piece of .046 mcr. I feed the micro carbon rod through the pocket and SuperGlue the leach line to the end, then draw it back through the trailing edge pocket.
What is the average time spent making a kite?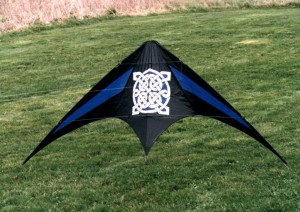 It takes me close to 20 hours to complete a kite. Sometimes it gets to be a lot longer, as with Sam Eaton's kite. I spent over 20 hours on his appliqué alone. (Ed: Dick will custom make kites and banners with appliqué to order.)
Which was the most rewarding kite to make?
Probably the most rewarding kites I've ever made were the Wind Witches' team kites. That was a beginning for me. It was the first time I had to make kites consistently the same. It wasn't really difficult, but it showed me that I could make them identical.
Where might I see one of your kites flying, but not by you? (Who of note have you sold / given / exchanged kites with?)
You mean other than the one I traded you for the dirc! There are Pizazz kites in Canada, Europe, Africa, Singapore, Thailand, Australia, and of course, the USA. Richard Gareau, maker of the Patang has a Pizazz; Team Wind Witches in Southern California also fly the Pizazz. There is a new 'Pairs' team that is going to fly the Pizazz, but the name escapes me at the moment! (Ed: But here is a picture of one of their kites)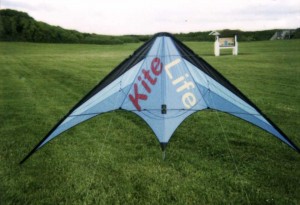 What are your philosophies on kite making?
You put this stinkin' question in here especially for me, didn't you! If the darn kite isn't right, fix it. That's my philosophy. I try to make every kite I sew fly as good as a Badboy.
What/who has had the most influence on you in kite making?
Probably Peter Betancourt, I have always loved the way his kites flew. I had to do something to kick the habit, I was buying way too many of his kites. I started making kites to fill in the void brought on by cutting back on the buying. I've tried to emulate the way his kites fly and change the minor little things that bothered me.
Who is your favorite kite personality?
Gee, Peter's ears must be burning. Other than being a real personality, he is an excellent craftsman, a great artist, and a great flier. I have never seen him without a smile on his face, and he always has time to talk shop with every novice that walks up to him.
Have you run kitemaking workshops?
For two years I taught kite-making to the students at our middle/high school. We worked on an 8 foot delta and a smaller kite framed in micro carbon.
What is your favorite kite … that you have made?
As far as kites that I have made, I think the Razz 00 that my wife has is my favorite. It is the best flying kite I have ever flown. I can do up and overs in no wind on 80′ lines, the kite has no problems flying in 10 mph, it will come down in a helicopter move spinning as flat as any kite I've flown, and it responds to the lightest of touches. It stalls well and will slide forever.
Where is your favorite flying site?
My favorite flying site is Fort Casey here on Whidbey Island. It is a well maintained grass field so there is little wear on your kite. It is big enough to have a large club fly here and not be too crowded, and the view is spectacular. Fort Casey is on a bluff overlooking Puget Sound and has mild winds, generally in the 2-7 mph range.
What is your favorite kite. Made by someone else?
Oh, my!! That would have to be the Badboy! I like the way it flies first off, then I like the way it's made.
If you were going to a festival for your own pleasure, what kites would you pack in your kite bag?
Well, I explained about my addiction to buying kites. If I didn't have a trailer to haul all the kites, and could just take a few, I'd take my roK and my dirc, my Cody kite, and my double delta conyne. For sport kites, I'd bring my MEFM Maxi, my entire collection of Peter Betancourt kites, my old BV Feather, the Neon Moon Pizazz, and my wife's Razz.
Which is your favorite kite festival?
Washington State International Kite Festival in Long Beach, Washington is held the third full week in August every year. This small oceanside community turns into a huge kite festival. The people are friendly, and the beaches go on forever. This is a kite festival, and there is no stunt kite competition; the stunt kite competition is in June. There are three major kite shops in town and a few that just sell stuff. Ocean Kites offers free repairs on any kite you break during the festival. Often they fix them while you wait, and they could care less where you got the kite. The festival is a great place to meet the many friends you've seen on rec.kites, #kites, and the like.
What kite flying experience is your most memorable?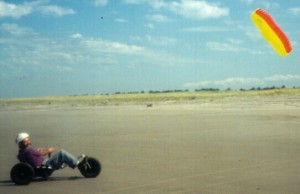 "Comin' through!!" Buggying on the beaches of Long Beach. That was just too much fun! Warm beaches, warm water and mud flying around, and good friends.
Any other comments at all you wish to make for this interview!
Gee, I think you've just about covered it!
Thanks Dick for sharing some of your personal and kite making experiences with us. Readers wishing to find out more about Dick and his kites should contact him.