The 13th Annual East Coast Stuntkite Championships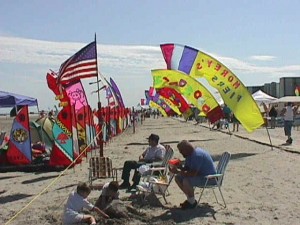 Wildwood, New Jersey…the beach where legends have been made, dreams realized or crushed, the beach where our sport was born. The annual pilgrimage to this hallowed sand is a highlight of the season. Every year, friendships are made, adding to the anticipation of the next year's event; champions are eager to return to repeat their victories; the vanquished are perhaps even more eager to return to even the score.
Thirteen years ago, Roger Chewning, Mike Carroll, Olan Turner, and Fran Gramkowski staged the first ECSKC. This event featured several firsts – the organizers had published the first rulebook, first compulsory figures; indeed, this grand experiment formed the basis for our new sport. Scott Spencer served as field crew for ALL competitors…and this was before standoffs were invented, so you can imagine how hard he worked for the competitors. The judges sat at a table, and held scorecards aloft after each competitor's performance.
Fast-forward to May 22-25, 1998. Flawless weather, healthy fields for the sportkite events, top kite fliers and builders from all over the world in attendance; the stage was set for a most memorable weekend at Wildwood. Major sponsorship from Morey's Piers allowed Sky Festivals to lavishly promote the event to the public, drawing decent crowds from the start of the festivities on Friday.
We arrived in Wildwood shortly before noon on Friday, and were greeted with a full sky. Nothing like hundreds of square yards of nylon to erase the boredom of a ten hour drive! Friday afternoon was spent in many different fashions – serious sportkite competitors were drilling their routines, the art kite folks were flyin' and grinnin', and many other kiters just walked around, soaking it all up and seeing their friends after the long winter break.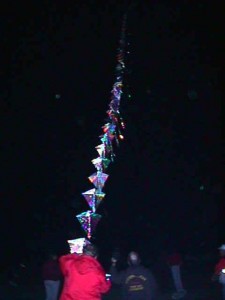 Friday evening saw the fliers enjoying the annual South Jersey Kite Fliers barbeque on the upper deck of the Rio Motel. Every year, the SJKF people reinvent the ultimate kite event meal, the sushi at this year's party sets a new standard. Hats off to the SJKF!
Once darkness fell, it was time for the annual night fly. Highlights were numerous…Lee Sedgwick and his mylar Cube kite drew a great response from passers-by on the boardwalk; Pete Dolphin and Lee also impressed many with their trains of Eddy kites (both stacks built by Lee), but the winners were team "Shanti Air", with six fliers performing aerial ballet with illuminated Opus 8's. Great job, friends!
Saturday ushered in the start of serious competition, and serious fun.
Individual Dual-Line Events
Novice class saw Bruce Lindemann sweeping ballet and precision, flying an Illusion to tight victories over Dave Franzi in Precision, and Lisa Stambaugh in Ballet. Our own Phil Napier rolled on, winning both Intermediate events, as he did at Ocean City. Experienced class saw Larry Bates taking the honors in Precision, while Michael Owens took Ballet.
Masters Precision saw a great field of fliers finishing extremely closely. The twelve fliers scored within a seven point range, one of the closest fields in memory. When the dust settled, Michael Moore was crowned champion. Seventeen fliers contested the Masters Ballet event, featuring many great performances. Steve Karatzas took the honors, besting Dennis Smith and Scott Weider.
[toggle title_open="Close" title_closed="Click here for Individual Dual Line Scores" hide="yes" border="no" style="default" excerpt_length="0″ read_more_text="Read More" read_less_text="Read Less" include_excerpt_html="no"]
Novice Individual Precision
1 Bruce Lindemann 57.83
2 Dave Franzi 57.63
3 Richard Courmettes 55.93
4 Steve Jaehnig 55.10
5 Lisa Stambaugh 55.00
6 William Varela 54.67
7 Brandon Polizzi 53.73
8 Charles Stewart 50.70
Novice Individual Ballet
1 Bruce Lindemann 53.87
2 Lisa Stambaugh 53.40
3 Richard Courmettes 52.13
4 Charles Stewart 51.47
5 Brandon Polizzi 48.87
6 Leslie Houser 46.73
7 Kurtis Jones 46.00
8 Jodie Taft 36.13
Intermediate Individual Precision
1 Phil Napier 64.47
2 Edna Bertholf 64.27
3 Torrey Lindemann 59.33
4 Michael Polifrone 58.80
5 Ryan Aguirre 58.67
6 Richard Koons 58.53
7 Sandra Rornello 55.40
8 Lisa Willoughby 54.80
9 Richard Hawthorne 53.20
Intermediate Individual Ballet
1 Phil Napier 62.73
2 Ryan Aguirre 62.67
3 Edna Bertholf 59.53
4 Jesse Kapsten 53.47
5 Torrey Lindemann 51.73
6 Marion Proffit 51.20
7 Marty Aguirre 50.67
8 Hilary Mason 50.67
9 Lisa Willoughby 49.13
Experienced Individual Precision
1 Larry Bates 59.20
2 Harry Owens 58.67
3 Brian Goile 57.47
4 Jason Robbins 56.60
5 Alfonso Marable Iii 56.40
6 Ruth Polifrone 54.73
7 Terry Murray 52.93
8 Mike Rix 47.07
Experienced Individual Ballet
1 Michael Owens 60.80
2 Alfonso Marable Iii 58.33
3 Harry Owens 58.07
4 Terry Murray 57.13
5 Terry Shines 56.33
6 Jason Robbins 53.00
7 Gerry Reidel 52.67
8 Larry Bates 50.87
9 Mike Rix 50.00
10 Brian Goile 48.47
11 Andrew Selzer 0.00
Master Individual Precision
1 Michael Moore 62.13
2 Don Coleman 61.87
3 Bob Hurd 61.60
4 Billy Ng 59.47
5 Scott Weider 59.13
6 Carl Robertshaw 57.53
7 Dennis Desrosiers 57.00
8 Drew Davidson 56.47
9 Steve Karatzas 56.33
10 Michael Lin 55.53
11 Vern Balodis 55.20
12 Rich Javens 55.13
Master Individual Ballet
1 Steve Karatzas 80.33
2 Dennis Smith 76.67 Tc
3 Scott Weider 76.47
4 Drew Davidson 75.40
5 Michael Moore 75.00
6 Lance Wagner 74.87
7 Rich Javens 74.00 Tc
8 Brian Vanderslice 72.47
9 Billy Ng 72.27
10 Dennis Desrosiers 72.13
11 Bob Hurd 71.33
12 Don Coleman 70.73
13 Michael Lin 69.27
14 Vern Balodis 68.93
15 Mike Book 63.20
16 Lam Hoac 59.60
17 Carl Robertshaw 0.00
[/toggle]
Individual Quad-Line Events
Intermediate Quad featured great performances by all competitors, with Marion Proffit taking the win over Lisa Willoughby and Torrey Lindemann. Experienced class saw another tight field, Bruce Kapstan, Terry Murray and Dennis Desrosiers were separated by less than two points in the final standings.
[toggle title_open="Close" title_closed="Click here for Individual Quad Line Scores" hide="yes" border="no" style="default" excerpt_length="0″ read_more_text="Read More" read_less_text="Read Less" include_excerpt_html="no"]
Intermediate Indiv. Quad. Ballet
1 Marion Proffit 54.67
2 Lisa Willoughby 51.80
3 Torrey Lindemann 51.13
4 Ryan Aguirre 50.40
5 Hilary Mason 49.07
6 Laura Stonestreet 45.73
7 Laura Cary 33.53
Experienced Indiv. Quad Ballet
1 Bruce Kapsten 63.47
2 Terry Murray 62.67
3 Dennis Desrosiers 61.80
4 Gerry Reidel 59.80
5 Larry Bates 56.67
6 Alfonso Marable Iii 54.53
7 Michael Bates 54.33
8 Jesse Kapsten 42.13
Master Indiv. Quad Ballet
1 Lam Hoac 70.20
2 Scott Weider 69.00
3 Debbie Hurd 65.60
4 Carl Robertshaw
5 James Robertshaw
6 Frank Morales Iii 63.07
7 Bob Hurd 60.20
8 Dennis Smith 59.33
9 Mike Donley 59.07
10 Alex Mason 58.33
11 Jason Robbins 52.80
12 Charles Stonestreet 52.07
[/toggle]
Pairs Events
Intermediate Pairs Ballet featured Pepto Bizzamo winning the trophy, with Buzzin' Bees and Just Fly also making the podium. Experienced class had Air Play, Q, and TWGR (Two White Guys Without Rhythm??) finishing in order.
This event featured an event not normally seen in the US, Pairs Precision. This event is structured like Team Precision, with three compulsory figures followed by a freestyle routine. Evolver (James and Carl Robertshaw, from London, England) flew their Matrix kites to a stunning routine, taking the win over Aerial Assault and Wind Dancers.
See our interview with the Robertshaw brothers here.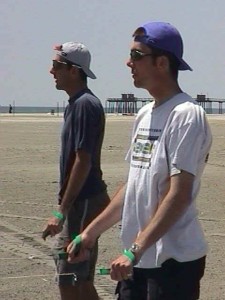 One of the highlights of the weekend was Masters Pairs Ballet. A stout 7-team field entertained the crowd in the swirling winds. In a surprise upset, Aerial Assault (Mike Lin and Drew Davidson, from Toronto, Canada) took the victory over Evolver. Both teams flew incredibly complex routines with amazing execution. After being soundly beaten by Evolver at the Grand Haven event the previous week, Aerial Assault came to Wildwood with fire in their eyes, this fire was reflected in their ballet performance. A new standard has been set in the US for pairs routines thanks to these two fine teams. In their debut competition, Kitelife.com (Vern Balodis and Mike Gillard, Columbus, Ohio) took third place. KFAN, Sudden Flight, Wind Dancers, and Late For Supper also flew well and deserve congratulations.
[toggle title_open="Close" title_closed="Click here for Pairs Scores" hide="yes" border="no" style="default" excerpt_length="0″ read_more_text="Read More" read_less_text="Read Less" include_excerpt_html="no"]
Open Pairs Precision
1 Evolver 72.30
2 Aerial Assualt 69.20
3 Wind Dancers 58.30
4 Kfan 57.83
5 Ms Matched 43.23
6 Kitelife.Com 43.17
Intermediate Pairs Ballet
1 Pepto Bizzamo 68.00
2 Buzzin' Bees 57.13
3 Just Fly 39.87
Experienced Pairs Ballet
1 Air Play 67.47
2 Q 64.20
3 Twgwr 61.87
4 Ms Matched 61.20
5 H2O 55.00
6 Grams & Ounces 53.07
7 Rafls 51.60
8 Mixed Nuts 51.13
Master Pairs Ballet
1 Aerial Assualt 82.47
2 Evolver 81.47
3 Kitelife.Com 74.13
4 Kfan 72.07
5 Sudden Flight 71.53
6 Wind Dancers 63.27
7 Late For Supper 57.47
[/toggle]
Team Events
Experienced class saw four teams doing battle in variable winds. In Ballet, WATT flew crisp compulsories and a nicely flowing freestyle routine to victory, followed by Air Crackers, Richmond Air Force, and the Valli Girlz. Ballet saw Air Crackers getting the nod, with WATT, Valli Girlz and the Richmond Air Force taking the remaining spots.
Masters Team Precision featured Shanti Air, Wind Wizards, and the Valli Boyz doing battle. The Valli Boyz took the victory over the Wind Wizards, with Shanti Air's run of bad luck continuing. Shanti flies all six pilots in precision, making for a difficult task. Several midair collisions threw their timing off, impacting the flow of their freestyle routine.
Masters Team Ballet saw a turn in Shanti Air's fortunes. Flying to music from Jurassic Park, they used their Opus 8s to great effect, drawing a great response from the audience. Several of the more intricate pieces in their ballet drew hoots and hollers, and upon completion of the performance, the applause was the loudest and longest of the weekend. A six-person team is difficult to do, but when it works, wow! Fine job, Al and teammates. Valli Boyz and Traffic Jam took the next two spots. The Wind Wizards were on their way to a podium spot when they suffered a line break, sending kites tumbling to the ground.
[toggle title_open="Close" tit[toggle title_open="Close" title_closed="Click here for Team Scores" hide="yes" border="no" style="default" excerpt_length="0″ read_more_text="Read More" read_less_text="Read Less" include_excerpt_html="no"]
Experienced Team Precision
1 Watt 54.02
2 Air Crackers 45.75
3 Richmond Air F 44.37
4 Valli Girlz 43.83
Experienced Team Ballet
1 Air Crackers 57.00
2 Watt 51.53
3 Valli Girlz 44.67
4 Richmond Air F 43.07
Master Team Precision
1 Valli Boyz 54.18
2 Wind Wizards 48.13
3 Shanti Air 41.48
Master Team Ballet
1 Shanti Air 76.73
2 Valli Boyz 63.53
3 Traffic Jam 50.73
5 Wind Wizards 51.20
Open Team Train Ballet
1 Wind Dancers 73.33
2 Kfan 72.13
3 Valli Boyz 65.73
4 John Boyz 64.00
5 Air Atlantis 63.53
6 That's My Line 63.27
7 Aerial Assualt 61.40
[/toggle]
World Indoor Championships
Another annual highlight at Wildwood is the World Indoor Championship, held on Memorial Day in the Wildwood Convention Center. In a hard-fought event, Drew Davidson was the winner, with our own Mike Reagan taking second, Lam Hoac in third.
[toggle title_open="Close" title_closed="Click here for Indoor Scores" hide="yes" border="no" style="default" excerpt_length="0″ read_more_text="Read More" read_less_text="Read Less" include_excerpt_html="no"]
Open Indoor
1 Drew Davidson 84.97
2 Michael Reagan 83.03
3 Lam Hoac 81.20
4 Steve Karatzas 73.70
5 Brian Vanderslice 72.57
6 Andy Wardley 70.53
7 Michael Moore 62.40
8 Curtiss Mitchell 60.30
9 Andrew Selzer 59.47
10 Jeff Burka 57.00
11 Mike Book 54.97
12 Michael Lin 48.63
[/toggle]
We couldn't put it better than Drew Davidson did. Drew is from Toronto, Canada, and was the winner of the event. Drew said, "I'm really impressed with how indoor kiteflying has caught on as a real creative and dynamic element in kiting, it's very unique and different from what happens outside. In the past, we've had a class called Innovative where most of the unique and creative things have taken place. So much of it had been explored fully that it started dying out, and people stopped being creative. With the advent of indoor, it started fresh, and people are excited, it is the newest and most creative aspects of kiteflying and I'm happy to see it growing so fast."
Other scores…
Wildwood Cup
1 Chowda 355
2 Jones Beach Fliers 283
3 Wings Over Washington 175
Ne sure to check out our photo gallery from this event!
In our minds, if you can only attend one festival a year, Wildwood is certainly one to consider.
We'll see you at ECSKC 14 next May!