Compiled from reader and editor submissions. If you have some news, E-mail us!
A Fun Time Waster
Recently, IBM posted a huge patent database to the web. It is fully searchable, and contains complete contents of all patents dating back to 1971. Searching through kite patents reveals some interesting information. Check it out at http://www.patents.ibm.com/
KTAI Show in Clearwater, Florida
The annual Kite Trade Association International show will be next held in Clearwater, FL  January 20-23, 1998. Booths are rapidly selling out, should be another great show. If you have a kite-related business, you should join the KTAI and attend the show. Check their site at http://www.kitetrade.org.
Cube Mania!
The number of Cube kites that are showing up at events has grown incredibly during the season. Small wonder, these little devices are an absolute blast to fly. Here are a couple of tricks and tips to help you enjoy your Cube even more:
– Slip Bridle
Lee Sedgewick showed us this trick. This allows the kite to spin even better, and allows for a real cool yo-yo trick – Get the slip bridle to stop in the center of its run, let the kite do a few spins with the line wrapping around the kite, give a quick tug and the kite spins the line off of it. Picture of bridle below
– Easy Storage Method
Like most people, I have been disassembling my Cube after each flight. Rick Gardner showed me this trick. Hold your hands on the crosspars at the open ends of the kite. Push the spars toward each other, while twisting your hands in opposite directions. The kite collapses for flat storage! Now you can store it in your fighter kite box.
We have just heard that Prism unveiled a new $20 fun kite, the Triade. We will have a comparison of the Cube and the Triade in the next issue.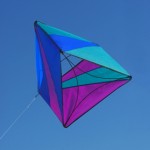 Hot Team for '99
Up in the Pacific Northwest, Team Bumperkites has quietly been polishing their craft, as witnessed by their two most recent competitions. They scored well up in the 80's, mighty stout. The team is planning on a full national tour next year in an attempt to win the AKC championships, and qualify for World Cup. Watch out for this team! If you are attending the AKA Nationals, make sure you watch their ballet performance.