a short story by Bob Childs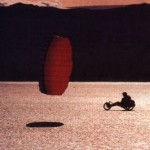 It's 8 pm in the desert as the sun sets over the mountains.
The temperature cools to a comfortable 80 degrees giving rest to my thermometer measuring 118 earlier in the day.
I sit and watch the orange glow of the horizon cast behind black mountain silhouettes as the first stars of the evening appear.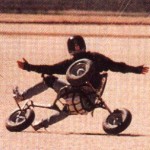 This is my favorite place!
Peaceful and calm at night, yet in the daytime, a center of activity that brings people from all around the country to test themselves and their equipment.
Race car drivers, motorcyclists, and landsailors, such as myself and my friends, spend the afternoon speeding across the flat, endless surface of the dry lake bed.
Clouds of dust roll across the lake thick as early morning fog as we race from shore to shore, until sore muscles and empty stomachs draw us back to camp for the night.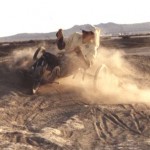 All but me, that is. This is when I make my final run to the middle of the lake, drop my sail, and reflect on my day as I watch the changing colors of sunset give way to the soft glow of the stars.
Whitish green meteorites shoot across the sky, each leaving behind a dark smoky trail as they disappear behind the mountain tops.
Soon the gentle night breeze reminds me of the time. Reluctantly, I pull my sail into the wind and return to camp.