or….
Can I Do My Tricks Now?   Livonia, MI August 8-9
Photos by Rick and Robyne Gardner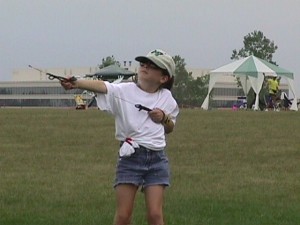 6 year old Madeline McDuff provides us with the title of this event report. Little Madeline, after flying her three compulsory maneuvers in Junior Precision, turned to John Cosby, field director, and asked, "Can I do my tricks now?" Yes, Madeline, you can, and she did. In a decent wind, she kept control of the sportkite that was trying its best to overpower her. Fine job, Madeline.
This year marked the third iteration of the Michigan Sportkite Classic. Forty two fliers gathered on the grounds of Schoolcraft College to challenge for the titles in all sportkite discliplines. With Joe Wright serving as event coordinator, and Terry McPherson as head judge, the competitors were in good hands.
This event also marked the first US competition run under the new International Rules Book. The morning pilots' meeting was lively, with long discussions of the new rules elements. Competitors were glad to hear of the recent change to the disqualification rule (see separate article), but there were numerous concerns voiced about the music editing guidelines. The consensus seems to be that this rule is very vague, hence unable to be applied fairly and consistently.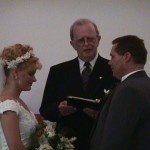 This event had an unusual kickoff on Friday night. Jennifer Jumisko and Pat Franks, leading midwest sportkite competitors, were wed at an afternoon ceremony, followed by a wonderful reception. The open bar did land-office business all night. A pleasant time was had by all. The same was not true of Saturday morning…more than several competitors seemed, well, rather sluggish.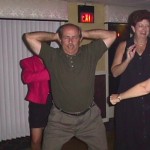 I am pleased to report that yours truly was not one of them, as I was back in my room by 8 pm, reading the Gideon's Bible. By the way, would any of you faithful readers like to buy some Florida real estate? Anyhow, congratulations to Jennifer and Pat Franks, all of your kiter friends thank you for the great time, and wish you long and happy lives together.
Masters Team events saw the umpteenth meeting of the two top US teams, Chicago Fire and Shanti Air. This would be their last matchup before heading to Dieppe, France for next month's World Cup. The qualifying work has been done, but pride and bragging rights were on the line, as always.
Here are our pre-event odds: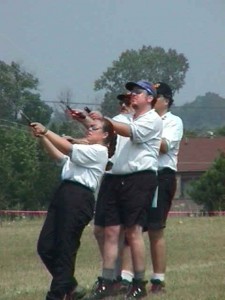 Masters Team Precision:
Chicago Fire 2:1- Clear favorites in this event. Had a solid morning practice, always smooth and precise.
Shanti Air 4:1- Flying all six kites in precision is a tall order.
Masters Team Ballet
Shanti Air 3:1- We give them a slim edge here due to the complexity of their ballet routine.
Chicago Fire 4:1- Will fly well, but not having Bob Neiman here could hurt.
And now, the events……
Team ballet started with the Chicago Fire. They flew a great set of compulsories, the best that I can recall seeing them perform. They followed with an excellent freestyle routine, containing drama, pacing, and variety. This routine would be hard to beat at any event. Shanti Air followed, with decent compulsories marked by several wobbles and ill-placed kites. Their freestyle never really seemed to gel, with several touches, random portions, and at least one kite hitting the deck. They were disappointed in their performance, but were determined to redeem themselves in team ballet, which soon followed.
Ballet featured the same flight order. Chicago Fire again performed their 1995 routine, due to their missing team member. To the Quincy Jones arrangement of the "Hallelujah Chorus", they flew a solid, precise routine. Afterwards, they were visibly pleased, for they knew that they had done the best that they could have with their four-person configuration. Shanti Air followed, flying their ballet to the theme from "Jurassic Park". Their performance was jam-packed, as always. Most of it went well, but there were several visible timing and spacing flaws. Would it be enough to best the Fire's well-executed, but less demanding routine? I found this one too close to call.
A short time later, both sets of scores were posted. The Chicago Fire posted a stout 12 point victory in Precision, with Shanti Air posting a narrow (.6) win in ballet. Now, it's off to World Cup for all of you!
Novice Precision saw Matt Summers placing ahead of CJ Davis and Adam Fowler. Intermediate had only one flier, Paul Young, who handily won both Precision and Ballet. Experienced class featured two popular winners…Harry Larsen in Precision, and Dick Saunders in Ballet. This was not a weekend for the young'uns…Harry and Dick are both older than dirt. Great job by the Seniors! I guess these two have "Experienced" more than most of us.
Masters class saw World Indoor champ Drew Davidson besting Jeff Cooper and Dan Brinnehl in a close fight. Ballet had Russ Faulk topping Jeff Cooper and Lam Hoac. Lam also took first in Masters Quad, with Ken Blain taking Experienced Quad honors.
Experienced Team events had St. Elmo's Fire Drill sweeping, with Hi-5 in second. The pairs categories, flown in almost zero wind conditions after a late Sunday storm, had the Soaring Siegels winning over Pegasus in the Experienced class, with Canada's Aerial Assault topping Kitelife.com and Skyscapes in Masters class.
Livonia has grown into a good, solid regional sportkite event Though lacking in spectacle, and spectators, it is a very enjoyable event for competitors. It will be interesting to see if this event can grow further over the coming years.
Mike