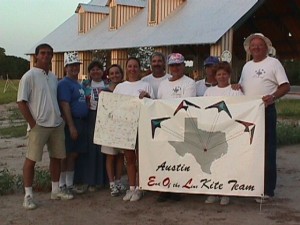 Recently I had the good fortune to be contacted by Pam Brasseux of Camp Periwinkle to put on a kite demo and offer kite lessons. This is a summer camp for patients at the Texas Children's Cancer Center and their siblings. This is a time for these kids to have fun at a summer camp like so many other kids.
How could I turn her down? Telephone calls were made trying to pull together people to make this work. Kite flyers came to Brenham, Texas from Austin, Pflugerville, Houston, Galveston and Pearland, all of them willing and excited about participating.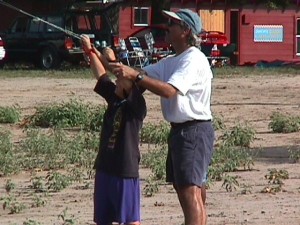 When we arrived, the first thing I noticed was all the golf carts. These are used by camp counselors to help the less mobile campers move about the facilities. The second thing was the complete absence of wind. Shortly, 4 bus loads of campers arrived. After check in the kids showed up at the open air pavilion for a mini-carnival with face painting, basket ball free throw contest, music and dancing.
Bunnie and Dorsey Twidwell of Austin set up their mini-kite making workshop. Their table drew the largest crowd of all in the pavilion. Out in the field we gave it a try to fly team but the winds were just too light. We did manage to attract a lot of interest and set up our low to no wind kites for the youngsters to try. The lines formed and kites were launched in the smallest hint of a breeze but they moved, and every once in a while a breeze passed through.
Clyde and Pat Barker of "Lone Star Kites" in Pflugerville, Carolyn Weir of "Kites Unlimited" in Galveston, Chris Doyle of Houston and Rick McGaffey of Pearland offered instruction. When the youngsters finished their flight, they were given a ribbon, by my wife Pat, declaring them a novice kite pilot and a certificate recognizing them as a "Certified Kite Pilot." The younger kids were especially proud of these. The lines of interested flyers did not diminish and many of the campers moved from kite to kite during the afternoon. At the end of the day we asked the campers to sign a banner for us as a memento. This will be a special keepsake for us of the days events.
Eddie Zihlman Jr.
---
..Not ever having been there and not knowing how many kids to expect, we threw together a workshop for small kites, packed our kites and headed out.
The small kites worked out well since there wasn't enough wind for our single line kites…The camp Director gave us a table in the pavilion for our workshop next to the other tables. There were tables for tattoos, scavenger hunt, etc. We were surrounded by children and the tissue paper and glue started flying around. The children could choose the shape of kite they wanted to make and the paper they wanted to make it out of. They traced the kite, cut it out, glued spars, tails and a thread flying line and off they went. Afterwards, we saw a lot of little kites fluttering behind their owners that afternoon. The most popular paper by far was the happy face print and the most popular kite shape was the eddy bow.
The director of arts and crafts for patients worked with us making small kites. She had never seen a small kite workshop and was fascinated by it. She showed the children what to do and stayed with us the whole time. She later said she wanted to do this workshop for those who had has to stay in the hospital. The small kites are perfect for someone who is confined. Later on, the rest of the camp staff chimed in on how the small kites were a big hit with the children. We really enjoyed working with these kids. We will never forget these kids who were fighting such a battle and how kites could give them some pleasant things to think about.
Bunnie Twidwell
---
.. It was a special treat to look out on the open field at camp and see it full of children, many of whom had never had the opportunity to see kites like these much less fly them. As a special treat…two Beetle kites were given to the campers to enjoy during their stay. We hope this will be an annual event!!!
Pam Brasseux
Camp Periwinkle
Texas Children's Cancer Center
---
A special thanks to Jim Wood from Team Austin EOL, and Lisa from Camp Periwinkle for getting such great pictures. Lisa also offered to work with the kids and the Beetle kites.