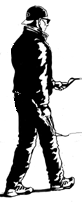 So what have I been up to for the last couple of months? Some of you that read rec.kites or have bumped in to me will know, I fractured my wrist and that kept me out of action for a while. But watch out, I'm back and busting to play.
Well I think the last time I wrote something down for this column I was just getting back from the US, man that was a great trip (Thanks again everyone). I've kept myself busy since then with a few festivals here in the UK and a couple of road trips to mainland Europe. I don't know about the rest of the world but, the weather over here in northern Europe has sucked the big one most of the summer, or should that be, "What summer?"
Taking this into account you'd think that the festivals would have sucked, far from it. Two of the festivals worst affected by the weather turned out to be right up there for amount of fun had.
Hackney started early for myself and Andy Wardley. We decided to meet up for a session at "Meanwhile" on Fri' afternoon (A nice couple of half pipes, one with a bowled end); no, this isn't where I fractured my wrist.
This is where Andy managed to lose a few of his teeth….OUCH!  Not too sure what happened, Andy went in for one more run before we packed it in for the night and the next thing I know, he's walking towards me with blood pouring from his mouth. The rest of the night was spent in casualty, trying to get Andy stitched up.
Sat' morning comes round and Andy is looking a little the worse for wear. Man, that's one fat lip. Things didn't look too bad first thing in the morning, but the weather forecast wasn't looking good for the rest of the day. We got down to the Marshes nice and early, always a good time for catching up with people before the festival really kicks in.
Who should be one of the first people I bump into but Nick Boucart from Belgium and his friends from "Highlife" (Belgium kite team). Now that was a surprise. Not as much as it was for the competitors, Nick took first place in the "Trick Out" and Highlife took first place in the team comp'. Nicely done guys. By the middle of the day the rain had set in for the afternoon and that was the end of the day for me really. The rest of the day was spent hiding in my tent and the beer tent….hic.
Sat' night was a quiet one, didn't really think Andy would be up for a head banger after our expedition on Fri'.
Sunday was a laid back affair with demos by all the teams that competed the day before and a few kite games including the 'Rev Painting' game, where the pilots have to paint on a canvas using any part of their Rev. This always seems to go down well and the artwork is sold off later in the day to help towards the next years festival.
Around lunch time my little boy turns up and the rest of my day is spent flying kites and playing games with him. As always, the festival goes down well with everyone I talk to, already looking forward to next year's. It's great having a festival right on my doorstep.
A couple of weeks go by and I'm down in south London flying at Blackheath with a few of the other London flyers. It's one of those really nice days with a good breeze and a nice bit of sun. I've been trying to do the 'Flap Jack' with my kite for an hour and finally manage to get one down. The feeling was so great that I decided I'd treat myself to a little skate, it's off to 'Stockwell Park' (Skate park in Brixton) for me. I'm having a great little skate when someone asks to have a try of my deck. What the heck, I'll have a go of theirs while they try mine. Bad move, their trucks are much tighter than mine. This makes my first carve into the bowl real hard and I end up bailing out and landing on my wrist. No problem — only hurts a bit, so I carry on skating for the afternoon. It's not until the next day I think, something's just not right here. A quick visit to the casualty department, a couple of X-rays and the news isn't good. I ended up with a fracture in my wrist and one of the bones in my hand. Bummer, I'm going to be out of action for a few weeks. Luckily I managed to talk them into a splint rather than a plaster.
The girlfriend can't make it to the festival in Holland, so I turn the whole thing into a road trip for the boys. Manage to get Andy Wardley, Sam Eaton and Hans von Lengerke fired up for a trip, so come the Fri' night before the festival we're on our way to Holland in my big old Volvo crammed full of kites, tents and sleeping bags. I don't think we could have got one more thing in the car, we'd crammed it so full of stuff. We go via Oostend and due to the English football (Soccer) fans wrecking the town the day before, we have a hard time from the customs guys on the way out. It was hard work getting it through to them that we weren't going west to the football when we got to the other end, but east for a kite festival. In the end we showed them a kite and we were off. Finding our way to Holland didn't seem to be too hard, the hard bit seemed to be finding the campsite once we'd got there. Sometime around 1am we're there and get some sleep ready for the start of the festival.
Sat' morning comes round, and boy is it windy. It must have been around 20mph, gusting to 25/30mph as the day went on. We set up our camp on the beach and go off in search of some entertainment. This comes in the form of Andy Preston and his kite surfboard. Andy is out on the water trying to perfect his "Fakie". This is riding backwards on the board. Andy manages to get up, just gets going and gets hit by a wave, knocking him off the board. This seems to go on forever and is great entertainment for me and a big posse of people on the beach. Sat' afternoon and the rain sets in again, looks like it's time to hit the arcade and play the Sega skate game for a while.
One of the great things about this festival is the line of restaurants along the sea front. This is where most people tend to meet up and that's just what we did with a few of the guys from rec.kites. It was good to be able to put some faces to the posts I've read and get to know the person a little better. Hi guys.
After a night spent with the rain and the wind bashing the tent, it's up for another day of heavy wind. Well, at least the rain has stopped. Hans is out flying a kite in the campsite. This turns out to be a great place to fly as much of the wind is broken up by the trees around the site, with just enough left for a good fly. As we start to take our tents down, the people in the tent opposite us invite us in for coffee, very nice as we aren't prepared for brewing up in the morning. With the car crammed again, we make our way to the beach via a cafe for breakfast and a skate shop to pick up a new deck for me. Well, it was meant for Andy W, but be couldn't make his mind up, so I whipped on in there.
Back on the beach again, with the cabana set up and the flags flying. We set our camp up next to the Decs' (Four line display team) and watch them fly for a while. After a bit, a couple of them decide to have a break, while a few more decide to carry on playing. Now's my chance? "Hey guys, mind if I sit in for a while?". Had a good 15 mins' fly with the boys (Thanks guys) before my wrist and hand give up. My hand hurts for the rest of the day, but it was well worth it. I used to fly with the boys but had to leave a few years back and boy do I miss it. The Decs' are not only one of the best teams around, but a great bunch of guys. If you get a chance to see them don't blow it off, you'll regret it.
The rest of the day is spent walking around, checking out the single line kites, and catching up with people you only get to see on the mainland before we make a run for the border and our trip home.
A couple of more trips around the south of England, to Brighton and Weston Super-Mare, and I'm off back to the mainland again. This time I have my girlfriend and a couple of the Decs in tow. We're off to Knokke-Heist in Belgium for a little- known festival on the kite circuit.
Ann De-Roy (of Passport to Heaven) has put everything she has into this festival over the last three years, and a great little festival it is.
We (the Decs and I) have been lucky enough to have been invited to all three so far, and I can't thank Ann enough for the fantastic time I've had at each festival.
The beach at Knokke may not be the biggest on the kite circuit, but it is one of the nicest I've been on. Ann has a good mix of the single and multi-lined kites, along with a great mix of people. The music is great, with a good mix of drum and bass along with other up to date tunes. This reflects in the people that come to the festival, you'll find a lot more young people at one of Anns' gigs than any other I've been to, and the whole town seems to get behind the festival making it a great weekend.
I like coming to Belgium. I've been coming for a number of years now, not only for the festival here in Knokke, but also quite a few other gigs. There aren't many kite shops in Belgium, well, I think they only have about 6 million people in the whole country, but they really do a lot for their flyers. I've been over a few times now to do classes and for a couple of indoor events. Because of this I spent a lot of my time at Knokke catching up with all the people I've gotten to know over the years.
This for me is what really makes kite flying fun, it's all about the people I've gotten to know over the years.The weather is great, got to be one of the best weekends this year. I spend the rest of the weekend doing classes along with some help from Pascal Herron (My French translator and great friend). This is great fun with quite a few people new to freestyle flying wanting to get to grips with it. This includes two young local lads, who turn out to be great fun. They're only about 9 and 11 years old, but have a great grip on the basics and seem fired up to really learn. Let's hope we get lots more like them over the years, you never know this thing we call kite flying could be BIG one day.
Well that's me done for now, I'm about written out. Look forward to speaking to you all again soon. Don't forget it's just kite flying, have fun..
Whatever.
Chris