World Cup IX – The Best One Yet?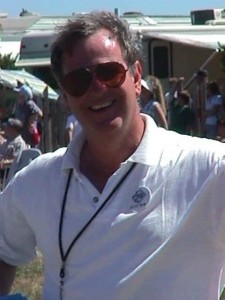 I've been looking forward to the World Cup in Dieppe for many months now. It seems like a strong group of American spectators are headed over. I'm not surprised. More than most years, I think the '98 Cup has the potential for drama and entertainment – both on and off the field.
I have long been a supporter of the Cup and actually helped organize the first one here in Oregon. I think a worldwide sport kite finale is good for the sport and good for the fliers. They generally tend to feature great flying, good people, and fascinating politics.
So far, I have only missed one – and I have always gone at my own expense. It isn't always easy. Sometimes they are held in places that are practically inaccessible if you aren't part of the sponsored class.
And accessibility isn't the only problem. Usually the Cup is challenged by poor wind, difficult flying conditions, and swirling politics. It is a wonder (and a credit to the organizers) that it is still in existence.
In Odawara, we sat in hot still air. Fliers back-pedaled to try and generate enough wind to fly. When Top of the Line took the field, Captain Ron Reich called for a wind check and stood firm for half an hour as the sun set, waiting for acceptable conditions. His team won, not only because of their skill, but because Ron had the confidence and nerve to make everyone wait.
In LeTouquet, the flying was moved from the beach to the parking lot because of tides. (Didn't anyone know they were coming?) The move was controversial. It was impressive to see the lot filled with sand in just a few hours, but disheartening to watch the best fliers in the world attempt compulsories at the edge of a seawall in swirling turbulence. Reigning champions, High Performance didn't show. It seems they felt there was little left to gain and plenty to lose after two consecutive wins. Tsunami won, in part, because they cut their routine in half and effectively "quit while they were ahead". But the partisan EuroCrowd was clearly hoping for Airkraft to take the trophy.
In Hokkaido, organization and support was superb, but there were more fliers than spectators. It was clear from the sidelines that American dominance was waning. SkyDance deserved to win, but the real news was the British sweep of all three top positions.
Long Beach was a disappointment. The northwest winds bent framing on the heavy tents that ringed the field, and knocked sound equipment over. Fliers struggled. But in the aftermath, the real news was increasing scrutiny of WC judging. The consensus along the sidelines was that Japan's AfterShock deserved better than third. And when raw scores were temporarily posted to an internet site, a firestorm of analysis erupted. A majority of judges had actually ranked the Japanese first. But because all marks are retained (rather than highs and lows being omitted), one low score from one judge was enough to change the results.
So now, with World Cup IX upon us, it appears that the flying challenges and politics continue.
The early news was that the WC Chief Judge was insisting on using rules that he personally had prepared, rather than rules that fliers had competed under to qualify or the new common rules developed by AKA, STACK and AJSKA. Eventually, international pressure forced him to back-down, but rumors persist that he will refuse to participate.
Increased attention to judging has raised a number of questions. How are judges selected and what are their qualification? If judges are employed by firms that sponsor some competitors, does it create an appearance of partiality? If a judge is socially involved with a competitor, does fairness become an issue?
AKA continues to yearn for the opportunity to name American teams, just as other organizations around the globe are allowed to designate their fliers.
And finally, the site itself becomes a concern. Dieppe is situated on the edge of the Channel on a grassy field bordered by a row of hotels. The grass is barely 300 feet wide. So if the wind comes off the water, fliers will face turbulence on the bottom edge. If it comes from the side, spacing,  especially for larger teams) will be limited. And if it comes over the buildings, there will be no flying wind at all.
I can hardly wait to see what happens!
On the other hand, Dieppe has always been a well-organized, well attended event. We are sure to see the largest crowds ever for a Cup competition and the backdrop of international kite artists will make for an enjoyable week and a good show. And besides, past problems create opportunities for improvement.
I sincerely wish all the participants – fliers, judges, officials and spectators – a wonderful and successful fly. I'll be there watching, cheering, and wishing I could fly half as well.
David