Compiled from staff and reader submissions
US Teams
1999 should be a vintage year for team competition. At least four teams have announced their plans for a full season's worth of battle.  DON'T PANIC dominated the recent AKA Nationals, sweeping both disciplines. BUMPERKITES showed very well in ballet, until a broken line did them in. Both teams are from the Northwest, and have been pushing each other, to good effect. CHICAGO FIRE are a perennial powerhouse and should do well. CAPTAIN EDDIE'S FLYING CIRCUS are returning to the war after a year off. We will keep you posted as the battle begins.
Industry News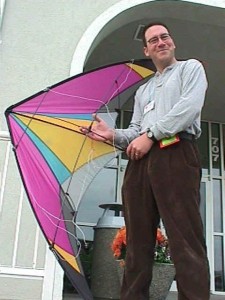 Also at AKA, we previewed some interesting new products. Peter Werba, designer of Buena Vista kites, and now an employee of HQ, showed us his newest kite prototype. It features some most unusual design features, and should generate a stir in the marketplace. As yet unnamed, it will be available by the KTAI show in January.
Berry Braiding, makers of the excellent Blue Line es/55, let us try some prototype line that they are testing. They wouldn't allow us to take photos or give a detailed description, but we can tell you that this line will be a revolutionary development for the low- to mid-range sportkite market. This new product should spell the end of the cruddy dacron sets that are now being packaged with some otherwise-excellent kites in the $40-$100 range. Watch for this product to be introduced with a bang at the KTAI show.
We also spent some time with Dodd Gross, owner of DKC. It seems that the recent split with HQ has left Dodd in a great position, as he has assembled an excellent line of European goods for the US market. New designs from Eolo, Elliot, L'Atelier, Benson, and Spirit of Air should prove successful with US buyers.
Recently, there has been more movement among US kite retailers. Bill Storey, owner of Long Beach Kites, in Long Beach WA, recently purchased Ocean Kites from Roger Holman. Roger also sold Windborne Kites to Terry Yuncker, marking his apparent exit from the kite business. As of this moment, he still owns the rights to World Cup. It will be interesting to see if he retains this ownership.
New Websites
Several noteworthy new websites:
http://www.skydelight.com/ Joel Scholz online catalog, great site, great kites. Highly recommended.
http://www.bilboquet.com/ A quite ambitious online store, in French and English.