A tale of betrayal, seduction and new beginnings.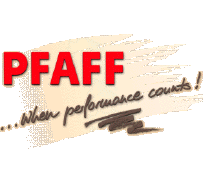 When I started making kites about ten years ago, I started with Margaret Greger's book, lots of paper, tape, plastic bags and dowels. I didn't even contemplate anything as ambitious as sewing a kite. I was at graduate school in Montreal when I turned on to kiting and on any breezy day I could be found on the campus soccer fields flying my kites. Spring of that year I found myself in a kite store in Victoria B.C. where a very bored and not too helpful shopkeeper sold me a package of 'ripstop' scraps. I could hardly wait to return to Montreal and my little Singer Portable to start sewing.
The Singer was my pride and joy, one of the first portables to come out with zig zag at the time, and it had traveled many miles with me. We had been together for about 15 years, and could be described as 'just friends'.
Using my Singer and Margaret's book, I made a wonderful patchwork dragon. I could hardly wait to fly it. But no matter what I did, no matter what adjustments I made, the damn thing wouldn't fly. It wasn't til much later I found out that 1.5 ripstop is not that great for a small dragon!!!! But the machine did a good job of sewing it! I gave up on sewing a kite, found a kite store and bought a parafoil, went back to my studies and made and flew more plastic kites.
After finishing my studies, I moved to Winnipeg, Manitoba. Hardly a hotbed of kitefliers but I discovered Aimé Barsalou who introduced me to the world of kite magazines, kite festivals, and ripstop nylon. Problem was, there wasn't any available in Winnipeg and I was too inexperienced to know where to look for it. So I hung out at sportswear wholesalers buying up 'crisp, light' fabrics in their remnant rooms and happily sewed flyable kites on my peppy little Singer, finishing edges on my serger. I managed to make many functional dragon style kites, deltas and even a terribly exotic Rokkaku.
I had never seen a Rok, so I followed the instructions in Wolfgang Schimmelpfennig's book. I only got to fly it once when disaster struck: my car was stolen! It was a Monday morning and I had been flying all day Sunday. In the car was just about every kite that I owned . The car was retrieved that afternoon but it had been stripped clean. Insurance covered the material loss and I was able to buy a whole bunch of new kites, but it wasn't the same. I was about to move back west by way of my first WSIKF Festival at Long Beach and had only two of my own kites to fly.
My Long Beach experience led me to my first kite workshop at Fort Worden the following March. I drove down from Northern B.C. (about 800 miles), with my little Singer portable packed in my station wagon. Armegeddon came with my first sewing workshop with ripstop. Luckily for me there was a woman floating around that weekend with a name tag on that said 'help me – RHONDA'.
Rhonda Brewer from Oregon heard a lot of "help me Rhonda's" from my table. In the end, she loaned me her machine as I struggled, tangled, puckered, ripped and screamed, yelled and swore my way through the weekend.
Drove the 800 miles back home, went straight to my Pfaff dealer, dragging my poor little Singer behind me, and discovered he was the same man who had sold it to me 20 years before!!! Now he was selling Pfaffs!! Well my little friend had failed me and it was time for a change. It seemed that the magic formula was 'walking foot', so I bought a Pfaff 935 hobbymatic – WITH a walking foot. I had purchased a bag of scraps from Kathy Goodwind.
I spread them all over the floor, and began sewing. Within minutes, I thought I had died and gone to stitching heaven. My new machine did plain and zig zag, and a reasonable number of fancy stitches. It was easy to handle, to carry, to maintain. This was going to be a different kind of relationship. I was in love with my machine.
So I sewed and sewed and sewed and sewed. I sewed kites and banners and wind spinners and tails and feathers. We were good together. But l must be honest about my sewing skills. While I have a background as a fibre artist, I am not a particularly fastidious seamstress. I sew too fast, I am careless about finishing, and I often have to rip and resew. My kites look good from twenty feet away, but don't look too close! I competed a few times, but always lost out because of my messy sewing. In the end I didn't care. I just couldn't see the point in spending all that time in what I though was obsessive compulsive, super paranoid nitpicker-ly-ness!!!! I admit I admired it in others, but just couldn't (or wouldn't) commit the time. Before I finished one kite, my mind was on the next one that I wanted to start.
And then it happened. Temptation struck, and I betrayed and abandoned my beloved 935. I had been hearing things about tempting functions on some of the newer machines. A couple of weeks ago I dropped by my Pfaff dealer to pick up some notions. He was showing someone a fancy shmancy multi-stitch machine.
HMMMMMMM.
Too complicated for me! But when they left, I sat down and tried it out.
OMIGOD!! It threaded itself!!! It had an adjustment for 'needle down'; it does an exquisite lock stitch at beginnings and endings; it tells me when I am about to run out of bobbin thread; it has a variable speed; it has a zillion stitches and is computer compatible.
Did I NEED all these things – NO!
Did I WANT them?
YES!!! YES!!YES!!
And so I was seduced. Seduced by a Pfaff 1475. I went home, and sat down at my 935. There was no passion left in the relationship. I was cold, dead inside. I could only criticize and make comparisons. I went to the computer, dialed up rec.kites, and posted an ad: 'Pfaff Pfor Sale'. My 935 sulked, and spat dustballs. I didn't think Ann Landers dealt with this type of an affair, so I asked for advice from the #kites chatline and rec.kites and got nothing but encouragement to pursue this new folly. A divorce was in the making, but I couldn't just abandon my little 935 as a trade-in!
Nor did I want it to become second fiddle in a sewing machine 'harem'. So I solicited a new home and, as a result, my little 935 is now starting a new life as a first machine in a wonderful new home in a foreign country. If I couldn't love it anymore, at least it got a trip to the Big Apple. Kite stickered Pfaff 935 now lives in New York, and I am sure is very happy in its new life with a new owner.
With the help of those at Convention who contributed U.S. dollars to my Pfaff Pfeather Pfund, I was able to bring the 1475 home, and have just spent two days with it.
Boy, am I smitten!!. Me and my machine are locked in all day sessions of passionate post menopausal creation. I hate to have to admit this, but a better machine has and will definitely make a big difference in my finished product. It does things so easily that I couldn't be bothered fussing over before. The variable speed and the needle down let me make tight turns with no pain. The needle threader is a blessing to my over fifty eyes!!! I know that it is not necessary to have a state of the art machine to produce winning kites. Larry Mixon, from California, builds extraordinarily crafted kites on an old Singer. I conclude he must have the patience of Job and a high frustration threshold. But for the slobs in this world like me, it takes a better machine to turn us into a neater sewer and I welcome anything that makes the creative juices flow more easily.
In the past ten years I have progressed from a 'just friends' relationship with my sturdy Singer, to a passionate all embracing affair with my latest hi tech, bells and whistles, state of the art Pfaff. It's the best of times right now, the beginning with all its excitement, new revelations, unexpected titillations and mysteries revealed. How long will this last?
I don't know nor do I care. I'm in love again, and it's wonderful!!!