Hi everyone, happy new year.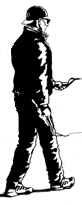 Well this issue's column isn't so much a waffle about the UK scene as it is 'a Brit' in the US'. Well, after all it's the winter here and there isn't a great deal going on. As I got on the plane heading to Tampa FL, I noticed I wasn't the only one heading out to the KTAI. Also in the plane with my girlfriend and I were Richard and Jill from 'Trade winds', Chris and Doug from 'Dunstable kites' along with Mills and Jeff from 'Wind Things' in Scotland. Good to see a few of the UK shops making their way over to see the show; I'm sure the Florida weather had nothing to do with it. ;o)
Well we got into Tampa around about 7 p.m. after a ten and a half hour flight, 2 a.m. on my body clock, got us a hire car and we were off to Clearwater. After a quick drive to Clearwater we booked into our motel, the 'Stay and Play'. Strange though, never seen it the way they had it before the 'Sta n Pla'. Or as it was at night when only one light worked and it became the 'n' — no wonder Dean couldn't find us later in the week.
We had one day free before the show kicked in, so we arranged to get a bit of shopping in with Richard and Jill. Richard had done his homework before we'd left England and found out where the nearest outlet mall was. You see, we just don't get things like this in the UK. Just the idea of them would send shivers down the spines for the retailers here. Good way to stock up on good cheap clothes though.
After a good morning's shopping (it's therapy –give me a break), we head on down to the beach in Clearwater to see what's happening. Well what do you know, there's a few kite flyers there warming up before the show. Of course it's Dodd's guys hanging out getting some flying done. On the beach we had Bryon, Scott and Hunter all flicking their kites around. Now the beach is always a good place to catch up with old friends, but it all becomes a bit strange when you only seem to meet those friends on beaches. I'm sure it was Wildwood the last time I saw this motley crew.
Seems Dodd was missing out on the chance of a fly as he had to go to the airport to pick people up; nothing new there then, huh Dodd? ;o( The next morning was the first day of the show, so it was up and off to the diner for a spot of breakfast before getting down to a few hours walking round the show. I think one of the best things about the show for me is the candy. Okay, the kites are important but you have to have something to keep you going while you walk around. And the awards for candy are: Active People for the popcorn, nice twist guys and Prism for their wonderful soft chocolates in the stylish Prism wrappers. Well done. You win the 'Matheson Fat Belly Award'. The fat belly being mine after I'd had a couple of bags of popcorn and a few handfuls of Prism's chocolate, never did find the mother lode of Prism chocolate.
So what does someone like myself do at the show, I hear you say. Well, I catch up with people. Throughout the year I talk to people from around the world via email with the occasional visit to a few people's areas, but it's only when things like the KTAI show are on that you can get ahold of 90% of the people you'd like to catch up with in one place. It's great — you walk around and bump into friends. Yep, that's right. Friends.
You see that's one of the things about the kite trade that I like; most of the people I do business with have become friends over the years and for me, that is one of the main reasons I'm in this business.
That night we get together. (Hang on, don't think I've actually said who 'we' is, or at least the other half of 'we'. The other half is Maria, my girlfriend, and soon-to-be wife), with the Flexi contingent, along with Richard and Jill for a spot to eat. Andy Preston talks me into having a go at the kite surfing the next day. Well he didn't have to try too hard.
So I try to eat as much as poss' so I have the strength for it. I managed to talk Andy into going for a skate with me, something we worked out we hadn't done together for about seven years. Got to make the most of these trips away now.
The next morning we're off to play in the water. Maria didn't want to watch the boys play with their toys so myself, Dean Jordan, Jeff Howard, Andy Preston and a guy called Alex from Spain head off to the other side of the bay. Looks like it's Jeff, Andy and myself up first with Dean and Alex looking out for us on the shore. Andy sets me up with a board and a big SkyTiger and it's off into the water. A few mins' is spent with Andy telling me what I'm to do and I'm on my own. I spend the next hour trying to get on the board. Now I'm what they call goofy, that means I have my right foot as my front foot and for me that feels natural. Because of the way the wind was I had to try to get on with my left foot forwards. After an hour and about a mile of drift down the bay I hear Dean calling. It's just at that point that I dump the kite in the bay and give up for the day. After a long paddle back to shore I find out that Jeff and Andy had given up after ten mins'. Seems the wind was way too gusty. Well I had a great time trying to get going and can't wait to try again.
There's a couple more days of the show to go so it's back to wondering around catching up with people, making dates for a beer or something to eat and telling everyone my plans for the new season. Got some great news from Tom Moermond and Steve Neagen. Seems Steve's brother Bob, or at least his wife had a new baby boy. Congratulations guys, now isn't that another bunch I seem to meet on the beach all the time…Hmmm.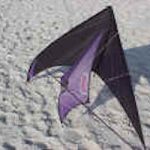 So what court my eye at the show. There were three things that stood out for me, one of the two line kites, one of the single line kites and one of the yo-yo's. So first we have the two line. For me there was one kite that stood out from the crowd and that was the Utopia by Martin Schob (The guy who gave us the Trick-Tail). It's always good to see someone pushing the boundaries of design. What was so different? Well this kite has two separate sails working from the frame. It would be a bit hard for me to describe it in any detail here, but with the stir it made this year at the show, I'm sure we'll see a review of it soon enough. For now, the best I can do is. There was one main sail that laid back from the kite with no keel and then there was the second sail that was suspended in front of the first working as the keel. Flew well too.
The next thing was in the single line side. This came in the form of the Goodwinds new single line cylinder. Now this nearly didn't make it, at first I thought it was just another follow on from the Shanti square we had two years ago, then the Prism triangle we had last year. I thought, had to happen, we've got the cylinder. Maybe I should do the Matheson hexagon. Don't get me wrong I liked those kites, we're just talking about things that stood out. What saved it and made it something I really liked was the way the kite folded away. You twisted the kite and the cylinder collapsed in on itself leaving you with a flat circle. Cool little kite.
Now the last thing was a yo-yo. I'm not really into yo-yo's myself, but when I saw this one I just had to have one. If a yo-yo can be sexy, then this one is. Ladies and gentlemen I give you the 'Revolution graphite Yo-yo'. Again it's not something I find I'm able to describe too well. It's just something about the way they've used the graphite along with anodised aluminium and the lacquer over the graphite weave.
There's only one day left of the show and now it's time to wander round and say my goodbyes. Things like this always seem to pass so quickly and no sooner have you court up with everybody than you're saying goodbye.
What did I manage to slut off the stall holders this year. Well I've added to my cap collection with a couple of caps from Dodd and one from Jeff. Along with that I just had to have one of the Rev' yo-yo's and was lucky enough to get one of the few the guys had on show, thanks guys. Also managed to get a couple of Avia T's, not a bad haul.
Luckily for me it's not the end of my trip to the US and we're off to Dean Jordan's for about five days of playing in the sun. I have to say, Dean really knows how to show you a good time. Thanks dude.
Whatever.