This month I commence presenting only one kitemaker profile per issue. Time and finding co-operative kitemakers have forced this decision on me. If you know of any kitemakers who might like to featured here, please send me their details, this includes nominating yourself if you like.
This month it is a pleasure to introduce you to a young kitemaker from Topeka, Kansas, US. – Paul Homan.
Paul is a mere 16 years of age but tackles his kite making with an enthusiasm and scale that belie his age. If only more young people would get involved with kiting as Paul has done I'm sure the sport would benefit and grow more rapidly then it currently does. As you will see Paul also likes to tackle big projects, nothing by half scale for this lad. Please read all about Paul and let's hope he inspires you go make a BIG kite !
PERSONAL DETAILS :
Location : Topeka, Kansas, US
Business: Paul's Custom Kites
Age: 16
Occupation : High School student.
Favorite Food : Thin crust pepperoni pizza
Favorite Beverage : Rootbeer
Favorite Kite Book : Soft Kites and Wind Socks – Jim Rowlands
Favorite Music : Techno.
Favorite Kite Magazine : American Kite
Tell me a little about yourself please Paul :
I currently still attend school, being only 16. Besides school I work on my car, which I just got, and of course – kites. I will be a junior at Topeka West High School. Being a kid I don't have a 'professional background' yet. School work has been occupying my time more than anything else this year.
I am in the TKF ( Topeka Kite Fliers ), KCKC (Kansas City Kite Club ) and AKA. I am trying to get a kite club started here at my high school, I think it it would be great if I could do that.
What is the silliest thing you have ever done ?
Get involved with kites !
What is the most dangerous thing you have ever done ?
Get involved with kites !
What is the most rewarding thing you have ever done ?
Get involved with kites !
Paul, how did you get interested in kites ?
I believe I have been interested in kites all my life. When I was little, my Mom used to watch me run around the backyard with a plastic bag trying to get it to fly. What or who really got me started into stunt kites was my cousin; he bought a kite from Wind Wizard, (a kite store in Kansas City). It was called 'Excelerate' (XLER8) and was a big power kite. We went out to a field behind my house and flew it for a while, that's what got me hooked. That was when I was about 11 years old. I got my first kite about 1 year later, which was a Hot Wings from Into The Wind kite catalog.
How long have you been making kites ?
For about three years now, and I feel I have come a long way in a short time. The first project I ever made started was two banners made of heavy duty ripstop nylon. I didn't even hem the edges, thinking the hot knife cutting would be good enough, but a week later I was back at the sewing machine hemming the edges! I started making kites because Jim Aune kept bugging me to try and make something. When I decided to try the banners, I was at first embarrassed with how I made them, but soon got over it when Jim started complimenting me on my projects.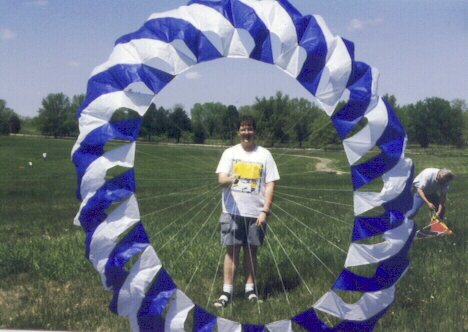 What type of kites do you make ?
I have made all types of kites (cody, box, soft, stunt, rok, bol, banner, etc.). I really like to make banners, and I have a very large ground display, which, when combined with the Topeka Kite Fliers ground display it turns into a GREAT ground display! I guess I specialise in banners and soft kites like flowforms. The first kite I made on my own without a kit was a flowform. I can make almost anything, the ones I think are the hardest to make are the cellular and stunt kites.
I make kites mainly for a hobby. I just enjoy the fun of flying them. I do sell some of my kites. Thomason's Sport Kites sell some of my stuff, but I get most of my orders from people I see and meet on the flying field. You can probably talk to anybody who has bought one of my products, and they will tell you where to get hold of me.
What projects do you have in the works right now?
Right now, which is less than 1 week before Westlake Kite Festival, I am working on a flowform for their auction it will be a solid black flowform with a big 40″ diameter happy face in the center of it. I estimate its retail value at just over $250. I just got done with a kite arch with 70 sails for the Topeka Kite Fliers ground display. (ED: the kite subsequently sold for $275 at auction).
Paul tell me about any materials, tools or unusual construction techniques you use in building your kites ?
All types. I mostly use .75 oz. ripstop nylon on all my kites and on my multi colored banners. On my solid banners I use what they call silk-essence which comes in a wide variety of colors and moves in the wind really neat, it shows the wind very well. I get the material for my single colored banners from a local fabric store and my ripstop mostly comes form KiteCo/North Sail. I found out you can get a really good deal on ripstop from them if you buy in bulk. For banner poles I go to a Cabella's catalog, they advertise poles for a very reasonable price there, compared to some kite stores. For the frame of the kites I mostly use Avia protruded spars in all sizes and every once in a while, when I make a big kite, I use tube fiberglass.
The sewing machine I use is a Pfaff Hobby Craft 955 which is really nice because it has the built in walking foot. For cutting I have a nice setup. I have a large 7′ by 4′ with a mirror that is hinged so it will fold down out of the way when I am not using it. The mirror is 7′ by 17″. I use a pencil type soldering iron, that I use on just about everything. I have recently been using 1/4″ double sided sticky tape, I don't like spray adhesive because it gets everywhere and can gunk up your needle. I really like my sewing machine, if I had the opportunity to switch, I would trade it for a higher quality Pfaff, one that will stop with the needle up or down; I think it would be great.
"Take your time, do it right the first time" – I think is the best construction tip for everybody. I try to experiment with all the different techniques to see which one will work best for me, and if none work, I just make up my own!!
What is the average time spent making a kite?
The kites that have taken me the longest to make would be "Infinity", and my big bol. Both took nearly 50-60 hours to build. But on average, I would say I probably spend nearly 10- 15 hours on each kite. Once I get going on a kite, I just keep on going until I get done. I will stay up, until 2 to 3 am in the mornings just to get a kite done sometimes, because I like to finish stuff all at once.
What awards have you won / received for any of your kites ? Which one meant most?
I have only been competing for 2 years now. I have an award for 2nd place for steadiest kite down at South Padre Island back in '97, and largest kite at Westlake Kite Festival last year in '98, and also in 98: Best Ground Display Group and Unique Design Kite down in South Padre Island. This year I won second place in most Unique Desgin kite at Westlake and Best Ground Display Group & Individual. The Group Ground Display is probably my most rewarding, now that they have competition for Ground Display you can bet I will be entering that at every festival I go to. Now I am really getting into competing–not the stunt but the single line and ground display.
Which was the most rewarding kite to make? Why?
First off, it would have to be the ones I donate to the auction, because it fun to watch people bid for these kites, especially if they over bid the retail value. I also get a kick out of helping raise money for a good cause. The second most rewarding is a tie between my big bol and my "Infinity". The big bol because it is such an 'attention getter' and it's my own design at work. The "Infinity" because it is modeled off of a 7th grade art project that I did in middle school and it is also an 'attention getter' too, but not as much as my bol. The third would be my banners just because they decorate the field and they attract attention too; they just look great.
Where might I see one of your kites flying, but not by you? (Who of note have you sold / given / exchanged kites with?)
You will be able to see my kite down in Australia (Graeme Poole has two of my 6′ bol's that I traded for one of his dragonfly kites) and in Lohoma, Oklahoma, Pam & Steve Thomason from Thomason's Sport Kites have one of my 18 sq. ft. flowforms and a 6′ bol. Here in Topeka Jim Aune has an 18 sq ft flowform I made. In Colorado, Sam Pedregon has 3 of my flowforms, all in blue, white and teal, in the sizes of 18 sq. ft., 30 sq. ft., and 55 sq. ft.. Sam's dad also has a flowform 18 sq. ft. in the same color combo, just reversed; I don't know where he lives.
Oh ya. There is one more person that has a whole bunch of my kites … and this person took them with out asking, 2 years ago this June. Just after the festival here in Topeka we parked the truck in our driveway and sometime that night somebody broke into it, (which had a topper) and stole about $3000 worth of stuff, which included about $2000 worth of kites. Some of the stuff we had in there was a Jam Session, Maxima, K-State double sided custom flag, 12 banners ( 2-10 footer and 10-4 footers ) and a whole lot of other small stuff. It was in a purple bag that I had made and had my name in it. If you have any information on these kites, PLEASE let me know. Thanks a lot !
What are your philosophies on kite making? What are your inspirations?
All the stuff I make is symmetrical, I like repeating designs or patterns like Celtic knots. I like to use straight line in my designs because it is easier to sew and it is a challenge to come up with some of these designs I use. I like to look at the world around me and try to make a kite that resembles that one area that I am in or a design that just looks kewl.
What/who has had the most influence on you in kite making? Why?
So far it has been Jim Aune, he has been there more than anybody else. He still comes up with neat ideas and I think I have kinda inspired him to sew more. What inspires my designs is going to kite festivals to see what people are flying and try to make something just that much better or add just that extra detail or go off that design or make it look totally different.
What is your favorite kite … that you have made? Why?
Probably my big bol just because it is my own design and it attracts so much attention along with my banners. I am really proud of my banners. There is one kite I am really proud of because it was my first unique design kite – a triple DC French Military Kite (named Turtle). It only lasted maybe 1 week before it was cut in half by another kite's line, it was orange and green and had a big 13 1/2 foot wingspan and 6 foot tall. I was planning on entering it into the competition down at South Padre Island Kite Fest back in 1997. I had just finished it about 1 week before the festival, and when we got down there on Saturday I tested it and it flew steady as a rock at about 350 feet. I thought the competition for 'Unique and Steadiest' would be on Saturday, but it was in fact Sunday. On Sunday we put up the Turtle and it crashed, so I did a bridle adjustment and sent it up again just to have it crash in to another kite line which cut it in half just minutes before the actual competition. So I ended up flying my 16 foot DC kite in this competition and that's how I won 'Steadiest' kite down at South Padre Island Kite Fest.
Which is your favorite kite festival Paul?
I like all the festivals I go to but if I had to pick one it would be between Westlake (Lohoma, Oklahoma) and Twisted Lines Kite Festival (Topeka, Kansas), Westlake, because it is the first festival I go to after the winter break, so it is like the debut for all my new creations. Twisted Lines because I like doing all the work to get the festival ready ….. I think that's half the fun !!!!
Where is your favorite flying site?
Either Grant Bradbury (where we hold our local festival) or Ceder Crest (where our monthly local club flydays are), Grant Bradbury because it is an 80 acre park and has good winds when you are up on the hill. The only bad part about that is the grass is very high in the summer. Ceder Crest (Governor's Mansion) is very nice; it's about 600′ by 900′ area with 2 lakes in one corner, the grass is always mowed and it has a lot of traffic that goes by there ….. that's the reason why I like that place.
What is your favorite kite made by someone else? Why?
Let see …… the majority of my kites are made by me all but 6 I think and the most favorite out of those is the dragonfly kite because it was a trade and it is a unique design.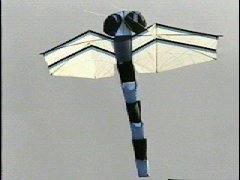 What kite flying experience is your most memorable?
I have two. The time when I was down in South Padre Island with the Turtle that broke, and last September here in Eskridge, Kansas. It was a very windy day when the club put on a fun fly for the Harvest Festival. We had a huge hillside that overlooked the town, so we planted my big bol up there, thinking that it would hold. But, right when we were thinking about bringing it down, because it was so windy, we heard what Jim described as a shot gun going off, then a shrivel and tear of ripstop. What had happened was the bol split open so it was just one, long piece of ripstop. Those are my two most memorable experiences in kiting.
If you were going to a festival for your own pleasure, what kites would you pack in your kite bag?
Let's see….. I would have to take all my banners and ground display stuff (bols , banners, windsocks, tails, worms, etc. ). I would bring a Syncro, Pro Wren, and Wren for indoor flying. For stunt kites, I would bring a Precisionist (Vented, STD, UL, SUL), and a Pizazz (Vented, STD, UL, SUL) and an Air FX. I would also have to bring my buggy and the whole line of Competition Foils from Quadrifoil with it.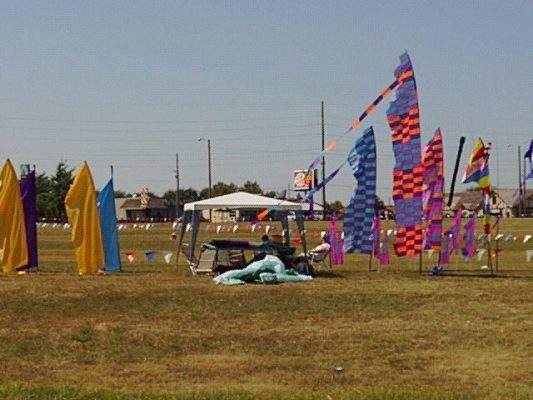 For single line I would like to take my "Infinity", and the Cody I am working on, along with the Loon Rok that Sharon Musto made. I would also get a nice double axle enclosed trailer so I can haul all this stuff to and from festivals. That would probably be about all.
Thanks Paul for taking the time to give this interview and share your kite experiences with us. I hope you the readers enjoyed reading about Paul and his kites. Remember, if there is a kitemaker you think might like to be featured here, please send their name and contact details to me. It would help if the kitemaker has an email address. Until next issue … hasta luego!