Westlake, Oklahoma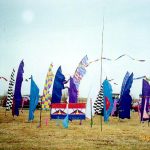 The 6th annual Westlake Kite Festival to benefit the Juvenile Diabetes Foundation, and "Fly for a Cure" started great on Friday evening the 26th of March, 1999. Dave Young taught a workshop on a 'no sew' fighter kite at the Amerihost hotel. We had a pizza party and wonderful fellowship time. All who participated in this workshop were challenged to fight on Sunday.
Saturday morning started out cool and windy. The day began with the sport kite competition, best ground display, best handmade kite competition.. The Topeka kite club put on a wonderful ground display, including many banners, and a kite arch that stretched all the way across the field. Mike Shaw shared his beautiful handmade kites with us and took 1st place in best handmade kite. Paul Homan took 2nd with a beautiful flowform kite and Pam Thomason took 3rd with an appliqué stunt kite.
Competition was challenging for those who competed, with the wind gusts dragging around some of our smaller competitors. They showed very good sportsmanship, which is very important to teach our younger competitors.
The master class competition was a treat. MIB was won by Steve Thomason, MIP was won by Shane Snowden.
EIB was won by A. J. Horn , EIP was won by Paul Taylor Tom Richie took first both IIB and IIP. Alex Horn took first in Novice Ballet and Matt Pettus first in Novice Precision.
Reasonable Doubt gave us a very nice pairs routine and took first in pairs ballet.
Open Quad Ballet was won by Alex Horn.
Sunday saw perfect winds and sunshine, lots of families out to watch and fly. We had buggy races, fighter kite battles. Jeff Howard was the MC for the weekend and he did a great job. Thanks Jeff. Sam and Barbie Pedregon shared their big kites with us and did the candy drops for the kids, what an addition to our event!
Ongoing for the two days was sled kite building by Marti and Richard Dermer, miniature kite building by Amy Pittman, buggy rides by Cliff Lemons and the Tulsa Windrider Kite club. Gary Pittman gave stunt kite lessons. There was a silent auction, and Shriner clowns. Three of the kiters that were present are affected by Diabetes, and we raised around $2,000.00. I thank all that volunteered in any way to make our event a success.
Plans are underway for the 7th annual Westlake Kite Festival. March 25th and 26th, 2000. Come "Fly for a Cure" with us!
PT