Steve Santos
A winter blizzard was about to blow through Newport RI while a cast of kite fliers assembled to prepare for an indoor kite event. High Flyers Flight Company produced "indoor kite ballet" as part of Providence's 1st Night celebrations on New Year's Eve, featuring demonstrations throughout the evening and an "indoor kite making clinic" for children from 6 – 8 P.M.

The kite ballet team was billed as the "High Flyers Flight Team" and was comprised of some of the best indoor kite fliers in North America. Lam Hoac, National Indoor Champion, was the featured flier, supported by a cast of leading performers such as Dodd Gross, Paul Berard, Brian Vanderslice, Torrey Lindemann, John Ruggiero, Peter McMasters, Steve Letourneau and Scott Weider. The venue was one of three large exhibition halls in the RI Convention Center.
There were dozens of other acts taking place within the Convention Center. Spectator crowds were high — in the hundreds — for each of the evening's six performances.
The kite activities opened with a procession through the streets of Providence. It began at the RICC and participants walked and flew their kites to the front of Providence's City Hall. Torrey Lindemann was part of the grand opening and offered a choreographed demo just outside City Hall.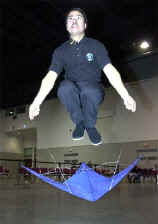 The children's kite making clinic at the RICC was prepared to make 200 kites and 200+ were made within the first hour. Kids flew their kites in a large open area within the Exhibit Hall just next to the kite venue while the "pros" demonstrated in the staged area.
All of the performers offered excellent choreographed routines throughout the evening. New maneuvers were developed for this very night. At one point in his routine, Lam Hoac wrapped his kite up his arms and started to jump rope with his kite. He jumped over the kite repeatedly, to the delight of the crowd. In fact, Lam flew a different choreographed routine for each of his performances.
Dodd opened each "set" while a new crowd of spectators assembled in the hall. Torrey had command of "behind the back flying" and flew several exciting routines. The "Sliceman" performed six clean routines, occasionally featuring his large Quadrafoil. Strong performances were given throughout the evening by Peter McMasters, John Ruggiero, Paul Berard, Steve Letourneau, and Scott Weider. Each set ended with Lam Hoac, our featured flier. He regularly flew to large crowds, some with standing room only. Scott was also our on-site cameraman and took some excellent images that capture the moment. Following the festivities we all gathered to celebrate at the Seaview Inn in Newport, and were out at Brenton Point flying our kites on New Years Day! I have a feeling we'll be back in a bigger way next year. Come and join us in Providence, RI!
A selection of pics are available on the "events" link in High Flyers webstore at www.buyakite.com.