I'm delighted to once again be serving as President of the American Kitefliers Association and particularly delighted to be working so closely with our friends at KiteLife.com.
Many of you will recall that I served four earlier terms from 1990 to 1994. Those were exciting, vibrant, active times for the AKA. We peaked with 5000 members, put money in the bank, and innovated a number of "new" programs like insurance, nationally recognized rules, sport kite conferences and rankings, professional convention management, liability insurance, and buggy racing.
Some people suggest that kiting is in a slump these days. It isn't. We just need to get enthused again about how we present it, more organized in how we sell it, and start working together to support the sport we all love. As my dear friend Jef Cleaves used to say, AKA is the largest association of kite fliers in the world and we ought to start acting like it!
You and I have a deep belief in the joys of kiting, and we know that our Association is the best tool we have to relish, communicate, and spread those joys. I want you to know that your incoming president believes in this Association and wants you to be an active, contributing member. I can't do this job alone. I need your help. Now here's what I'm doing to start.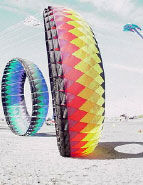 New Online Raffles: To improve our financial situation, we have initiated an online Monthly Raffle. This is going to be fun for you and important for the AKA. Each month we will add a new and exciting, high value kite package to the raffle program and invite you to buy tickets for just $5. For example, in March, we have a complete buggy package including three kites valued at $3000. Sales will be limited to increase your odds odds of winning. And someone is going to win!
Check out the AKA raffle at www.AKA.Kite.org. Buying a few tickets each month gives you a shot at a really super kite. But it also an important part of our effort to balance the budget. So support kiting and buy a ticket!!!
The World Sport Kite Championships: WSKC in Malaysia is happening! The best fliers from AKA, STACK and AJSKA will be going to Langkawi in February and we are in a strong position to bring the Langkawi Cup home to North America. Sport Kite Fliers who skipped competition this year thinking there were no longer any rewards are going to regret that decision. Hopefully, they are back on the field with an eye toward WSKC 2002.
On a similar note, I'm committed to seeing the International Sport Kite Rules completed this spring. For three years, the effort to conclude a truly international set of competition rules has languished. The joint AKA, STACK, AJSKA committee is now hard and work and closing on that elusive goal. And for you non-sport kite fliers, don't worry. Updated competition standards for kitemaking, fighter kites, and buggies are underway as well.
Traction Initiatives: Speaking of buggies, I've spent a number of hours on the phone and email reforming the AKA Traction committee. We are going to step up the level of activity and support that AKA offers this newest kite community. We are going to insure buggy riders and surfers. We are going to run top-quality competition at our convention.
I'm looking for comprehensive published rules, new education and safety materials, and a significant outreach to the traction and surf fliers. If it involves kites, then it belongs in the AKA and we need to be playing a meaningful role. Period.
National Kite Month: Three years ago, I brokered a deal between the AKA and the KTAI to sponsor National Kite Month. It has grown into a solid success and important part of our efforts to promote kiting. All we ask is that you organize a simple event, workshop, or school program. NKM will handle the promotion and soon, new fliers and enthusiasts will literally be flocking to your banner. We have lots of resource materials to help you. If you do nothing else this year for AKA (except of course finding three members and buying lots of raffle tickets), please please schedule a time to fly a kite in April and register your "event". You will be surprised at the new friends that will show up to join you!
Membership: We have completely revamped our membership recruitment and retention efforts in order to build a strong, vibrant AKA. Membership gives us the volunteer, financial, and credibility base we need to move forward. In the next few weeks, you will begin to see AKA applications popping up in virtually any kite product you buy. More materials will be available at local festivals, an "I Got Three" Membership Drive is underway, and if you try to let your membership lapse, we plan to hound you.
Our numbers are down to under 3800. I want membership back at 5000 and then well beyond that. The most important thing you can do right now to support the kiting movement is to become part of the "team" or recruit friends to join you as a member.
Kiting Magazine: The AKA magazine continues to come out six times a year. We miss the other hard-copy kite publications, but AKA now offers events reports, feature articles and kite plans, regional reports, rule updates, rankings, and lots of full color photos. If you were paying $25 to subscribe to a quarterly magazine, you should be happy to pay a $30 membership fee and get six issues a year.
Free Internet Affiliates: To augment our mailed newsletter, we now send regular email reports and notices to our netzian members. We are also starting up a new program for "E Affiliates". You won't be treated like a regular member with insurance, a directory, store discounts, and newsletters, but we will send you a bi-monthly electronic update. And the cost is …. nothing! To sign up, go to the AKA site (www.aka.kite.org), click on the Table of Contents, and look for E-Affiliate Mailing List.
A GREAT National Convention: I know the Billings choice was controversial but that discussion is over. Now that a decision has been made, my job is to make it the best convention possible. And if you were in Florida, a cooler climate may be looking more attractive now!
We are planning a fun, cost effective, and well managed event. It is going to be a wonderful convention and if you miss it, you will regret it! So trust me when I tell you that you will want to be there!
So there you have it. Lots of things are going on. I anticipate even more in the near future — but I have only been president for a week. Give me some time!!
At the close of our Treasure Island Convention, I stood on the stage and promised to telephone everyone in the room — all 400 of them — and talk to them about promoting AKA and the joys of kiting. I said that we are the best and most dedicated and capable group of volunteers in the Americas, and working together, there is no limit to what we can do!
I hope the message is clear that AKA intends to be active, businesslike, and enthused. There is plenty of fun to be had and the diversity of our Association offers wonderful opportunities for everyone. I'm honored that you have asked me to help lead the effort.
I made those phone calls in November and had great fun doing it. The AKA is a wonderful family. You should be part of it!
See you on a field out there soon!
Don't forget to go recruit a new member too!
Good Winds!
David Gomberg
President