Well, it's Thanksgiving again, and time for the Dead Bird Buggy Bash! This year's event was interesting, and a lot of fun. Many of the regulars were there and we also saw some new faces. I finally met John Ellis, whom I am sorry I did not get to meet him last year.
I got to meet Jon Trennepohl who has been a good sounding board for me in the past when I have a problem to sort out. I like him even better in person. I am sorry to say Dean Jordan did not make it this year – he was missed. I hope he makes it next year.
Ok, now for the event from my point of view.
Cliff and I got there on the Saturday before the bash. We drove in to a flooded Galveston, having just gotten 4 1/2 inches of rain. We tried to get out to East Beach but the road was underwater, so instead went back to the hotel and rested up for the next day.
Sunday morning, we met up with Claxton, Freeman, and the Florida crowd. We went out to East Beach and found the water had drained considerably, but the wind was good but from the wrong direction. We still got to buggy all day and have fun, though there were not many people out. Jeff Howard, Eddy Petranik, Brian Smith and Keith Anderson went to Texas City Dike to Kite Surf so we did not get to see them for a few days. I met Luke Stanek for the first time, Cliff enjoyed running the beach with him. Charles and Jan came out with their baby.
Monday the wind was better but the direction was not very good. The inner beach was still very muddy, pushing us closer to the edge of the water than we like to be. The Galveston Newspaper came out and took pictures and ran a good story. The picture in the paper was of Luke getting some air on his mountain board. A few more people showed up but it was still pretty quiet.
Tuesday Jeff, Brian and Keith came out to play and the wind was better. They got in some kitesurfing at East Beach so we all got to watch them. Jim Welsh and Jason Robins were there and it was great to see them both again. The wind was still not from an ideal direction for the buggies but it was drying out in the middle so the area to buggy was getting larger.
Wednesday was BUGGY PERFECT. The wind was good and steady for the most part and from the south. The tide was out. Buggiers could now run the entire 5 mile trek to the west and back with little problem. Freeman had an unfortunate accident, breaking his collar bone. I think this is the
first day John Ellis came out. Anyway, all the buggiers spent the day flying down the beach, it was great to watch them. Bruce Griffen came in around that time too, I think. By this time the beach was getting buggy busy. LouAnn Boatwright and Larry Stiles had gotten in. The Houston newspaper and tv came out and shot footage. The paper showed Cliff on two wheels and Jeff grabbing his tire. The news footage was shown over and over again all weekend. There was great footage of Jeff demonstrating a wipe out. They also had a picture of Luke Stanek riding his mountain board with a barge behind him. It was a cool picture. I wish they had gotten a chance to get a picture of Claxton and friends riding a four buggy train flying two kites for power. It was fun to watch. I have a picture but since I moved my office I can't find anything. When I find it I will send it to KiteLife.
I met Jamey Fountain for the first time. Most of you will recognize the name from rec kites or the Kite Buggy news group. He just got a brand spanking new Libra Buggy to play with and had the misfortune of hitting something and bending the axle back. It was quite an accomplishment, I have not seen one that bad before and especially not a Libra. Hope your buggy is better now!
Freeman got overpowered when the wind came up and broke his collarbone. LouAnn took him to the hospital and they wrapped him up. The doctor asked Freeman how his Cerebral Palsy effected him and he answered the way only Freeman can, " Well, I shake sometimes, I have trouble talking and I can't get a date." The doctor laughed and said he couldn't get a date either.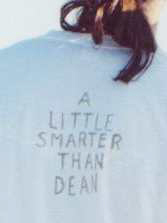 Later we were in the hotel room trying to figure out what to do with him, so we called his family. When Freeman got on the phone with his mom he said " Mom, I want you to talk to Jeff. He is a friend of mine. He's slightly smarter than Dean. " We all just fell down laughing. I sure wish Dean could have been there. Those became the Freeman words of the week. LouAnn made Jeff a tee-shirt that said those words on the back and Jeff's name on the front. I think that could catch on faster than the smiley face did in the seventies.
Thursday, Thanksgiving was finally here. Some had reservations to eat the dinner buffet and some of us ate leftovers at the Galvez that night. My advice to you is go for the lunch or go to Landry's. And that is all I have to say about that. No really, don't get me started, just trust these words of wisdom. Michael Gaven was cooking out at the beach and we would have been a lot better off getting rained on with them. He makes a good burger and the service is with a smile.
Thursday the wind was perfect again and everyone went crazy – Claxton went to his mom's. He did not bring us leftovers like instructed but we still let him live. Everything seemed to click, Gale and Dick Bell came out to play, it was great to see them again. And the sky was full of single line kites. It seemed like old times. Claxton had three of his buggies in tandem and those guys went riding around. I got a few good picture of that. Kathy Nixie made it out too.
The local kite shop invited the paragliders to join our party and they spent their time buzzing the camp knocking the single line kites out of the sky, making a lot of noise. I hope that it was a one-time thing and the local kite shop won't subject us to that again. I don't think that part of things went over too well.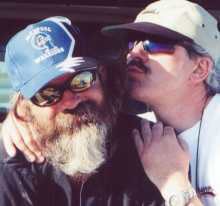 Friday was a bit more eventful. The wind was strong, 20 gusting to 30 from the north into the ocean, making things exciting. There were a lot more tourists walking the beach making things a bit more intense. Cliff blew out his Comp 1 and called it a day, Bruce Griffin did a quick break dance with his Sky Tiger that would have made Michael Jackson jealous and he called it a day too. A few guys set up a race and Troy Gunn ended up losing a kite to the Ocean Gods. But the rest of us had a good time standing around swapping lies and comparing toys.
Saturday morning, Troy found his handles and line still attached to the bridles. It looked like the kite had been sawed off. Some homeless guy now has a very expensive blanket! The winds were light and you had to have a pretty big kite to start out. The wind got better throughout the day.
Cliff and I left early to go to the Harbor Parade of Lights. We had tickets to ride on one of the boats in the parade. It was chilly when the sun went down but a lot of fun. Afterwards we went on the art walk. If you are in Galveston next year don't miss it. The Sabels Glass shop is amazing but don't touch or break anything, for the cost of one piece of art you could buy a few power kites.
Sunday was one last day to play. It was a light to moderate wind day so it was possible to buggy and play a little bit. I was glad I got Cliff his XXXL, he got a lot of use out of it. The usual Sunday Trail Ride did not happen this year as the trails were underwater or just too nasty. But next year I hope they get a chance to play. Cliff was looking forward to Jon Ellis and Luk joining in the fun. I walked the beach with Derek Bell one last time and watched Brandon Bell try to kite jump with the help of Luk.
I snapped a few more pictures, then we said our goodbyes, until next year.