The Battle For King of The Hill
Almost everyone agrees that one of the most enjoyable events at the AKA Convention this year was the Hot Tricks Shoot-Out. The HTSO was set up by Darrin Skinner, a no-holds barred head-to-head competition. The contest was set up like a typical tournament ladder, in which the winner of each round advanced to the next. There were 32 slots and most filled right away, with a few entrants registering as their other events finished.
The idea was to have two fliers on the field, about 3 minutes worth of music, and intervals from each flier, alternating 30 seconds apiece. The object was to impress the judges who decided who would advance and who would be eliminated. Musical selections were as varied as the competitors, thanks to DJ Jazzy Jeff Erzin from the San Francisco area.

As was mentioned several times during the competition there were "NO RULES".
Even more impressive were the warriors themselves and their backgrounds.
There were young vs. old, dual line vs. quad line vs. fighter kite, novice against masters, guys vs. girls. The names were enough to fill a who's who of sportkiting: Lindemann, Snowden, Hoac, Davidson, Wolff, Graziano, Weider, Ritter, Vanderslice, and the list went on.
The wind started out very light in the first round. Even before I had my first match there were several 360's and 3-D performances, which I felt were "my" specialties. The weather was extremely hot and humid, so to go all-out was a physical challenge. I won my first round but was exhausted. I knew I had to do things to stand out so I started my first fly by facing the judges, opening a bottle of water, and pouring it over my head and down my shirt, which I found to be very refreshing. As I found out after each round — "the good news is… you've won; the bad news is… you have to fly AGAIN in less than 5 minutes."
One of the notable contests was Chicago Fire's legendary leader Eric Wolff against young buck Curtiss Mitchell. Another one of the more unusual lineups was Big Sam Ritter against little Danielle Fermin. The wind pulled little Danielle around but she managed to be a giant killer. Each round I felt that this would be the one to eliminate me, and to my surprise, I advanced again. I felt certain that one of my foes, Brian Vanderslice ("Slice"), who is known for innovative flying, would be the one to knock me out. Brian switched from dual line, and then to quadrafoil in a dogstake. He was very impressive. But again, I made it to the next round.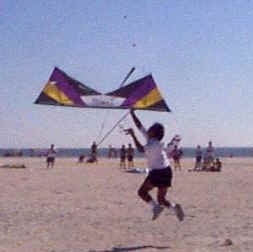 One round my opponent was Shane Snowden (past dual line grand national champion) who surprised us all by doing a tag-team against me. He handed his kite off to another and that person flew against me. The next interval the both of them flew against me!! But, as the announcer Mark Kunoff reminded us- "There are NO RULES!"
Another round I was getting ready to do a catch of my Rev on short lines so near the end of my turn I yanked it down but it fell short of where I was standing. I dove for the kite, caught it, but I landed hard on my shoulder- very, very hard. My first thought was that I actually broke my collarbone. I put an ice pack on it and could move it but not without pain. I advanced again but between rounds I felt exhausted and physically depleted. Funny thing, once I'm on the field ready to do battle, I am totally refreshed and anxious to go.
The semi-final round, the one that would put me in the finals came up. I was against Phil Napier. I remember having to do a 360 since the wind was becoming light. Then suddenly I noticed someone coming out of the crowd and following me. Was that the other Phil? Phil Broder? But I kept running and all of a sudden I felt a tug on my shorts- Broder was trying to pants me!
My next turn was a complete surprise. I had no idea what was coming. Troy Gunn described the action in a post to rec.kites: "The funniest thing from this year's convention happened during the Hot Tricks Shootout. In the quarterfinals Ron Despojado brought bribing the judges to a whole new level! Ron began his performance by taunting several of the female judges with kisses and shaking his hips as if he were an erotic dancer. Ron also squirted water down the front of his shorts. The female judges returned the favor, by running out to where Ron was standing. These shameless female judges proceeded in tackling Ron and then pulled his shorts half way down!
Ron was showing a half moon! LOL I believe Ron will now be writing a new manual titled "How to Bribe Sport Kite Judging Panels". I guess maybe this is a little less embarrassing than last year's mooning the Japanese special
guests. Kathy Brinnehl from Chicago Fire and Rosanna Rosanova, a novice flier from the Northeast each took one side of my shorts and as I was getting ready to leap for the kite, held me back by pulling on my shorts.
Oh darn… I didn't enjoy that at all (sarcasm).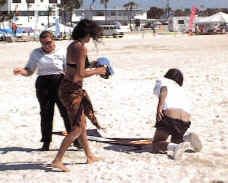 When we all fell to the ground the impact put a hole in my kite. I couldn't believe I had made it to the finals. My final opponent was Scott Weider. We both flew quadlines, we both have won Master's Quad Ballet at the national convention in recent years, and we have faced each other many times. This was the battle for the whole enchilada or knish, depending on where you are from. East Coast Scott vs. West Coast Ron.
We battled back and forth and there was not a whole lot of fight left in me.
At the end of my final turn I dove for my kite once again and landed on all fours. I knew I was done, so I just rested there. All of a sudden I heard the crowd laughing and then I felt something on my back. It was Scott- riding me like a horse! At least I hope that's what he was trying to show. The announcer mentioned Dirty Dancing on the kite field. In the end, the judges felt Scott out-performed me and I settled for second place. For me, performing was a reward itself.
Just give me a kite, some music, and especially an audience, and there is no happier place. This was, without a doubt the most fun I had, combining flying, competing, and especially- performing. And according to my chiropractor, I had a mild case of whiplash, some swelling and deep tissue bruising on my shoulder. He asked me if I was doing full-contact kiting.