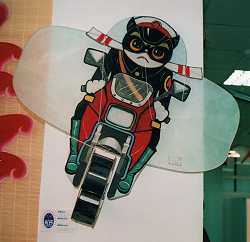 Although hardly known in the western kiting society, Buteo Huang from Taiwan is undeniably a renowned master kite builder. The oeuvre of this self-confident man comprises of a stunning two thousand plus unique kite designs!
Mainly working with paper and bamboo, this craftsman is rigorous enough to try modern materials like fiberglass and reinforced nylon. Born in 1962 on the kite mountain of Sanxia, near Taipei, Buteo Huang designed and built his first kite at age eleven and never stopped. After his graduation from Tamkang University he now is a well-known interior designer, with a cordial no-nonsense style of design.
The same concept occurs in his current kite designs, with each part having a specific purpose. His paradigm in kite building is as simple as it is tricky: a kite is no toy or pastime, but receives a soul from its maker. A series of kites he showed during the interview is based on studies of birds. This series includes some life- size and "anatomically correct" bird kites, an extra-ordinary concept for Chinese kite builders as most alter the dimensions of such kites to obtain a better flight.
Moreover Buteo Huang designed a large range of mini "bird" kites, of which fifteen are now commercially produced under the name 'Super Mini Kite Series'. After a lengthy lecture on wing and body properties it became clear that it's unlikely more designs will become available, which is an scandal since his flying zebra sure is a precious collector's item. Buteo Huang also enjoys building kite trains and the Chinese dragon kite is – of course – the ideal kite for this purpose. It's thus no wonder several heads and body sections for these kites are on display in the studio.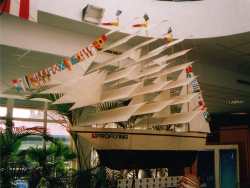 There's beautiful skinless dragonhead lying around that is part of a "dragon bones" kite he's currently assembling. This kite will be covered with clear membranes so people can see the intricate skeleton of the dragon kite.
What's more, body parts of an exquisite 1.2-kilometer long dragon kite – made from fiberglass, artificial silk and ostrich feathers – are lying around in boxes. A close examination of this kite reveals some very clever building techniques used to restrain the forces on flying line and sails.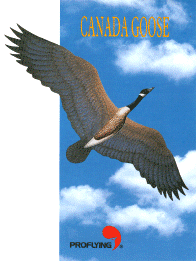 These sophisticated building techniques will help him tremendously in his next key project, which brings us to the question in the title of this article. The goal set an attempt to break the world record for the longest kite train at the Taipei International Kite Festival 2001, and Buteo Huang is aiming a train of 20,000 kites! So I advice you to put this festival on your list of places to be in 2001 and I wish Buteo Huang the best of luck in this attempt.