Well, we made it. The actual New Millennium is here, and the holidays (at last) are behind us. Waddaya know, a new pair of Dockers! And a new tie!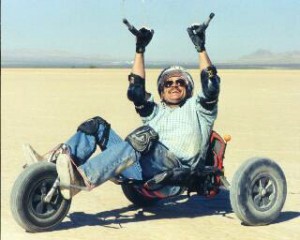 Oh, and slippers! Just when mine were beginning to smell worse than the cat! It is truly a curse to be blessed with a family that does not understand the value of kites and kite paraphernalia on the greatest gifting holiday of the year. As I trundled off to the beach on Christmas day, I was feeling a bit depressed by the lack of things kite in my Christmas Stocking, and having flown both of my Pizazz stunt kites into varying states of disrepair, I was only glumly looking forward to a day at the beach. Poor me… my favorite kites out of action, and only a sunny, breezy afternoon culminating in a spectacular Pacific Coast sunset to look forward to! Life just sucks, don't it? Self pity is the refuge of even talented fools.
So I get to the beach, and begin pawing through my kite bag, and what do I encounter but the competition set of original Dodd Gross/Christoph Fokken Jam Sessions that I acquired from Al Brooks back in Las Vegas. I traded my Outer Space for 'em, and had almost regretted the trade. I remembered the kites as being much heavier and less responsive than my Pizazz UL and Vented UL, and even though I had the full set, with the UL, the Vented and the Standard Jams, I had almost never flown them, always opting for Dick Barnes' delightful design.
Well, I dug out the Jam Session UL, a pretty, white rainbow sail, very sparkly with the sun behind it, not a bad looking kite a 'tall, a 'tall. I set off down the cliff trail to the Carlsbad State Beach below, and flew myself right into one of the nicest afternoons of flying I've had in recent times. That old Jam Session turned out to be loads of fun, and I could perform my entire (read: limited) repertoire of tricks with it. Yes, different feel and response entirely from the Pizazz, but different in some positive and fun ways. Fades are more fun when you have to work at 'em, IMHO, and flat spins are easy with the Jam. I was delightfully surprised.
The following New Years' weekend, I lucked out and got Friday off, and spent Friday, Saturday, and Sunday on that same beach, with wind speeds which allowed me to sample all three Jam Sessions… the Standard I found the most difficult to work with, perhaps attributable to the wind characteristics, or to my dislike of heavy frames. I may just fool around with some new sticks, for that one. The Vented, on the other hand, was magical. In a good stiff breeze, this kite flies like it's blowing 2 mph. Floaty tricks, great fades, all nice and slow and precise, even though the wind is crankin'. I feel damn lucky to have gotten my hands on this set of kites.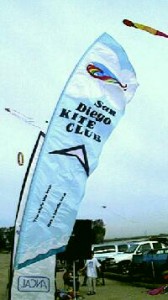 The best of yesteryear's designs, and I'm just discovering them today. Go figger! When I first arrived on the Internet side of kiting, I saw many posts about the Jam Session, and all the jokes… "Praise the Jam!!!" Well, a few long afternoons with these venerable kites made a believer outta me! Dodd Jammit, they fly nice!
Even with a wonderful, sunny and breezy weekend over New Years, I was craving a kite event, and the San Diego Kite Club's annual New Years' Day fun fly on Mission Bay seemed just what the proverbial doctor ordered.
I awoke on Monday morning with that Kite Festival Attitude going full gun. Wolf the coffee, run through the shower, half-assed attempt at a shave. Jump in the truck, point her south, and head for Mission Bay and… and… KITE PEOPLE!!! Damn, is it only on yer way to kite festivals that you seem to find yerself behind the slowest old grandma in a broken-down Dodge meat-smoker, grinding down the freeway at a blinding 54 miles per hour? Get to Mission Bay, find the turnoff for Mariner's Point, cool, almost there…. Waitaminnit! This ain't the right beach. There's boats tied up here. Oh, crap, there they are, next peninsula over, a big row of banners perched on the skyline, and I took the wrong turnoff again. Hurry up, turn around, gotta fly, gotta tell lies in the pits, gotta get Al Stroh to teach me a new trick, gotta see Susan Shampo whack the crap out of her Warrior, gotta see Ron Despojado take his pants off… er, I mean, fly his great Rev routines. Not that there's anything wrong with that, you understand.
Great folks in this club, and plenty of attendance from outside the area, as well. The club President, Neil Tuthill, drove all the way from Los Angeles, and folks were there from all over the western states.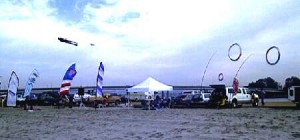 Wonderful to see Larry Mixon's Totem Pole flying above the bay, stable and steady thanks to some frame re-work by Charlie M'Clary. What a creative talent was Larry… the sail on this kite is awesome, and the huge double-Genki sort of design is striking, as well.
An impressive assortment of fighter kites was represented, and I got a chance to chat with Steve Bateman about the new sail material he's using for his fighters. I am impressed by anyone who can control one of these things, and watching the fighters playing, and hearing about Charlie's fighter ballet at WSIKF, has just about convinced me that I've gotta give these little kites another try. To the purist, flying these hyper little kites elevates the Zen of kiting to a whole new plateau, and the reflex and timing required has just got to be good training for other types of flying, as well, IMHO. Certainly worth looking into, and Steve Bateman's approach to the science of fighter design and flight experimentation piques the interest. He's definitely one to talk to, if you're interested in this variation of tethered aviation. His alternative sources for sticks and interesting choices of sail material make for some pretty sophisticated little kites, and watching him fly them is downright humbling.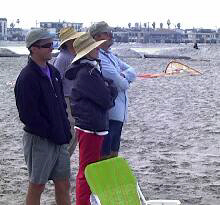 I got to spend a few minutes with Al Stroh, in the morning, and he taught me how to do a backspin, with the UL Jam Session. I've read so many posts about this trick, and have never had a clue how to get my kite to do it. Just a few minutes watching and hearing Al's explanation, and I know I'll soon add this one to my bag of tricks. Al's a good teacher, and always willing to work with anyone from the raw newbie to the experienced flyer looking for tips. Alas, a sore back has kept him from his required maintenance dose of flying, lately, and he's a little crankier than usual. Gettin' old ain't for sissies, is it Al? Funny thing, though… even with 40 percent range of motion, the guy can still do things with a kite that render me speechless. And speechless ain't something I'm easily rendered.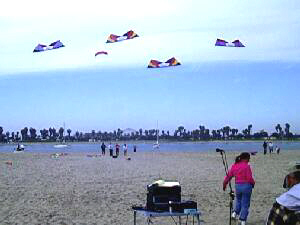 Lolly Hadzicki attended the event, bringing that special Revolution support to the club… she spent the day teaching beginners the finer points of Rev handling. I point-blanked her for news of the Revolution traction kite, the prototype of which we'd seen at the last Spring Break Buggy Blast at Ivanpah Dry Lake. Her answer? "Still in development, just a prototype". I struggled to impress her with my eagerness to see such a product from Revolution. Now we lay back in the weeds, and wait. Speaking of Rev handling, some of the best Rev flying I've ever seen took place, with Ron Despojado, Susan Shampo, and guests Mark and Jeannette Lummas flying the most delightful team quad ballets throughout the afternoon. Susan informed me that they'd only been flying together for a couple of days, but their performance certainly didn't reflect it. Precision, timing, dancing to the music with difficult reverse moves and spins… damn, makes you wanna keep practicing, whether you ever come close to such flying skills, or not.
Ron Despojado, (reputed to be the best quad flyer in the world, but shhhhh! Don't repeat it!), was at the microphone for the event, and of course fielding the occasional underwear and/or stripper joke with aplomb, and he also presided over my favorite event of the day… the RAFFLE!! I bought 11 raffle tickets for 10 bucks, good deal. Then, beside each prize was a small box to place the tickets into. There it was… right there on the ground! A brand new 2001 Revolution 1.5 SLE, the new sail colors! I shook the ticket box… weren't many in there! So, I stuffed all eleven of mine in there, and gave the box another shake for luck. Well, it worked. I won the Rev, and got to spend the late afternoon playing with the new kite I didn't get for Christmas! I'd been good, really I had, I just knew Santa was gonna come through! Sometimes you have to just outwit (or outwait) the reindeer.
A pot luck luncheon was served, and since I didn't contribute, I waited until all were fed, then cruised over to check out the leftovers. Whoever made them ham 'n black-eyed peas casseroles, bless you!
Well, the day proved awesome, warm weather in the 70's with great breezes all day long, and a spectacular sunset for punctuation. San Diego's Mission Bay is a bit on the "touristy" side for my taste, but it sure is an awesome setting for playing with wind toys. The skies were filled with a staggering assortment of single-line creations, and the event was opened with a rendition of the Star-Spangled Banner, with huge red, white and blue Deltas lifting patriotic windsocks and snapping American Flags. 'Twas a stirring beginning to 2001, and I only wish that more of my friends from the cold places to the north could have been there.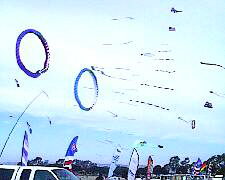 So now I sit and remember the day, and savor the many flavors of kite, kite people, sea, sand and water. Oh, and massage the twinges in my knees, that only come from a long day flying on very soft sand. It hurts so good!
Happy New Year, to all my kite flying friends and acquaintances out there! All the best of blessings to you and yours in 2001.
Mike Dooley