Hi readers, welcome back to another issue of Kitemaker Profile. This month it is my pleasure to profile a kite maker from Utah, USA – Scott Hampton. I first met Scott at Fort Worden 2000 and then again last November when Scott was the guest international kite maker at Festival of the Winds held in Bondi, Sydney, AUSTRALIA. Scott was a popular guest at the festival and added to the colour and spectacle of the event, making lots of new friends here in Australia. Hope you all enjoy this edition of Kitemaker Profile. Don't forget, if you have any suggestions for future Kitemaker profiles, whether it be people you know, or would like to see featured here, please send me their details (preferably email address contact). Please free feel to nominate yourself also. Happy Reading, Graeme (http://fly.to/dirckites.)
Personal Details
Name: Scott Hampton
Location: Salt Lake City, Utah, US
Age: 44
Occupation: Special Education Teacher – Currently working with 3rd and 6th grade students
Favorite Food: I'm a steak and taco boy, as Des says, " If it hasn't evolved out of the ocean, it's not worth eatin'."
Favorite Kite Books: Kite Flier by Dennis Haseley
Favorite Kite Magazine: Are there any left ? I do read Kitelife.com but sure do miss Kite Lines, American Kite, Kite Passion, etc., etc.
E-mail: <hampton@sisna.com>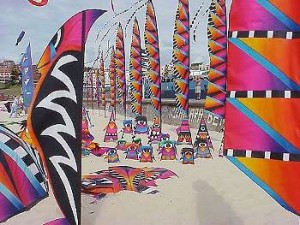 Other hobbies and interests: Backpacking and camping with the family.
Other interesting life experiences: I was raised as an army brat so I was fortunate to travel a lot and see the world. Unfortunately I was young and couldn't appreciate it all.
How did your interest begin?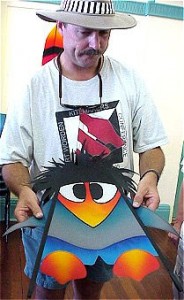 I've been interested in kites for about 12 years. I wanted to buy a Delta to fly from some of the local mountain peaks but came out of the kite store with a stunter instead. I was soon hooked. But after my millionth spin, I got bored with stunters. After seeing wonderful single-line kites by Deb Cooley, Ron Gibian and George Peters, I decided to give building my own kites a try. I became serious about building single-line kites from the encouragement of Ron Gibian.
What type of kites do you make?
At the present time I'm focusing most of my energy on ground displays and banners but occasionally still make flat and bowed single-line kites. Most recently I've been working on site decorations, installations for art festivals and wall hangings (if it doesn't fly, stick it on the wall).
What materials do you use, Scott?
I use 1.5 ounce nylon for almost everything I build. For the past 6 years I've been using Design Master Paints on colored nylon to make full use of color gradients.
Where do you see yourself in ten years' time in terms of kite making?
If I could pursue it, I would like to do public art fiber installations. But the reality is I would like to continue enjoying the company of other kite makers.
What is the average time spent making a kite?
Two hours to two weeks. Usually just a couple days, once I get started on a project I like to see it completed as soon as possible. I've even been known to take a day off work just to finish a project.
What awards have you won?
Praise and encouragement from other kite makers now means more to me than awards and ribbons.
Which was the most rewarding kite to make?
The first kite I built without the help of my wonderful, fantastic, incredible wife was a twenty foot delta which showed me that I could build something worthy of flight all by myself.
Who has had the most influence on you in kite making?
George Peters: All of his creations have been inspirational. Ron Gibian: He taught me the tricks of appliqué and suggested I focus my building on a theme. Randy Shannon: For his whimsical ideas and friendship.
What is your favorite kite… made by you?
My Bug kites. I can interact with the spectators.
Who is your favorite kiting personality?
Scott Skinner: He has always encouraged me to develop my techniques and ideas. He shares his knowledge personally and through the Drachen Foundation. He reminds me that kite flying is supposed to be fun.
Where is your favorite kite festival?
My favorite is Washington State International Kite Festival. It is a week long social gathering hanging out with other kite makers. Festival of the Winds at Bondi Beach, Australia is another favorite because it was so laid back (No worries, mate!).
If you were going to a festival purely for your own pleasure, what would you pack in your kite bag, Scott?
Any whimsical kites by Martin Lester, George Peters, Joel Scholz and Peter Lynn.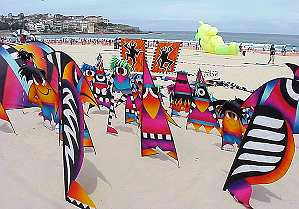 Thanks, Scott, for sharing some of your experiences with us. I like your attitude to kite making and flying, remembering, above all else, to do it for fun and for the pleasure of meeting others on the kite field. It was my pleasure to meet you and your wife in person and a pleasure to feature you here.
Remember, if there is a kitemaker you think might like to be featured here, please send his or her name and contact details to me. It would help if the kitemaker has an E-mail address. Wishing all readers a very Happy New Year; may 2001 be the year that you make the kite of your dreams! Until next issue … happy kite making! Graeme