The Maryland Kite Society is happy to announce the details of its 2001 Kite Builders Retreat. It will take place at the Sheraton Hotel in Beltsville, MD over President's weekend, February 16-19, 2001. Registration is $75.00 per person prior to Jan. 15, and $95.00 after. This includes all workshops, Friday night pizza party, Saturday night banquet, and a limited edition pin.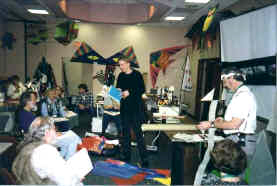 Hotel rooms are available for $62.00 per night. Make your reservation by Jan. 15 to guarantee this rate. The Sheratons phone is (301) 937-4422.
This years featured guests include:
Brooks Leffler – Brooks is world know for his many contributions to kiting and the AKA. But he is probably best known as the editor of AKA's specialty publication, The Aerial Eye. With it, he provided a worldwide forum for the sharing of information of kite photography. An informative slideshow will introduce us to the joys of this fascinating area of kite flying. Participants will then be able to build a radio control rig for taking aerial photos. Brooks will have available a limited number of kits, so be sure to reserve yours quickly.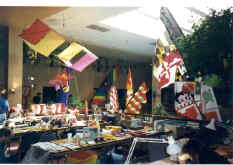 JoAnn Weber – JoAnns background in the arts has helped make her one of the most respected kite artists today. A giddy mixing of techniques and themes have won her kites recognition around the country.
JoAnn will be taking us on an exploration of our creativity. She will help us use various materials and methods in designing and building individually unique flying figures based on each participants dreams or alter egos.
The MKS Retreat also includes projects from local kiters who always have something new to share. Some of this years presenters include:
Bill Bigge – A great opportunity is being presented to us by Bill. He will teach us how to make a small version of his famous kite/glider, the Janus. This is one of the worlds most unique kites and it will be a treat to find out how Bill builds these kites that will fly in just a whisper of air.
Drake Smith – Drake will show us how to build a mid-size version of Tom McAlisters 9 cell, arc shaped box kite.
Felix Cartagena – Felix, the bubble guy, will lead our inner children in producing a fun, simple, and easy paper bag kite project.
Cinda Shannon – Cinda will show us how easy it is to make those delightful feathers that hang and twirl in the wind. Both pieced and painted versions will be covered.
Tony and Steve Ferrel – Our resident experts on kite building materials and fittings will also be there to answer all of your building questions.
Besides the usual projects and seminars, this year we are introducing the Kite swap and Flea Market. We all have stuff in our bags that we never get out any more, so why not trade it for something new? Friday night, we will have an area set aside for participants to barter and trade kite related items.
And don't forget the Great MKS Auction on Saturday night. There are always some very unique items and plenty of deals to be had. And it all helps to keep the MKS Retreat one of the best in the world.
If you would like more information, or would like to register, please contact us at:
The Maryland Kite Retreat 327 N. Hanover Street Carlisle, PA 17013
Or email us at: mksretreat2001@yahoo.com Or call one of our retreat shepherds: Kevin Shannon, (717) 243-7913 Harold Ames, 540 775-5174