The Success Story Continues!
The Nordic Kite Challenge 2000 – a new sportkite competition format combining elements from presicion-, freestyle- and trickflying – turned out even more successful than we (STACK Sweden) dared to hope for.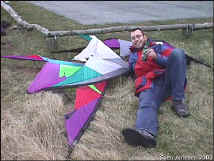 After a quiet start in Denmark in early spring, the tour continued with qualification competitions for Norway and Sweden. It all culminated with the big finals in Oslo, Norway in August. (I ended up 2nd, only beaten by Anders Matson …. once again! 😉
At the competitions, Scandinavia's best (?) sportkite fliers met to battle it out on the flying field and – of course – having a great time. Even the weather was on our side most of the time, even though the wind was kind of "interesting" during the finals!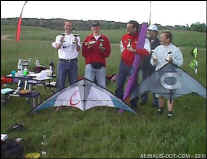 Anyway…Encouraged by the success, we have been working on next years competitions for quite a while now. Our goal is to make it even better! And boy, do we have some goodies for you?!!
What is NKC? The Nordic Kite Challenge is a new competition format which is fast, exciting, challenging and entertaining! This is a man-to-man knockout competition with pre-defined figures and a mini routine. The format combines elements from both precision,- freestyle- and (extreme) trick flying and focuses on kite control.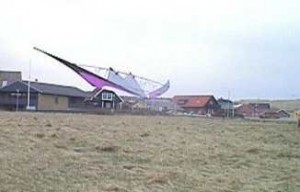 The way in which the kitefliers control their kite and perform tricks and freestyle moves are key elements for the NKC judges. The originality of the kite-flier's performance should also be taken into account.
So what more is to say…. Exiting to fly and exciting to watch!
Expansion! As mentioned above, last year (2000) the NKC covered Denmark, Sweden and Norway. This year Jouensu, Finland is included and will most certainly host the finals! The same city that hosted the Euro 2000 finals.
The NKC finals should be in the very best of hands! So start saving up now for that trip to the land of 10.000 lakes and (maybe not so many) kites! Competitors! We hope to gather even more competitors for the 2001 competitions. Albeit a bit early, it seems like we're going to succeed. We've been doing some heavy marketing and more are planned in the near future in order to attract more competitors. So far the interest in Denmark and Finland is increasing, and a lot of Baltic fliers will be invited to the finals. the Nordic Sportkite Meeting! …is a sportkite happening which will be arranged in Hirtshals (DK) in conjunction with the Danish competition in May. All the details for this meeting are still in their planning phase, but we can reveal that we will arrange a Trick School.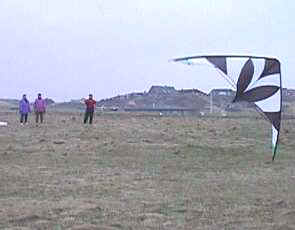 By participating you'll definitely update and improve your kite flying skills when guided by our instructors! There's also a lot to learn just flying with other kiters, and last, but not least, you'll have a great time in the beautiful Danish surroundings. Another event on the NSM agenda will be the Nordic Cup – Denmark, the Danish competition qualifying for the NKC2001 finals. Here's your big chance to measure your flying skills with other fliers in a competition format specially developed for Nordic conditions! All together the Nordic Sportkite Meeting will probably be _the_ major sport kite event in Denmark in 2001 and should not be missed! So… We really hope (and believe) that the competitions and events in 2001 will top the 2000 versions. And hey, you don't have to be a Dodd Gross or Andy Wardley to compete and become a better pilot. Why not take it as a challenge and sign up for competition and help us continue this success story in 2001! You'll find all the details at the NKC website shortly! (http://www.aerialis.com/nkc/)
See you in the air!
Sven Arnesen
NKC2001 Committee