Another France Adventure
4th Air & Wind International Kite Festival 2000
Frejus, France
Wow! This was my 3rd fully sponsored trip to the South of France this past kite season. I love performing in France. Their kite festivals are so family-oriented and very well organized, you know what is going on at all times.
There is never a shortage of spectators; they turn out in the thousands to support their kite festivals. And the French really show their appreciation, especially to the International guests. If you like great food, excellent wines, beautiful beaches, beautiful women (and the men are not that bad either), plus plenty of sunshine and one of the most picturesque coastlines running alongside the awesome Mediterranean Sea, then this is the place for you. It is no wonder movie stars, the rich and famous, and Europeans spend their vacations on the French Riviera.
Frejus is a very pretty seaside town, just a 30-minute drive from the City of Nice. The Air and Wind 4th International Kite Festival is held at the Frejus Grand Natural Public Park called Base Nature. From 1911 to 1994 it was an Air and Navy Ministry Defense Base. This 150-acre Park with its wide-open space is especially perfect for kite flying, as the wind can blow from any direction causing no problems at all.
There were kite fliers from  Spain, Italy, Hungary, Chile, Switzerland, Belgium, Colombia, Germany, etc., as well as kite fliers from all over France. It was great flying and spending prime time with so many of the people I have flown with previously at festivals around the world. The organizer, Jose Vicent, and his team of volunteers did a tremendous job. The demonstration arena was never empty for a minute, with demonstrations from single line, sport kite fliers, individuals, pairs, and teams. Spectators were spellbound. The wind was a little light in the early morning but by 11a.m. the sky was a mass of color with kites of every description. The weather cooperated with clear sunny skies on both days.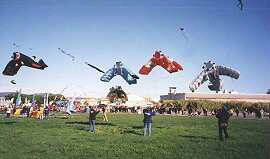 We were very lucky; after all, this was November. Also, a few days before the festival, they had experienced some of the worst storms along the coast that they could remember. The festival was a huge success. As well, the national sport kite competitions were right on with their schedule. The winners took home some great trophies, well earned, as the French are great fliers and very tough competitors.
I was well taken care of by the sponsors and wanted for nothing. I enjoyed great food, as I have already mentioned, and the accommodations at the Hotel L' Oasis were super. The owners, Isabelle Taillee and Gabriel Specht, are terrific hosts; the hotel guests came first in every way. I was really spoiled, and loved it. I highly recommend their establishment and I hope I will be staying there again next year. I think France likes me a little as I have been invited to four international kite festivals in France again in 2001: Berck, Narbonne, Marseilles and Frejus.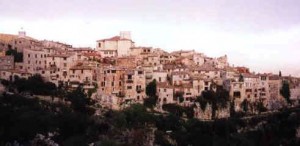 After the festival, I had three days before it was time to fly home. What was I going to do with myself? No worries, mate; it had all been taken care of. On the first day Isabella and Gabriel took it upon themselves to personally show me the sights of Frejus followed by a beautiful scenic drive along the coast. What a great day, but it was not over yet, as they wanted to wine and dine me at one of the local restaurants. Wow, this is French hospitality at its very best.
The next morning Isabelle had a phone call from Jose Vicent, the kite festival organizer, saying that Michel Martin would pick me up at 10 a.m. and take me on a two-day tour. I have known Michel for a few years. I've met him at US festivals, and just with in the last few months at Wildwood, Narbonne, and Marseille kite festivals. He was a great guide and companion and he knew this part of France like the back of his hand. Plus he speaks perfect English — even I could understand him. J We had a great day two days, visiting cities, towns and villages like Grasse, Vence, Nice, Antibes, etc. Some of the little towns were the same as they were in the 1600's.
As Michel and I toured the maze-like tangle of their narrow cobblestone streets, it was hard to believe that this place, which I had the privilege of seeing, touching, and walking on, was 400 years old. It had so much character, and one could easily get lost in the labyrinth of alleys, stairs and covered passageways. It looked like a scene from the very first Oliver Twist movie, and looking down from a viewpoint above, it looked so quiet and peaceful. A camera cannot capture what the eye can see and what the heart can feel. We spent some time in Monaco, too. What a beautiful clean country! There is not a piece of paper or a cigarette butt to be seen anywhere. We visited the palace and checked out all the sights. A crowd of sightseers had gathered around one of the many ancient cannons outside of the palace. Michel said that the guide was trying to make out what was written on the cannon. I walked over to see if I could help. I could just make it out and read it out to the crowd, "Made … in …Taiwan!  When it was translated there were fits of laughter!
After many more hours of driving and sightseeing we ended up at Michel's home where his wife Edith had prepared a great dinner. Michel's lovely daughter, Florence, also joined us. This was one of the best 3 days I have ever spent after a festival, truly an awesome and very educational tour. I could, as in all my trips, go on for hours, but it is time to thank the sponsors, Jose Vicent, the organizer and his super team of volunteers, all the single liners and sport kite fliers that always seemed to go way out of their way to make me feel so welcome. Many thanks to the teams from Holland, the Flying Circus, and French teams, Wings of Desire, and the infamous two-man / one-girl team, Lung Ta. Thank you Isabelle Taillee, Gabriel Specht, Michel, Edith and Florence Martin for your hospitality and friendship…Thank you one and all, again, for making this trip a very memorable adventure.
My Personal Reflections as a Kite Flier at the AKA 23rd Convention & Grand Nationals Treasure Island, Florida
I have traveled extensively for the last 12 or more years and I think the AKA hit the jackpot picking Treasure Island for the Grand Nationals. To me, it was a kite flier's paradise: miles of white hard packed sand, beautiful clear blue sky, wind which was always flyable (a little light in the morning but more than enough to suit me by noon), and the temperature was right up my street. I flew all day, everyday, and loved every moment, but alas, as always at the Nationals, no spectators. The beach looked so huge and empty. When I think of so many of the festivals I have been invited to over the years with areas not even a quarter as big yet filled with 100,000 plus spectators, all that super talent to me seems such a waste, talent that could be used to show our sport at its very finest. Oh well, I guess that is the name of the game at that time of year. I am happy just to be flying and sharing the beach with such talented people. It was great meeting all the fliers and watching them fly. It was also great putting faces to names, and making new friends with kite fliers from across the US, UK, Japan, Taiwan, etc.
The single line kites were set up right behind where I was flying. What a magnificent backdrop! The sky overhead was full of beautiful kites of every description. One that spoke for itself to me was Roger Chewning's Dean Jordan custom built Air Foil. If I remember correctly, it won the top award at Ocean Shores AKA Convention for best soft kite. Roger has since acquired two more of these beauties from Dean Jordan: one British, the other, a Japanese design. I hope to fly my Kestrels under these at the Kites on Ice International Kite Festival in Madison, and I hope someone will be around at the time with a camera.
Roger Chewning's Air Foil with its stars and stripes design matched my three Kestrels to a tee; it would have made a perfect photograph, especially when I placed the Kestrels in the refuel mode right underneath. I kept thinking to myself…Ray you miss so many good shots. When are you going to take on the challenge of operating a camera while flying multiple kites? Now that would be something else.  I have thought about attaching a camera to a helmet like skydivers do. I was chatting about it to my son one evening to see if he had any ideas, and my wife looked up and remarked that she knew a place that I could attach a camera to, a place that is no good any more… in fact it has not been for years… but I soon put her straight, and told her, "No way am I going to fly kites off my ears."
It was great to see a few Canadian fliers such as Lam Hoac, who, I might add, did Canada proud again, Drew Davidson and his pairs partner, Mike Lin, from Toronto, and Cal Yuen from Vancouver. You will have read by now who won what so I will not go into that end of it. For most people the weather was too hot; they really felt the high humidity and headed for their air-conditioned rooms. I loved it. In fact, I shut the air conditioner off, as I found it too chilly.
The food at the banquets was excellent, the best yet, compared to any I have been to in the past, but I did find that the venue was much too small and crowded. I guess when in Rome, you have to do as the Romans do.
One of the highlights for me was meeting the local and outlaying districts' kite fliers. Many of them had never met or seen west coast fliers fly, or us them. I count my blessings. Being sponsored around this kiting planet of ours has allowed me to meet and fly with literally hundreds of fliers from many nations. Another blessing for me is that I have no language barrier, as I don't hear anyway.
Thank you, AKA, for choosing this location. I really enjoyed Treasure Island and hope I get the chance to go back again but in the summer time, preferably, as they tell me the weather is a lot warmer.
Thank you, Adam Grow, for being our president throughout the year 2000. Being in that chair is no easy task, and I know there are not many among us who could handle the job. I certainly could not, as it would take up too much of my flying time.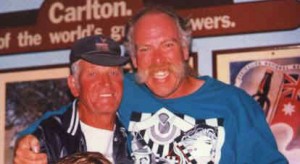 Congratulations to David Gomberg for once again being elected President. Good luck. They say 4th time lucky. Oh, by the way, Dave. I am still waiting for my November phone call, but no worry… I will wait for Corey Jensen to visit me in January!" We really haven't got together since Australia, when we walked each other back to the hotel in Lakes Entrance Victoria, and ended up in Sydney.
Thanks for listening,
Ray