Happy New Year everyone! Well, kitefliers, it's 2001. We made it over the holiday hill one more time. I ended up a little disappointed this New Year's Day. I guess that I had the Stanley Kubrick movie (2001: A Space Odyssey) in the back of my mind. I was really looking forward to those cars that drove themselves, and a transporter beam would certainly be preferable to lugging my gear out to the flying fields. But things often don't turn out the way you expect them to.
As you all know, I've spent awhile talking about the adventures I've had at kite events and with kitefliers everywhere, stories that I can now call "Tales from the Last Century." I'd like to start off the new century with a slightly different angle to Tangents. I still plan to write about all those people, events and my adventures as a kite addict. It's what I know best! But instead of considering each verbal tangent or piece of trivia as a morsel of history, I want you all to think about each story as a lesson in the journey toward tomorrow, not necessarily a trip into yesterday.
TANGENTS #26
"Which way is the wind blowing?" or "From Kazoo to Two Paws"
WHO IS IN CHARGE HERE ANYWAY?
My first trip to Kalamazoo was in 1988 when I drove to River Oaks Park, a very small park in South Central Michigan. This was for Kitefest, a local festival hosted by the local kite clubs: the Kalamazoo Stringfellows, and the Battle Creek Cloud Catchers. The head wazoo for this event was John Cosby. John worked for the park district and had quite a head for event publicity. Kitefest was just a fun fly but was very well attended by advanced kiters and the local citizens. I remember the first time I met John.
With his beard, Levis, and beat up old station wagon, John didn't immediately strike me as "the leader." My first impressions were quickly dispelled when I saw him in action. John was, and still is, always there when needed, always pitching in when work is to be done, always ready with an answer. My first meeting with "Cos" developed into a lifelong friendship.
During Kitefest John spoke to many of the advanced fliers about hosting a more serious kite event or competition at River Oaks Park. John had the support of the parks authorities and plenty of ideas about what a good festival and competition should entail. These conversations were the seeds for the very successful, and sometimes very weird event originally named the Mid-Michigan Sport Kite Classic.
From the very beginning, the flying field at Kalamazoo's River Oaks Park was "marginally adequate", and that's putting it kindly. The total available field area was about the size of three football fields. Sounds good right? Oops. I forgot to mention the road and the row of 60 foot trees that ran down the center of the field. Did I mention that River Oaks was situated in the middle of an old growth forest with 75-80 foot tall trees surrounding it, as well?  Add to that the fact that the Midwest suffers from minus wind numbers during the hotter summer months. And last, but by no means least, a kids' soccer tournament was scheduled at the same field we would use. There were over 3,000 6 to 12 year olds with their parents and coaches who used the field until 11 o'clock on our first event day. The most confusing part about those first Kazoo Kite Competitions was the fact that everyone just seemed to ignore the problems that plagued this event.
By the Mid 1990's Kalamazoo and the Sport Kite Competition was one of the best attended competitions in the Midwest, many of those years running neck and neck with the much better funded and better situated Great Lakes Sport Kite Championships in Grand Haven Michigan. One year my flying partner Vicki Romanoff and I competed in the Pairs competitions. There was zero wind. The barrier tapes in the three north fields were removed to give the pairs about 1/4 mile of field to run across in the "Fly or Die" competition.
However, the space was obstructed by eight soccer goal posts in the center of these fields. Vicki and I ground-crewed for all the pairs just to get a feel of what little wind there was. We were last on the flight order. Ultra Lights and 50#? We were ready. Just as we called in the wind began to blow at 6-8 mph. We had to move forward to keep the light kites from breaking. Just as we thought we would go out of bounds 10 feet behind where we launched the wind disappeared. Or maybe it was negative numbers — I'm not sure — but we started moving backward VERY quickly.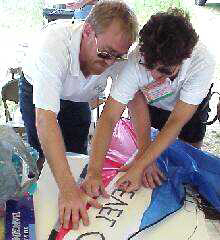 We covered at least 3/4 of the field and we hadn't even made it halfway through our tune. Vicki was having a lot of difficulty. I wasn't doing much better and we were almost out of field. I could no longer see my partner.
Suddenly, I bumped into Vicki. She was at my back. Her kite was flying almost due south and mine was flying in a very northerly direction. Our amazement and exhaustion contributed to an ungraceful conclusion and placing last out of 12 pairs.
One year I flew team where the winds were so strong we broke vented kites. Another year we all almost got hit by lightening. One year there were so many huge mosquitoes we thought about putting them on the flight order. Then there was the year it was so hot and windless, we didn't get all the required events completed until 8 PM Sunday. Despite all the problems, Vicki and I have been to almost every one of these events. This event in Central Michigan has gained the dubious reputation of a "Family Picnic Event". River Oaks Park has a campsite area which is heavily used by the attending fliers. Most people camp out because of the low $8 per night camping fee, but many enjoy the picnic atmosphere.
WHERE'S THE PARTY?
From its inception, this event has never featured an official banquet or party bar, as is the case with most other sport kite events across the country. But John Cosby knows, to have a good event, you have to host a good party. Cos created the "Road Kill Diner", a banquet and party venue in disguise. The Road Kill is held at the River Oaks campsite pavilion.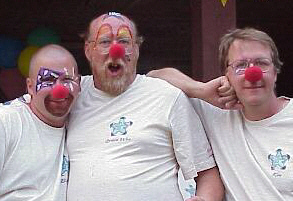 There's a new theme every year. Past themes include The Alien Road Kill, The 70's, and The Circus. The Saturday Night party pavilion is in close proximity to one of the flying fields and a respectable night fly always occurs. Sometimes there is more wind after sunset than during the day and more than once it has been suggested that the entire event take place in the dark.
SO WHERE ARE WE HEADED?
Midwest fliers and competitors seem to find ways to get around all the difficulties at this event and still keep showing up every year. The characteristic lack of good fields and low wind have spawned some of the best light wind to no wind routines I have seen at any event. When confronted with the delays of the kids' soccer tournament, a Saturday morning pancake breakfast was created by Pair of Pairs Kite team, along with Elaine and John Cosby and many others….just something to keep us all occupied until we gained control of the fields from the kids.
ARE WE TAKING OURSELVES TOO SERIOUSLY HERE?
John has always sought the advice and suggestions of attending kitefliers. John and Elaine distribute a questionnaire and encourage all to return them before they leave the event. These suggestions help shape the following year's event. In the beginning John fashioned the event after others, including the requisite T-shirts, trophies and other paraphernalia. The surveys helped change that. Fliers didn't want to "have to" purchase a T-shirt with their registration fee. T-shirts are usually available, but now they aren't included in the fee. Furthermore, fliers can compete in as many events as they wish for just one registration fee, unlike many other events.
This encourages fliers to enter categories they wouldn't normally compete in if they had to pay extra for each. John and Elaine are just doing what the "customers" have requested.
In 1996 John decided that the title for the event, "The Mid Michigan Sport Kite Championships" sounded too official, so he changed the name to the Kalamazoo Kite Thingy. During the 1998 sport kite season the Mid American Sport Kite Classic was ranked as a national event in the American Kite Circuit. That year the T-shirts still billed the event "The Kalamazoo Kite Thingy" but added a blurb about being a "very prestigious kite event".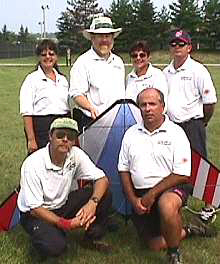 Even though John made a certain amount of fun over the national ranking, he recognized that teams would flock to his event that year because the points earned would send one team to the World Cup Championships in Dieppe France.
Attending the 1998 Kite Thingy were Chicago Fire, Shanti Air (my team that year), The Windjammers, and the Wind Wizards from Kansas, all contenders for the Cup invitation. Chicago Fire and the Windjammers took the most points, but as fate would have it Shanti Air and Chicago Fire ultimately became Team USA. (See Tangents # 98)
WHERE DO WE GO FROM HERE?
1998 and 1999 proved to be difficult years for the Crosbys and the event, although most of us didn't notice it. John was good at keeping secrets. In 1998 John lost access to River Oaks Park and the event had to be moved. John found a good site in Paw Paw Michigan about 100 miles west of Kalamazoo. The field was a little better, there were no soccer kids, and we did have a "little" wind that year. The winds of change were really starting to blow for Two Paws Kite Thingy. John had some personal problems, but was determined to go on with the show. As the 1999 event approached, we could all see that John was in trouble. He asked on our Midwest Sport Kite Competitors Internet discussion group if trophies and T-shirts were really necessary. We all agreed that they weren't, and pledged to help John and Elaine run the event. John connected with a local sponsor called "Paws with a Cause", people who trained dogs as guides. So we had some help, but not much.
The weekend of the 1999 event was the same one that gasoline prices topped $2.00. It didn't seem to stop the fliers from coming all the way to Two Paws. There was some car pooling, but the parking lot was still filled with motor homes and campers.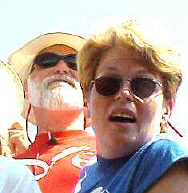 Trophies were provided by fliers who brought back the ones they had won at previous events. We just recycled them. T-shirts? Well, someone scrounged a box of shirts from a defunct kite club of western Michigan. The party may have lacked the usual fanfare, but we all were together. We all made the event work without the financial resources.
I sometimes wonder why kitefliers will show up for this kind of event. Poor to nonexistent winds, party in the woods, reused trophies, no T-shirts, no banquet, and a tank of gas that costs $40.00. Fliers from the Midwest don't come to this kind of event for points, even if they claim they do. They definitely don't come for the prestige or prize money. They come to be with their fellow fliers for the weekend. We don't have sport kite competitions here in the Midwest; we have gatherings of kite flying friends, where we occasionally get a few competitions in. The people come for the people. I think that sometimes kitefliers forget this is really just kite flying, not an Olympic sport. We don't really need a $10,000 PA system; a boom box will do. We don't need sophisticated computers to keep score; we just need paper, pencil and lots of work. We are our own judges, field staff, announcers, and scorekeepers. No one has to be imported or paid to do these jobs. We don't worry too much about "official" rules and procedures. If there isn't a rule to cover a situation we make one up.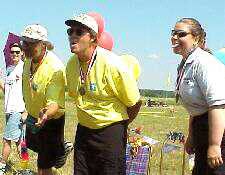 What happens across the country is very important. I think the AKA and the IRBC are doing an outstanding job. Rules books, scoring programs, sanctions, categories and hundreds of other details are very necessary for many events. It seems that if we get all those things here in the Midwest and at Two Paws Kite Thingy, we'll be pretty happy. If we don't, well, we still seem to get along just fine. All we really need are a lot of dedicated friends who come together to have a good time doing what we all like to do so very much and that is fly kites.
Most of all, what we are really fortunate to have here in the Midwest are dedicated people like John and Elaine Cosby who really live and work by the motto, "The show must go on". John and Elaine give "above and beyond the call of duty" a whole new definition. Thanks John and Elaine. We couldn't do it without you!
For more information about Two Paws Kite Thingy contact John and Elaine at: <elainejohncosby@yahoo.com>