April 28th – China Kite Tour
Yesterday was a remarkable day. Susie and I sat on a step of the Great Wall halfway up the side of a mountain. The Wall snaked away below us and off toward the horizon. The sun shone down from an uncharacteristically blue sky. And for as far as the eye could see, we were alone.
Usually the air around Beijing is a dusty beige from pollution and sandstorms in the nearby Gobi Desert. And always, the Great Wall is bustling with visitors. But the SARS Panic has devastated tourism throughout China. Wherever we went we found empty hotels, wide open attractions, and friendly vendors very happy to give us a good price on whatever we wanted.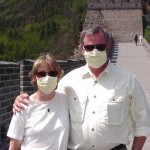 I don't want to minimize the SARS epidemic. It is of course a serious problem. But I don't want to blow it out of proportion either. SARS has peaked with 3000 cases in China out of a population of 1.3 billion. Proportionately, more people have pneumonia and West Nile in the USA. The per capita rate of infection is higher in Canada than in China. And precautions are being taken everywhere.
Five of our group decided to stay home, but for the 14 that came, the trip was a delightful adventure with no upsets or difficulties. And yes, we all came home alive.
Our tour began in the gleaming financial center of Shanghai. This is also the old colonial center of the country and the influence of Europe is substantial. Still, the pace of growth and renovation astounds me each time I visit. Construction cranes dominate the skyline. New buildings are evident everywhere and our five-star hotels are as good as anything we've enjoyed around the world.
In Shanghai, we visit classical Chinese gardens, stroll the Bund, shop in rug and silk factories, cruise the river, and try to shake off jet lag. Then we connect to the airport for our commute to Weifang.
Weifang is the traditional center of kiting in China. Twenty years ago, American David Checkley convinced leaders there to organize an annual festival to celebrate this cultural heritage. The event has grown into a promotional extravaganza designed to draw attention and investment to this windblown industrial city.
The parade through the heart of the city allows us to reach out and greet local people. They line the sidewalks and we run over to shake hands with children and grandmothers. In their faces, you see the many changes they have faced in contemporary China. And in their smiles, you see how pleased they are to meet us.
Sometimes it troubles me that any available Westerners are imported for the event in order to give the appearance of more participation. Weifang is a pilgrimage for most serious kiters, but when we arrive, it is hard for anyone other than kite folks to tell the real ones from the teachers, business people, and assorted tourists that have been drafted into the parades and press events.
Of course, once we get to the field, the wind separates the wheat from the chaff.
Over the years and my many visits, I've been invited to serve on several boards and committees here. That means our group gets VIP treatment. We march at the front of the street parade, sit in front of the banquet hall, get special seats at the opening ceremonies, and skip the commercial exhibits – like the international vegetable show – and instead visit kitemakers and factories.
Susan and I are invited to special banquets with city leaders and are part of the group that awards trophies and medals to participants. At one formal dinner, I'm sitting by the mayor and he leans over with a fresh scorpion in his chopsticks. "Do you dare to eat one??" he asks. "Thank you for inviting us to Weifang" I reply, and pop the ugly bug in my mouth.
At another event, I learn that Weifang wants to form a formal relationship with the AKA. We have twenty minutes to find a suitable gift in our group to exchange for the exquisite dragon head they present us. Then I get to make another speech.
From Weifang, we drive to Qingdao for a beach-flying festival. We're expecting a chance to catch our breath and relax. But in China, you have to expect the unexpected. The night before our commute, we are informed that Quingdao has cancelled their event and reneged on their agreement to subsidize our hotel and meals. Susie and I begin to scramble!
The weather is damp and windless so a kite event would have been disappointing anyway. And besides – we always warn China travelers to be flexible. Our most-excellent guide and friend, Shude, is able to find us five-star hotel rooms, arrange a sight-seeing program, and feed us way too much in Qingdao. The added cost for two days is just $90 each. Of course, that doesn't count the extra shopping.
We depart the hotel at 5 a.m. for our Beijing flight with WAY too much baggage. China Air wants an extra $200 in fees. We dodge and weave. The government invited us and then cancelled! The airplane is empty!! We had no charges for the flight in!!
Finally, they agree to let us go down to the plane and retrieve a few bags to reduce our total weight. We walk through "secured" doors and find two bags to bring back. The overcharge is reduced to $10. Everyone saves face and the extra bags become carry-on.
Beijing is the best part of the trip.
The Forbidden City is always spellbinding. But this time we find the palace deserted. We stroll through empty courtyards and listen to the wind dance through trees and over tiled rooftops. We imagine different times.
Across the street from the palace stretches Tiananmen Square, the largest city plaza in the world. Our group pulls out kites and join local fliers in the gusty breezes. It is another dream come true.
The following morning we board our charted bus for the hour ride to The Wall. The parking lot is empty and as we climb the endless steps, the atmosphere is surreal. A warm breeze flows across the rugged terrain and some of us try to loft kites. Others race to see how far they can climb.
Afterward, we visit cloisonné, jade, and pearl factories. We ravage the huge Friendship Store filled with folk arts and tourist treasures. We stuff ourselves with Peking Duck. It is a very fine day.
Our final morning in China, we tour the Summer Palace. Susie finds this royal resort even more enjoyable than the imposing Forbidden City. Long corridors are decorated with thousands of distinct paintings and sculptures. We take the dragon boat across the huge serene lake.
The "troopers" gather for one final group dinner and reminisce over a cold glass of Chinese beer. Favorite memories?? Meeting people in the parade – flying in the Square – joining the crowded flying festival. Most vivid images?? Vast construction projects – workers toiling fields by hand – smiling faces – indescribable toilets..
There is a bond that grows in a group that shares an adventure together. Susan and I have seen China before. But we find a special joy in being able to share what we have seen with others and for a moment, see China new through their eyes.
Thanks to Tom and Betty Brailey, Terry and Judy McPherson, Kurt and Faye Lisk, Paul Feiber, Linda and Kevin Sanders, Al Sparling, Bob Foster, and Raquel Higgins for sharing this adventure with us. Thanks to Sui Shude for being the best guide and friend in China. Thanks all of you for living vicariously with us for twelve days in China.
And yes we're off to England in three days . hopefully!