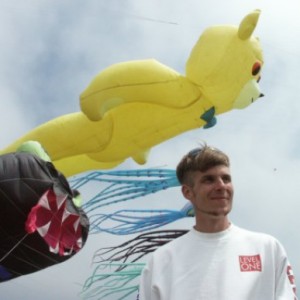 Welcome to the 31st issue of KL! With a jump of nearly 6,000 visitors from June to July and a growing archive of videos and more, we plan on continuing our growth and expansion of services… Fueled by a change in ownership (see Kites…Life), Kitelife Magazine has moved it's offices from Ohio to Oregon in an effort to deal more directly with the kite culture at large.
One of our immediate goals is to help festivals and clubs publicize their events and get new fliers involved… Send us information about your group and we'll most likely publish it!
You can find article guidelines here… Our submission deadline is always the 15th of every odd-numbered month, as we publish our new issue on the first day of every even-numbered month.
Also ongoing is our Satori Kites project, from which bios are already being used at events on the west coast… Check out the SK column below for more information on how you can get involved!
With this being my first official year retired from sport kite competition, it has freed up my energy for my fulfilling things like visiting different events, flying demos, taking photos and talking with as many fliers and kitemakers as possible to see where kiting might stand to benefit as a whole, and how to best use Kitelife and Satori Kites in the general promotion of our beloved sport.
Also, we encourage you to visit the Kitelife Forum to share your ideas on kiting at large… Each reasonable and kite-related posting between August 8th and October 1st of this year (2003) will earn you one entry to win a beautiful 7-foot Japanese-Style rokkaku ($175 value), so get your posts in and share the wealth! A huge thanks to Gomberg Kite Productions for their donation of this great prize!
Cordially yours,
John Barresi
Publisher/Editor
Kitelife Magazine
Next Prize Drawing to be held soon!