"On The Road Again," just like Willy Nelson says… This time, we're headed down to Long Beach, WA for the Northwest International Stunt Kite Championship meet… Well – what's a couple of hundred miles for a festival, and a chance to see some old friends too, right? So the van is rollin' south through familiar territory once again.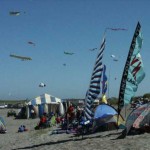 Charly and I pull into town about 5:00 PM on Friday and head straight for the beach. Yep – they already have the tents up and the fields laid out – and look, there's even someone practicing… Sure enough, the winds are up at about 15 mph, the day is warm and sunny, and Team Centrifugal Force is out there throwing their California Wasps into the sky – to our delight. We stop and chat a bit with Dan Brown and Kerry Haines of Centrifugal Force, and generally check out the venue… H'ok-ay, it looks like they're gonna fly here tomorrow! Let's go find us some food and a couple of beds…
Next morning finds us chowing down like it's our only meal for the month at Laurie's in Seaview (NOT to be missed, folks) – then off to the beach! Whew – this one'll be a warm one for sure. Yep – "warm" is nice, but WIND's kind of important in a competition too, and we had wind in abundance on Saturday. It started out at around 10 mph out of the north, but built to the mid-teens by noon and stayed that way throughout the day…a little brisk, all right, but nobody was whining about it that I heard. Hey – that's what vented kites are for, right?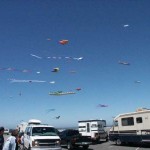 Anyway, the Single Line Kite (SLK) folks set up just north of the competition fields, and proceeded to fill the sky with rainbow of brilliant nylon and polyester. The Blue and White "official" tent was open for sign-ups, hang-outs, and all manner of questions, and the Pilot's Meeting was held out on the competition field at about 9:00 AM. All right – Let's get on with it!
Believe it or not, this one started out relatively "on time." All right, KITE-time, but still… Classes progressed normally, and everyone got their shot. Judges did the usual fine job, the Pit Boss and various spotters helped out as expected, and the announcer's voice and each Pilot's music made it over the PA system just fine. What more could you ask for?
I'd fill ya in on all the events, but you can read the fine print on the NWSKL website on your own quite easily. Yup, it was some fine competition, and everyone who flew had adequate and equal chance to show their stuff. Plenty of demos were thrown in for good measure, too. Meanwhile, I went off to do a couple of chores:
– Wandered back into town to try and touch bases with Kay Buesing, Executive Curator at the World Kite Museum and Hall of Fame. I tracked her down at one of the tents back on the flying fields, and made an appointment to meet her the next day (see museum article in this issue).
– I stopped to chat a bit with some of the SLK folks both going out and coming back, and ended up yakkin' and helping tend their single liners for maybe an hour… Great fun, and nice folks!
– And – John, the Kitelife webmaster showed up, so we had to have a small confab… When you live 300 miles apart, it's just really nice to chat face-to-face for a change. Besides, what better place to meet than at a kite-fest, right?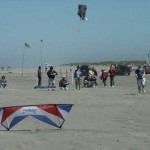 So what'd I miss during my absence? Well, I had watched most of the Novice Individual Precision event (missing the tail end), and missed all of the Experienced Individual Precision and some of the Experienced Individual Ballet. When I returned, I picked up watching the remainder of EIB. All pilots worked hard, had fun, and flew "venteds" mostly (Including the brand-new vented Mamba).
Well, it was soon time for the lunch-break, plus another coating of sun-screen to be applied, and a short respite out of those 15-18 mph breezes – meaning a run past the three kite-shops in Long Beach to feed the addiction. Who knows? They might have "something I couldn't live without!" It turns out that they didn't, but you still have to check these things out before you know for sure. Then, it was back to the competition fields…
Saturday afternoon brought more of the same. Blazing sunshine, substantial northerly winds, Temps close to NINETY degrees Fahrenheit, and event after event proceeding smoothly. The afternoon's comps consisted of:
Experienced Multi-line Ballet
Experienced Pairs Ballet
Masters Individual Precision
Masters Pairs Ballet
Yup, more demos, too, and they even finished the day's schedule a bit AHEAD of schedule (We'll have to talk with the organizers about THAT…). Check out the photos for specifics, and the results of Saturday's events are shown on the NWSKL site… Well, most of 'em anyway! The one event NOT listed (since it's not a "competition" flown for AKA points) was the Mystery Ballet. We're pleased to report that John Barresi won that one, with Willy Hendrickson coming in second, and Jerry Cannon placing third. ALL competitors flew well in all of these events.
We were also lucky enough to catch a glimpse of Team MVM, one of the Northwest's newest teams and one of the few if only all-female teams in the USA composed of Mary Bos, Vicki Casal and Marcia Cannon.
While these comps were going on, we all began to notice that the temps had really risen, so a quick glance around showed the whole crowd down to just tee shirts in the beautiful weather – which also meant more applications of sun-screen, just to be on the safe side. In addition, it became apparent that the "higher" winds were getting to a few of us, especially if you were sedentary. The folks who weren't flying exhibited a tendency to huddle behind their portable windbreaks and use what shade they could find, and the "official" tent did a good business in bottled water, too. Indeed, if it hadn't been for the ocean's effects and the wind's, we'd have flat-out roasted.
We finally broke for the day with everyone a bit tired and a little sun-and-wind burned. The end-of-day party took off in ones and twos for Seaview again (two miles down the road, right next to Laurie's) and took charge of a huge, long table at Chico's Pizza Parlor. Good food, fine camaraderie, and a little "quiet" inside for a change. Then, it was off to relax at our "overnight residence" for Charly and I, knowing we'd be up early to do it all over again. Yeah, I thought I heard a few drops on the roof during the night, but didn't pay 'em any heed…
Somehow, I woke a bit early on Sunday… and was immediately concerned. VERY low overcast (almost reach-up-and-touch-it low), temps in the upper FIFTIES or lower Sixties, and winds were kickin' up pretty good directly out of the SOUTH (a 180 degree change from yesterday)… Hmmm… maybe we're gonna have a wee bit of difficulty today? All right – we packed it all up, headed off to Laurie's again for another extraordinary breakfast, and then hit the beach. WOW – What a difference a day makes, as the saying goes…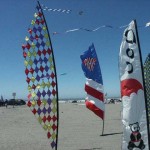 Sunday's Pilot's meeting was very brief and held inside the "official" tent. Folks were all wearing long sleeves or maybe jackets. Just walking in the loose sand-drifts was a real effort now. You tried to keep your eyes squinted because of the blowing sand – except for the occasional glances upward to see if there was rain on its way. Venteds were pretty much a requirement, along with at least 200lb lines, and add the wind tamers if you got 'em. Just assembling a stunter was truly a two-person operation, since one person was required just to hold the kite.
Still, the pilots were determined to hold the reminder of the events if at all possible, so the Masters Pairs Ballet got underway a little late with everyone flying their venteds – Wing 'N It using their vented Pizazzes, and R.A.W. Power flying the new vented NSRs. Yeah – THEN it became apparent that holding the comps was really going to be LOTS of trouble…
For one thing, the "breezes" were really "up there" – with hand-held wind-meters registering well into the upper 20s and climbing… For another, the speakers on the sound system were still at the NORTH end of the field, and with the unusual winds from due south, the pilots simply couldn't hear their music.
I guess it really didn't matter all that much anyway, though, because the PA speakers just kept blowing over – right in the middle of the event! So? Well – in true kite spirit, other folks picked 'em up again and just held them in place…
It quickly became apparent that the pilots were really struggling to even fly… I saw all four pilots in this event leaning back against the wind at least 30 degrees, and one of them fell backward onto their rump and just kept on flying anyway.
The SLK folks who'd launched earlier, when the winds were less than 20 mph, were busy battling lines and kites – trying valiantly to drag them to safety again. Kites and Lines were strewn all over the place.
The "official" tent began to blow down, and the brave staff from the City of Long Beach (who owned the tent) struggled mightily to keep it upright and functional… Fortunately, being INSIDE the "official" tent offered the least trouble for lots of folks, so a number of us just leaned against the southern end of the tent from the inside, while the city's crew dug a trench on the outside to bury the bottom of the tent. Well – it seemed to work…!
Yeah – the word for the wind right about then was "Downright UGLY!!!" So, after the completion of the MPB event (they DID complete it), the officials called a "wind delay" and told everyone that they'd make a further "Fly or No-Fly" decision in an hour and a half per AKA rules. Those who didn't need to be there, fled the field for "quieter" areas. And those who had gear out in the wind and sand, worked like crazy to get it stowed so they could follow the others ASAP!
When I left the competition area, you couldn't really see it anymore – even if you were stand on it. There was sand blowing along in sheets over every part of the beach – eight to twelve inches deep. Getting your car out of the parking area was a challenge, since the sand drifts around cars made several cars stuck. They'd been there for what, three hours?
Yeah – THAT kinda "Ugly!"
Needless to say, when we returned from our sojourn into low-wind areas – that served coffee – we found the remainder of the events had been cancelled.
Some wag said later that the event Tee Shirt should have been reprinted to say "I survived the sand-blasting at the NWSKL Championships in 2003! "
For my two cents worth, I'd go with "Some days you win… Some days you lose… And some days, you get BLOWN OUT!!! "
If you're at all concerned, however, I hasten to add the following information:
Nobody got hurt that I'm aware of.
I only heard of one kite having a torn, but repairable, sail.
The sound system, tents, and all other event equipment survived as far as I know – very Sandy, but intact.
All comp events that could safely be flown, WERE flown! Flying further comps would have been both unsafe and unconscionable!!! (Yeah – just my opinion.)
It also must be said that the conditions were relatively unusual compared to events in years past, with great crowds and endless space to fly your kites!
My personal congratulations to the event organizers, Genny and Eric Forsberg. They made all the right decisions at the right times, and under the most trying and abominable of circumstances. I'm sure they took a lot of heat for it too. But we (and the AKA insurers) were indeed blessed by their uncommon luck and extremely good sense. They kept us safe. Thank you, Eric and Genny!
As for me, I must say that I was pretty tired on the long drive home. My own bed felt pretty luxurious that night, too – what I remember of it. And…it took me two days and four showers to get the sand outa my ears.