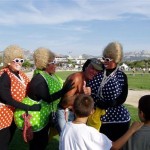 Wow!! What a great way to end my kite season but with two awesome world class International kite festivals… It was a great pleasure for me to be once again fully sponsored to Marseille for the Fete du Vent festival, 28 counties were participating from every corner of this planet, most I had met at other festivals around the world and it was great once again to share the flying fields with these unique flyers who are so willing to share their knowledge and expertise to whoever needs it, plus giving their all to help make this festival a huge success which indeed it was from the very start to the very last minute.
It is always held at the Plage du Prado which is an ideal location a huge grass area which runs parallel along the beach is more than enough to accommodate all the flyers in doing their thing, consequently the sky was always packed with kites of every color and description. there was also a 400×400 arena for demonstrations, in which some of the worlds finest fighter kite masters showed off their skills. Plus, sport kite teams and individual giving demonstrations throughout each and every day.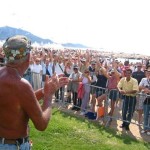 In the mornings the wind is very light and comes from inland but at 11-30 am the wind changes and comes of the ocean, there is never no shortage of spectators they are there in there tens of thousands, and are as always a very appreciating audience, and are not a bit shy in calling you over after completing a demonstration to thank you personally with a kiss on both cheeks (I just love this French custom).
It is such a charming spot a nice beach the sand is a mixture of very powdered and coarse sand and each day brings literary hundreds of sun worshipers to the beach, the South of France is well noted for its topless bathers which I was not a where of and did not even notice until a certain kite notable pointed them out to me.
What I enjoyed also at this festival was they way they arranged all the booths in a kind of little village with all the booths in a large circle, and the opening facing on the inside it was always packed especially when the festival was open for schools, the kite making booths were always packed with children of all ages, and to see these children flying there own individual works of art every where on the festival site was very heart warming to behold. One very interesting booth was a historical kite museum some of the kites dating to the early 1900's put on by Christian Kolz from Hamburg Germany, he was also at the Frejus International Kite festival in Nov along with his partner Christian Jsemer there display was enjoyed by kite flyers and spectators alike.
They had a great sound system, with commentators keeping the spectators who were standing shoulder to shoulder around the huge flying arena well informed of what was going on at all times through out the day, as always the days passes so quickly and before you relies it is time to pack up and return to the hotel for that well earned shower and a couple of cold ones before the evening dinner. (Or it a couple of cold ones and then a shower) all the flyers were lodged at the Maeva Hotel which is with in walking distance to the beach and festival, we were all well wined and dined.
As I have mentioned before in my other articles Marseille is a very beautiful and romantic 2,600 year old City with its exceptional setting between the mountains and blue Mediterranean, some parts of the city it is like going back in time before the automobile very narrow winding streets, and there's one thing I did learn was that never again will I complain about the traffic in Vancouver.
As always I could go on for hours but I have a deadline, a huge thank you to Jose Vicent, Frederque Riquier, the organizers, all the wonderful volunteers and I must not forget to thank to all the sponsors who make it possible to invite all of us to this great world class kite festival. Thank you again and I will see you at the Frejus International Kite festival in November.
Thank you for listening,
Ray