Upon receiving an invitation to attend this event, we went back and forth on the idea due to the simplicity and minimal information about schedule and other invitees… After some debate, we decided to accept with the condition that plane tickets be sent first, rather than being reimbursed for them later.
As I was preparing for the trip a severe snow and ice storm hit our home town of Portland Oregon and shut down our airport for several days, thus my friend needed to make an emergency drive using a rented 4WD vehicle up to Seattle with me for a last minute flight change in order to make it on time.
All worked out in the end, and you might benefit from absorbing our experience and partaking in our "Survivor's Guide to India" at the end of this article.
Bear with me as I pieced together events from hurried notes and despite the 11 hour time difference getting home, most everything should be quoted on the right days and will certainly be true to my experiences regardless.
Here are some quotes from the festival home page, which is also provided as a URL at the end of this report.
"Uttarayan, or Makara Sankranti, traditionally believed to be the starting point of the sun's northward journey, is celebrated according to the solar calendar on 14th January."
"When the sun enters the orbit of a rashi from another, it is called sankranti . The sun moves in the orbit of a rashi for a month. In the month of paush , the sun enters the orbit of Makara (Capricorn); and thus the day is celebrated as 'Makara Sankranti '."
"The day of Uttarayan has special importance and is regarded as very auspicious. It is also believed that the Gods sleep for six months closing the doors of heaven, which open at the entrance of the sun in northern zone, i.e. in the orbit of Makara , when the Gods awake from a long slumber."
"Uttarayan also has a significant relationship with the agricultural economy of the state. By this time, the Kharif crops are ready and are brought home. In an economy which is purely agricultural, domestic animals are not forgotten and grass is freely distributed to the village cattle. Uttarayan, thus, becomes a harvest festival in the true sense of the term."
After over 24 hours of travel we arrived early on the morning of January 10th. I had run into my dear friend Troy Gunn in Newark during a connecting flight (always a pleasant surprise) and made the rest of the trip with representatives from all over the world including "kitists" from Brazil, France, Israel, Canada, Germany, Netherlands, Korea, China, Australia, the UK, as well as countries and other parts of India.
In years past this event was known to have it's invited fliers travel to three or four different cities, flying and demonstrating kites in various venues.
This year, the event found significant support from some of Gujarat's leading industrial leaders and took on a whole different format with regard to political involvement compared to what I had learned of this festival in the past.
Saturday, January 10th
A good number of the 70+ invitees from worldwide met up at the Mumbai/Bombay International Airport and waited to be bussed to the local domestic airport for our last flight of the day, to Ahmedabad (pronounced by residents as Am-nee-baad). There we were met by our most honorable host Mr. Sriram, who ran himself ragged keeping track of schedules, flights, individual needs and requests, as well as our own kiting brand of hijinks. All the while he kept a sincere grin and just kept going… Hats off to you Sriram!
Guests were divided up between three hotels and three buses for the length of our stay, and we ended up at the Hotel President… Decidedly a 4-star hotel, with outstanding service and very clean facilities.
As we entered the lobby we were shown to a small banquet room where we would store our kites when not in use, and where they would be overseen by the hotel staff.
Having arrived early in the AM, many stayed up for the free breakfast menu which included a few basics like eggs, omlette and corn flakes, as well as a large number of local or Indian specialties I would get ample opportunity to experiment with during the following week.
Our convenience store around the corner had full size bottles of pure water for only 12 rupees (around 28 cents or so), candy bars were about 40 rupees.
My experience was that the ATM worked fine, giving an even market conversion with a $6.00 fee per transaction… Even the hotel was offering a cash exchange rate of Rs. 43 to $1, compared to the market rate of approximately Rs. 45 to $1.
In the early afternoon we were taken by bus to visit Mahatma Gandhi's Ashram, where he lived with his family, organized many of his great movements, prayed, met with world leaders and shared his spiritual and human beliefs. I even took a few minutes by myself to go down to the river where he himself sat for most of his 12 or so years at that location… Ahhhh, it was nice to just soak in some of the history and vision of this great man.
If you ever travel to a third world country, I highly recommend you try the auto rickshaw as a method of transportation… I did this with Troy Gunn on our trip to a nearby bank for Rupees on this first day there. The driver got lost and we went around for 20 minutes or so, which all in all cost us only 40 rupees (90 cents or so in US currency)… I paid him Rs. 100 just for the great time I had swerving in and out of traffic, something like a cross between Indiana Jones and Fast and the Furious! And although the roads are very chaotic and apparently disorganized, there are very few accidents and people seem to be very aware of what is happening around them.
After getting cleaned up, we joined invitees from all three hotels for dinner at the Hotel Toran, across from the Gandhi Ashram we visited earlier… Not as nice as the Hotel President where we were staying, the Toran seemed more like a YMCA or Youth Hostel than a hotel but provided space for much needed socialization.
Sunday, January 11th
After some much needed sleep due to as much as an 11 hour time difference for some of the invitees, we were pleased to find coffee, tea and a breakfast buffet waiting for us in the hotel restaurant… Where a few late arrivals were met for the first time, renewed friendships, and discussed kiting in general.
The first part of our day was spent seeing Old Ahmedabad, including an ancient water well system intricately carved from sandstone… A well at one end fills up during monsoons and would then overflow into a second just forward in the cavern, well below the sun's rays to avoid evaporation and keep visitors cool.
This amazing structure is reputed to have taken approximately 30 years to build and was roughly 580 years old at the time of our visit… No longer used as a well, it is now listed as one of Gujarat's monuments.
The afternoon found us taking a quick tour through a downtown mosque, then headed to the police stadium to set up for our performances the next day… There were already a large number of spectators out watching us assemble kites of various nationalities, colors, shapes and sizes.
At one point as darkness closed in around our banners and stalls, Olivier and Jurgen had an impromptu jam session using a diggery-doo and length of banner pole… Very cool, standing in India, surrounded by kite, locals and that eery music emanating from our group.
After being shuttled off the field after dark, we headed to one of the host hotels for dinner in the courtyard, out under the Indian sky… And to be awarded with the screen printed jackets, hats and stuffed necklaces which would serve as our identification at the next day's event.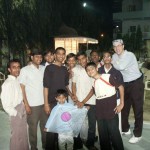 There were mostly kite folks mingling, more local cuisine and some of the locals wandered by to check out what was going on with all activity and noise… Never have I encountered such friendly people! Very eager, very clear eyes and hearts, just reaching out with kindness.
I was told by some, "Indians believe in brotherhood. We are already brothers, we just don't know each other yet.", this was made very clear by the multiple invitations I received from locals to come into their homes and visit… 100% warmth from the working class!
Monday, January 12th
After the usual breakfast and coffee in our hotel, buses transported fliers and kites from three hotels to the Nagarwala Police Stadium for the main public festival.
As we arrived they were already well on their way towards setting up seating for all kinds of politicians, industrialists, actors and various dignitaries, as well as a special area for the invited kite fliers, or "kitists" as we were called during our visit to India.
After some light flying in the morning, festivities began with several cultural dances, songs and performances, all to the great delight of over 42,000 spectators in the bleachers. Partway through, the Chief Minister was driven in by Jeep with great fanfare and giving the patented "queen wave".
No lack of security there, with easily over 1,000 police (some armed with rifles) and a few secret service, or "Zed" as they are called by the Hindi, who were armed with small sub-machine guns.
Sometime during the event, and most likely while we were seated for the show, several specialty kites were stolen out of our supposedly secure stalls… Quoted directly from the Times of India newspaper, published the next day… Somehow quietly forgotten as the event went on:
"Even as song and dance took centrestage, some international kite-flyers reported that six kites were missing from their stalls."

"The 'stolen' kites, one each from the US, Australia and Holland, and three from Israel, estimated to be worth about $150 each, may never be found."
Once Chief Minister Modi and his procession left, the police and security force seemed to dissolve… Not becoming dangerous by any means, but the excited crowd had a tendency to press the boundaries and swarm around kites quite aggressively at times.
I found the best technique was to be very gruff, simple and direct – then to flash a wide grin and invite them to watch on my terms, at a safer distance. Almost all of them are just excited to see something new, and handled with care and fortitude they proved themselves again and again to be passionate, articulate people.
Also quoted from the Times of India:
"A crowd entered the flying arena following Chief Minister Narendra Modi's jeep, and created a chaotic situation. While Modi left after flying a kite that had his and PM Vajpayee's portraits the people stayed on in the restricted arena and even trampled upon some exquisitely designed kites. With no policemen in sight and a large number of NCC cadets joining in the fun, it was a free-for-all."
More stories from the Indian Express and Times of India can be found here:
After the festivities, we went back to the hotel to wash off the grime and prepared for our much anticipated trip to the kite market… For roughly 100 yards all you could see on one side of this street were Manja dancers (making glass coated line, or Manja) and kite shops selling fighters in almost every color and shape you could imagine.
Apparently the kite industry in India is very disorganized and provides cheap labor for much of the lower working class and chaste. 70% of kite makers in India are female. Working in assembly line style, they produce upwards of 1,500 kites each day for what was rumored to be no more than Rs. 30 per day.
At present it has still been guessed to be more than a million dollar business, and it seems the government is looking into standardizing the industry to capitalize on a larger market value.
Tuesday, January 13th
We were told the prior evening that we would be headed back to the Police Stadium for another day of flying per popular demand from the public, which we were all pretty pleased to do.
Without the building pressure of politics and grand festival, we were just kite fliers, out for a day with the locals. With a very modest police attachment to keep our stall fairly secure, everyone seemed to be pretty much on their best behavior and very interested in the different kinds of kites and flying we had brought with us.
No thefts were reported on this day, or any following.
With the stage area emptied of people and chairs, Troy Gunn, Stephen Versteegh, Olivier GASTÉ and myself managed to have some sky to ourselves for some impromptu sport kite demonstration… A much needed relief, as our requests for some ballet demo time had never come through.
I made sure to bring along my 128MB mp3 player and head phones with a good selection of my favorite flying songs… Many of the locals got a huge kick and chuckle out of this 6 foot tall kite goon dancing around, singing out loud and generally jamming out. 🙂
After flying for 3-4 hours as I recall, we packed up and said goodbye to the police stadium. After loading everything onto the buses we were taken directly to the Narayan Farm, which I gathered to be some sort of upscale resort… We were each anointed with a Bindi (red dot on forehead), seated on cushioned semi-circles and served juices, soup and local appetizers which I found quite delicious… All the while there was a small stage performance going on, even inviting a couple kite fliers to come up and dance to the beat for a while.
Partway through Hor d'oeuvres one of the performers came down to sit in the middle of this courtyard/semi-circle and amaze us with some unusual feats… Starting with something resembling a top on a stick, he balanced this on his upper lip all the while lifting small beads dangling all around it using slender bamboo skewers.
His next skill involved a similar balanced object, this time with small disks that were set all around it… Using a pea shooter and pellets, he shot each one of the disks off, all done with minimal use of the hands and never a dropped object.
In true kite culture style, Carlos from Brazil went around with a hat… Our performer was clearly not accustomed to such tipping, I would guess he received upwards of 300 rupees which seemed to be a very good day's work.
After heading back to the hotel for a 30 minute clean up, we were taken to some sort of large industrial fair which exhibited the many trades of Gujarat including kite making, wood work, metal work, textiles, jewelry, pottery and more.
Having spent 30 minutes or so browsing the fair, we were directed to our seating area at the main stage… Now, it would be best to tell you that we were told that we had received personal invitations from the Prime Minister (equivalent to President) to attend this function. We were put in the second area from the back, off to the side, behind the media… We were told after 30 minutes or so that we could climb over the bar into the media area for cups of water when needed.
While in earnest appreciation of India's culture, many of the "kitists" were at a loss for much of the proceedings… One after another, leading politicians, industrialists, doctors and notables came to the podium, and mostly speaking in Hindi or Gujarati expounded on the successes of the state, acknowledged accomplishments and rallied the spectators with inspirational speeches… All great I'm sure, but I couldn't make heads or tails of 90% of it.
We were audience for about 5 hours all told, at which point we exited the amphitheater to have dinner in another area of the compound… Finding ourselves scuttling like forward moving crabs though the throng, and with such an incredible number of people present (over 12,500), our liaison Sriram decided to take us all to a local upscale restaurant for dinner instead… Much to our relief, although I heard a few explosive stories the next morning, including my own!
Wednesday, January 14th
After our usual breakfast of cheeseless omlettes, fresh fruit, cereal, and coffee we headed into the true Old Ahmedabad… With much narrower roads in much of town, more road vendors and kite shops, as well as much higher and vertical architecture, here we would find what it was really all about… The kite festival, the true local celebration.
Three local families volunteered to share their roofs with us and partake of their traditional Uttarayan food, all made the day and night before to allow for more flying time… All around us, as far as the eye could see there were people on their rooftops and terraces flying fighter kites!
Thousands of kites, all jockeying for position in the blue Indian skies… You never know if you'll be trying to cut down one of your immediate neighbors or someone hundreds of feet away who is swooping in for the kill! From what I gather, if you stay up long enough to gain nine kills you have some pretty serious bragging rights.
I was told that an average family with two children will take 50 to 150 kites to the roof for this day, depending on their skill level. When one kite is cut down, you tie on another one and go at it again… All through the day kids could be seen in the streets and alleys scurrying after another losing kite or two, often still in mint condition and ready to fly for a new owner.
Leaving the rooftops entirely too early, we were then taken to Le Meridian, what I would guess to be the nicest hotel in Ahmedabad (they have hotels worldwide) for a luncheon and to hand out one copy of a new Gujarat kite book to each country.
One thing that I hadn't yet had an opportunity to experience was the relative elegance inside the hotel, and then to glance out the window at the river where shanties and makeshift homes followed the water further than I could see… It's never about comparison for me, but rather seeing it for myself and feeling it as honestly as possible.
After lunch we went back to our hotel to clean up, pack our bags for the next morning and get some donations in to the Gujarat Kite Museum… Contributors posed for photos to be included with the displayed kites.
Even as I write this I can feel the long week setting in again… We made our way back to the Toran Hotel for our last dinner in Ahmedabad and to say goodbye to a handful of people leaving early… With a slightly sensitive tummy Troy, Olivier and myself formed a sortie to the local McDonalds for some safe dining and some good, albeit brief time away from "the tour" and one more exciting ride by rickshaw back to the hotel afterwards.
Thursday, January 15th
After breakfast and coffee we boarded the buses for our last time early in the AM and headed off to the airport for our long flights home…
With no troubles at the Ahmedabad airport, we landed in Mumbai/Bombay by noon… Some of the group were flying out later that day and headed directly to the International airport, while others were not leaving until the next day or the following, and had been specifically promised that lodging and conveyance was arranged for while we were in Bombay.
After waiting for over 2-1/2 hours and making three calls between our various groups, we discovered that no general arrangements had been made and that the local Tourism office was trying to book us rooms at the last minute with several conventions in town… Nearly an impossible task. When they finally tracked down some available rooms we were given two options:
Take a shuttle over to the International Airport and await our flights home, some as far as two days away… My own was 15 hours later, at 7am the next morning.
Or, book rooms at our own expense and split our group up between various hotels due to limited availability.
So, with this being our last day in India and not having much of a chance to do any real souvenir shopping, some Germans, Australians, two of the American contingent and myself decided to get a room about 10 minutes away from the Airport just so we could get rested up and have a little of our own time to explore.
The main stressful portion of this day was sorting people into the right rooms so that trips to the airport and flight times would make sense the over the next couple days, as well as bargaining the room rate and driver for the evening… After some heated negotiation, we managed to get three people into each room at Rs. 3000 a night (roughly $100 per night, each room), as well as one car a with driver for another Rs 1,200… As the driver arrived no sooner than an hour and a half later, we only got about two hours of Bombay excursion… One more stop to McDonalds for a friendly McChicken meal during which the entire city had a blackout (except for a large number of back up generators), as well as a short stop at the Taj Majal hotel and Gate of India. The actual souvenir shopping would have to wait until we got to the airport in the morning.
One thing I'll comment on was the incredible amount of pollution, particularly in Bombay… I saw more garbage fires than I could count, one dumpster, few trash cans and no trash trucks in sight. The stench was like a pure-bred cross between sewage, a forest fire and a junk yard… At times, I had to use the trusty surgical mask I had brought in case of such an event.
Friday, January 16th
Troy Gunn, Richard Hurd and I had ended up sharing a room as we had the same flights back to the USA. Waking up I felt distinctly icky from breathing so much of the local air… We ordered a short order of coffee, slugged it back and took the hotel shuttle to the international airport.
After checking our luggage we made a quick pass through the souvenir shop for some last minute gifts, exchanged our Rupees back into Dollars and grabbed our flight out of Bombay.
Going from Bombay to Newark NJ, the plane made a stop in France where we had to sit on the plane for almost two hours while they cleaned and restocked supplies… Before landing in France however, one of the flight attendants of India Air walked down the aisle with three cans of fumigant while the captain announced ".. Required by law .. Totally harmless .." and so on… That explained the incredible congestion and eye/sinus irritation I'd experienced immediately after boarding the plane and several days following. I later confirmed that Indian flights do currently fumigate planes with a type of pesticide called pyrethrin… You can read more about this at these links:
The trip in summary… If you can believe it.
So, all in all the trip was worthwhile in that I'm glad I did it… Experiencing the culture, the real working class and lower, I have developed a deep affection for these people and many of their ways. As you've seen in many of the pictures, there is such an incredible warmth at times where everyone in the frame is just looking in at you… I found it very touching.
One of the unique things about India is the constant use of horns by bicycles, mopeds, motorcycles, rickshaws, cars, trucks and buses… Instead of "get out of the way!" like in most countries, it struck me more like bats using sonar… "Here I am!", "Coming through!" and "I'm bigger than you!" seemed to be the ongoing message. With a beep or a honk literally every 10 seconds or less, it didn't even phase me after the second day as you just learn to get out of the way and keep on with whatever you may be doing.
Our schedule and care during the festival was more than adequate, with the exception of not having much free time to unload some money in some of the local shops… It was slightly harried, but enjoyable for me.
The last two days in India were just so stressful for me, I needed to cool off for a few days to rediscover the beauty I was allowed to see during my visit. I would again visit India, under my own terms, and quite possiby never again as a guest of Gujarat.
After recovering for a couple days I forced myself to get up and diplomatically convey to Mr Joseph (main event organizer) the great dissatisfaction had by myself and other invitees I had talked to… Without being over the line, I made sure to be direct about problems we experienced during our visit and received a response a couple days later more or less commenting on the confusion and incident, but it was a bit vague and left me still feeling a bit agitated.
With this being the first year run in such a fashion there seemed to be a consistent political aftertaste, and little follow through in several areas… With these experiences behind us, KL and more than a few other parties are trying to make sure that the kiting community is better cared for in the future through such letters and emails to key organizers and liaisons worldwide.
Also, some fliers who had previously been invited to attend were contacted 2-3 days before and been uninvited due to "budget expenditure" or something, which left a few people having already scheduled time off or booked tickets, with no reimbursement from what I understand.
Yet another quote from India's Financial Express:
In fact, this year's kite-flying extravaganza, Vibrant Gujarat Uttarayan 2004, is the Modi government's sequel to its Vibrant Gujarat Navratri bash held last September thorough which the state was projected as a safe haven for prospective investors who had shied away following the post-Godhra riots in 2001. Gushes a senior state government official, the number of NRGs (non-resident Gujaratis) who've come forward with concrete proposals to invest in the state is amazing.
You can read full stories from this paper here:
It seems there was no lack of financial support behind this event… And one can't help but wonder, where all did the money go?
Survivor's Guide to India
Delhi belly – Mind what you eat and how much, as you may find yourself chasing someone out of the bathroom during early hours.  Many of the meals are served with some kind of yogurt side, and combined with the generous portions of Naan (bread) will help in mellowing out the spices.  Also, it might be prudent to bring along some Immodium or similar, just in case… I even brought a good supply on non-perishable food in my suitcase, which came in handy.
Water/Ice – Perhaps one of the harder things to remember, is that the general water is not safe to drink… Order your drinks without ice, make sure anything not bottled was served steaming and stick to unopened bottles of drinking water… Plenty of it, as the heat will dehydrate you quickly if unchecked.
Pollution/Smoke – As there is almost always something burning not far away, it might behoove you to bring a hypo-allergenic dust or surgical mask… Something light, easy to carry in a pocket, and small enough you can cover most of it behind your hand if you're trying to be discreet.
Clothing – Pack light, long sleeved clothes (avoid shorts) for warm weather, with tight pockets if you don't have velcro or buttons on them… There are pickpockets in some of the crowds, and it pays to make it tough to get into yours.  I also carried a fold-up rain parka in case of monsoon, which I didn't end up needing.
Bug spray – Many of the diseases to be aware of in India are spread by the mosquito, and although your odds may be slim of catching anything it only takes one time and that's it… I usually avoid Deet sprays, but went with a light spray each day in addition to long pants and sleeves just in case.
Beggars – They're just people too… The "rule of thumb" dictates that it's not inappropriate to give money to a beggar offering services (like brushing your shoes), but is somewhat looked down on when done casually.  Whenever I was deeply struck by someone and decided to give them money, I made sure to do it discreetly as once someone else sees you're sure to be surrounded.
Right vs Left hand – I'll keep this simple for vanity's sake.  Whence in India, the right hand is used for eating and shaking hands while the left hand is used primarily for general movement and cleaning yourself in the toilet… It is considered most offensive to use your left hand to place food in your mouth, utensil or not.  This is simply based from the tradition of using Naan (bread) or similar to pick up other foods directly, and makes sense when seen in this light.
Tipping – Everywhere you go, expect to tip… It's safe to say that anytime someone does something for you a tip is expected.  Primarily in less organized areas where people sometimes come out of the crowd to help carry baggage… Just make sure you have a pocket full of 10 and 20 Rupee bills.
Bargaining – Now, when it comes to shopping… In most cases foreigners will be offered a price 300% of what it should be.  Unless it's a government or corporate style store, most vendors are nearly expectant of bargaining and seem to be put off when you don't.  If you say 100, you say 20 in an slightly insulted tone, and then you settle for 30 or 40… Pretty simple really.
You can find more pictures and a short video from this visit to India in our Kitelife Subscriber's area… If you are not already signed up, you could be entitled to drawings for great prizes as well as exclusive content not seen in our regular issues.
Cordially yours,
John Barresi
Editor/Publisher