Having been to many Islands around the world including Hawaii, Fiji and the famous Frazer Island in Australia I have enjoyed flying on all of them but I must say South Padre Island on the Gulf of Mexico to me for kite flying has to be the best, and at the right time of year it is a Kite flyers dream, with super 10 mph winds coming off the ocean and literary dozens of awesome flying places along this 34 mile long stretch of pure white sand.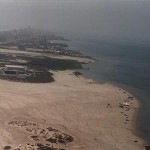 Ranked as one of America's top 10 beaches, it is bordered on the East by the emerald water of the Gulf of Mexico and on the West by the Laguna Bay, the whole Island is a perfect play ground for what ever you have in mind, sailing, surf and boat fishing, windsurfing, kiteboarding, (which has become the Islands hottest new water sport because of the ideal conditions at Laguna Madre's waist deep water and consistent winds) horse back riding, kite flying.
Man, you name it, you can do it on this Island of paradise located on the tropical tip of Texas where the Snowbirds or "Winter Texans" flock to, to escape the cold of the north, and I like to mention it is also a Treasure hunter's paradise as way back even before I was born. Numerous galleons laden with gold and silver bars coins and priceless jewelry on there way to Spain were blown off course to Padre Island, where they foundered on sand bars and the surf smashed there hulls to pieces, the thrill of just finding just a single 400 year old Spanish coin would be something else.
It was so nice to get back to the Island as I had some great memories from my last visit in 2000, I had a good flight into Valley International Airport at Harlingen late evening Thursday and only had a 30-minute wait for my friends and teammates Gerri and Fred Adler from California to arrive, it is about an hour drive from Harlingen to South Padre Island… Jim Geyerman owner of the Wind chasers of SPI Kite Store and my sponsor were waiting for us and took us to dinner, the talk over dinner was mostly about the weather as it has been cold and lots of rain of late and not any way near what it is normally like and Jim was kind of worried about the kite festival and competitions on the Saturday and Sunday but I told him "No worry Jim!".
I always try to bring the sunshine and good winds… Well, the Sun and Wind Gods must have been listening because the festival was bathed in sunshine and wind both, blowing 18 to 20 mph on Saturday. The festival was a huge success both days from start to finish even with the competitions put off until Sunday hoping that the wind would not be as strong. Again the Wind God was on our side with a steady 12 mph wind and the competitions ran with out a hitch thanks to the organizers Guy Blatnik, Steve Mutter, Jim Geyerman, and Tom Chaffee who once again did a great job on keeping a running commentary on what was going on plus answering the many questions from some very interested spectators visiting their first kite festival.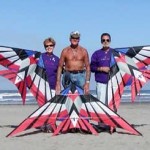 Spectators seemed very impressed, especially with Masters Team Ballet. I'd like to mention that SPI Team was one of the Teams that represented the USA at the World Sport Kite Championships in Berck France last April this was another added bonus for the hundreds of spectators, and the back bone to all sport kite competitions is without a doubt the s
I was given my own arena to give all day multiple kite demos, and as I mentioned before that this Island is a kite flyers dream, as there is enough room on this 628 acres of flat as a pancake sand area where they hold the festival for every one to have his very own flying arena, and the beauty of it is that it is only a few minutes drive from the town. ound system, Geoff Clifton once again did a fantastic job and was right on cue with everyone's music.
The dinner and auction was also a huge success there were a lot of great kite buys and most of the kite flyers took full advantage to stock up their kite bags, the food was great and plenty of it, I noticed that Jeff McCown the captain of SPI Sport Team and his team members even went for seconds and thirds, hard to believe I know, but I know this for a fact as they tried their hardest to push their way in front of me each time.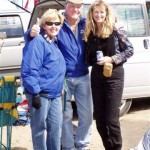 After the festival my sponsor Jim Geyerman had me stay on a few more days to fly on the beach which was only a few steps away from where he had booked us to stay, Gerri and Fred Adler also took full advantage of there first time on this Island and also stayed a couple more days, the weather and wind was perfect for us to fly team with our stacks of Dyna kites which attracted lots of attention from afar. I was in my zone flying team and multiple kites from early morning until dusk.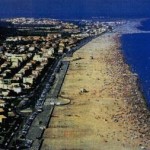 On my last day before heading back home Jim said "Ray I want to take you for a drive along the beach", 5 minutes out of town Jim turned off the main road and on to the beach where we drove for miles and miles on beautiful white sand, passing literally dozens of awesome flying sites flat as a pancake and straight as a die, open to the ocean on both sides. Super deluxe places to fly regardless what ever direction the wind would be coming from. The whole Island is a kite flyers paradise, plus the potential bonus of finding an old Spanish treasure when pulling up your ground stake, but as always the real treasure for me is seeing the pure joy in the spectators faces at the kite festival.
Thank you Jim for a great festival and for your invitation to your 7th Kite Festival in 2005, many thanks to all the Kite Flyers who made my teammates and I so very welcome see you in 2005, if not sooner!
Thank you for listening,
Ray
FYI – If anyone is interested in seeing the results of the competitions, you can find them here.