On the third Thursday of November every year you can find family's across America gathered together around a traditional Turkey dinner.  Buggiers however are far from traditional, but we do have a few traditions of our own, like the annual Dead Bird Buggy Bash.
Every year at this time you can find buggiers from all over gathered on an island on the coast line of Texas celebrating the holiday their own way.  For over a decade kiters have gathered to buggy up the beaches of Galveston Island and feast on our own version of Thanksgiving dinner, a Texas style deep fried Turkey, or as we like to call it Dead Bird.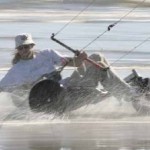 Tucked away just an hour from the bustling metropolis of Houston lies an island with miles of shoreline and buggy habitat.  Galveston Island can be divided into two areas, the East Beach and San Luis Pass.  Both ends of the island offer long beach runs and a maze of trails  thru sand dunes, while San Luis Pass is a little farther from town and can offer more seclusion.   This year at Dead Bird we were able to ride every beach on the island from every wind direction, with winds from 15 mph on some days to 45 mph on others.
I arrived at the airport in Houston to my awaiting rental car and after loading the trunk with bags full of buggies and kites I headed straight for the beach with only one stop in mind.  Taco Bell.  I managed to stuff one last burrito down my throat before I rolled onto the beach to find kites already in the air and a slew of friendly faces awaiting.  Many of the kiters arrive the weekend before the feast to take advantage of the local conditions.  As I stepped out of my car Jeff Howard was just tying off the last in a formation of Jordan Air Forms, his newest creations.  These giant single line kites hovered 200 feet overhead and indicated a steady southerly flow.  Perfect for a run down the beach.  As I set up my buggy for the afternoon ride fellow buggiers rolled in and so did the stories of how good the wind had been before I arrived.  I immediately grabbed my 7 meter Frenzy and hopped into my buggy and headed out for the afternoon.   As the sun was setting I lugged back into camp to find that Gus had arrived with his motor home and mobile photo studio/trailer.   We discussed our plans for the next morning, killed a few beers and called it a night.  A few of the crew headed into downtown Galveston where they found bars, nightclubs and a good excuse to tie one on!
The next morning found me at the Houston International airport again, this time I was picking up Dave Sabilino who was joining us from his hometown in California.   We met with Gus and Jeff that afternoon and proceeded to get our buggy on. Joined by a menagerie of Texas buggiers we set out to explore the beach. The weather conditions were perfect and we buggied non-stop.  The days continued to blend together as we rode so much.  As the wind clocked around during the week it opened up new terrain to ride and kept offering something new.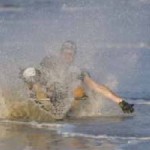 As kiters arrive throughout the week East Beach becomes a central encampment.  This time of year this is the place as the temperatures are mild, the camping is free and you can sleep right next to your buggy.  The East end of the Island is also the most populated, providing plenty of hotel and restaurant options within minutes of riding. November in Galveston is low season for tourism, which is great for buggiers as the beaches are empty and open allowing for fast runs.
East Beach houses a plethora of buggy options and terrain.  The wind comes clean from most directions but a South wind is preferred for the long beach runs.  One of my more memorable sessions this year was a run during gale force winds on a 1.5 meter Little Devil.  The typical run heads down the beach a few miles to an oceanfront McDonalds.  Here you drop your kite and park your buggy and head in for a quick bite to eat.  With the winds so strong I couldn't be bothered with food so I continued down the beach to the hotel Galvez.  While it is possible to pack in the kite and portage around an extruding pier to continue riding the shoreline on the other side, the Galvez usually signifies the end point for this run.  On this day I found an encroaching tide squeezing me in with less than 30 meters between the water and a vertical sea wall.  I took a mad dash back racing my tracks that were now filling with the morning tide. Although the water was cold this time of year it was too tempting not to play in it as the waves crashed in on the shore.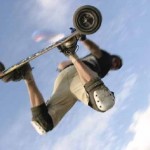 There is a trail system located within the dunes of East Beach consisting of walking paths,  and both dirt and paved roads.  Depending on the wind direction it can be easy or tricky to maneuver through the course but its always fun.  You can link onto a paved track and crank up wind all in one pass before bombing motor cross style down a path of dirt jumps.  Many afternoons have been spent in the trails with groups of buggiers chasing each other in a friendly game of buggy bashing(tag).
Even with all the excellent riding terrain of East Beach most riders can be found within a hundred yards of the parking lot where the beaches are packed smooth and the beer is only a step away.   You'll see everything here from fighter fags to dual line stunters to tricksters like Jeff  and Dave  throwing down their latest buggy moves.  Or at least showing wannabes like myself how to get a groove on.  Each day as the sun fell the bon fire was fed for another night.  And if the beach is missing a few wood pilings in the morning, it wasn't me.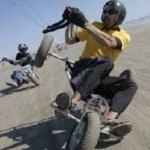 While many riders could only handle a half-day of kiting and slept in till noon, I was up early and joining others for the sunrise session's.   For some reason the Wind always seems to be clean and strong before my first cup of coffee. I would head down the beach in my buggy and rally up with the guys from the Sandpiper, a hotel situated right on the shore.  This is the ultimate spot to stay as you can launch kites from behind the hotel and fly down the beach to meet everyone else.  One night at the Sandpiper, in nuclear winds, Action Jackson pulled out a 1 meter kite and buggy'd the hotel balcony.   A feet that has not since been repeated.   The morning runs were great,  without a soul on the beach you could really open up the speed and haul ass down the playa.  By late morning I'd head back to camp for my breakfast burrito ritual and to meet up with the crew.
The wind had rotated around the clock during the week and we found ourselves searching for beaches that faced different horizons.   We headed down to SLP a few times to ride other conditions and terrain.  San Luis Pass Beach is on the opposite end of the island from East Beach and can provide an alternative spot for differing wind conditions.  SLP is 20 plus miles down the road from civilization so you need to pack in food and supplies for a full day away.  SLP is also the spot where most locals go to escape the crowds and access the really long buggy runs.  When the tides out San Luis Pass provides a nice open corner for Kite Ground Boarding and also gives access to some side-shore kite surf launches.  High speed runs are the norm here with long stretches of playa.  One of the locals even pushed a 20 mile run this week, his personal best.  Well not as intricate as the maze at East Beach there are a few good trails offering terrain and jumps to play on in a buggy.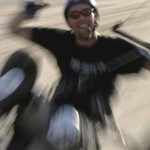 Most of the folks pack it in and head out by Sunday after Turkey-day.  Some have been on the island for as long as 9 days or more by this point, and have taken in all the good stuff they can handle.   The last night with the crew was spent at a local Mexican restaurant, where the week's tales raddled on and good-byes were said. The Bird is a non-event and there are no organizers, which has allowed a family feel to grow with everyone over the years. For many this week is the only chance to ride together during the entire year.   The Dead Bird Buggy Bash is a gathering of friends and fellow kiters, including some of the best people I know.  The terrain, beaches and Gulf winds also help to set the stage for an amazing trip.   Dave and I were flying out together and we decided to stay a couple days longer.  We enjoyed SLP  and East beach to ourselves with steady on shore winds.  I was pretty psyched and I was finally able to dial in some new buggy freestyle tricks I had been working on.  Now if only those bruises would heal.
INFORMATION:
is a non-event, more of a gathering of kiters and a good representation of the US buggy scene.  This is one of the two larger buggy bash's including SBBB in April.  Everyone is welcome to come, and bring whatever kites you enjoy flying.
CONTACTS:
EATS AND SLEEPS:
Camping  –  Free camping is allowed at both East Beach and San Luis Beach, many people bring tents, trailers and motor homes.  There are no facilities and this should be considered primitive beach camping.  Pack it in, pack it out.
Hotels  –  The Galvez is a five start joint that has sponsored the event for several years and offers discount pricing to followers of the dead bird.  Many kiters choose the Sandpiper as it is located on the beach and you can actually buggy from the hotel out.
Food  –  The sea wall is littered with food to any liking, but there seems to be an abundance of Mexican Food.  The sweat deal is the breakfast burrito at the place next door to the Galvez.
WHERE:
Galveston Island, located 1 hour south of Houston, Texas… 3 hours from Corpus Christi, TX… 1-1/2 days from Las Vegas, NV.
Republished with permission from PowerKite Magazine, published 6 times a year… Email fay@windsurf.co.uk for subscription info.